Repowering plays have grown in scale as some of the largest renewable players — NextEra Energy Inc., Statkraft AS, Brookfield Renewable Partners LP and Avangrid Inc. — make acquisitions and significant investments in upgrading existing wind and solar assets. Repowering-driven acquisitions in France and Germany and repowering projects announced in Portugal demonstrate that it is not a trend driven solely by the US Inflation Reduction Act (IRA).
Commodity Insights has identified 493 projects with over 48 GW worth of operating wind capacity that are prime candidates for repowering due to age. While not exhaustive, the projects identified point to significant potential repowering opportunities for investors.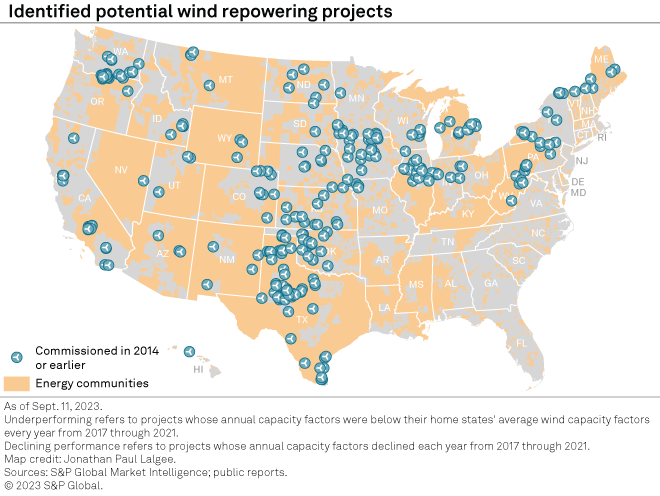 Projects to repower existing operating capacity in the US can receive IRA production tax credits and investment tax credits, provided that improvements account for 80% of the total value of the project, with additional 10% bonuses available if they meet domestic content and energy community criteria. Significant volumes of operating capacity within IRA-qualified energy communities offer substantial subsidy and tax equity financing opportunities for repowering investment across the US.
Interconnection queue data show that hybrid repowering project pipelines, which involve co-locating IRA-eligible battery storage with wind or solar, have increased dramatically, demonstrating technological maturation. Hybrid repowering takes advantage of rate arbitrage while avoiding transmission costs and queues.

Investing in Energy, a group within S&P Global Commodity Insights, produces content for Connect by S&P Global.
Select content from Investing in Energy is featured on S&P Capital IQ Pro.
This article was published by S&P Global Market Intelligence and not by S&P Global Ratings, which is a separately managed division of S&P Global.
Quantify the US energy transition with essential intelligence.
Request a Demo