As more general entertainment viewing migrates to streaming and on-demand platforms, live news has emerged as a dominant genre on linear cable networks. While there are now a dozen 24/7 cable news networks in operation in the U.S., Warner Bros. Discovery Inc.'s CNN (U.S.), Comcast Corp.'s MSNBC (U.S.) and Fox Corp.'s FOX News Channel (U.S.) stand out as the major players in the space.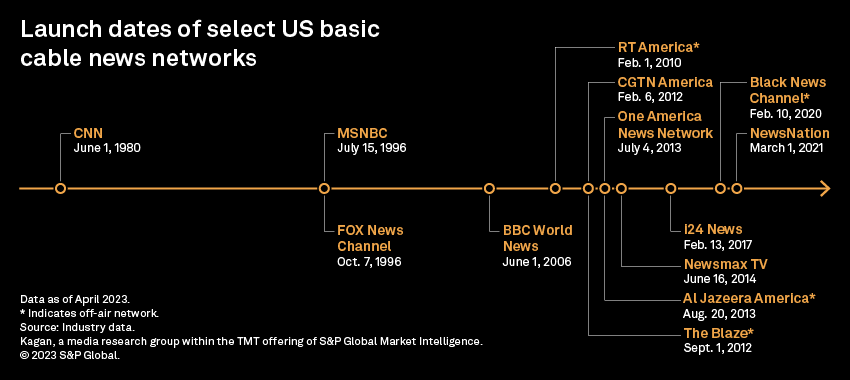 Shockwaves were sent across the cable news industry April 24 as news broke that longtime CNN anchor Don Lemon and FOX News Channel anchor Tucker Carlson would be leaving their roles.
Lemon had been transitioned from a prime-time post to a morning show in fall 2022 before the network let him go in April 2023. "I was informed this morning by my agent that I have been terminated by CNN. I am stunned," Lemon shared via Twitter the morning of April 24. Lemon had most recently been the co-anchor of CNN's "CNN This Morning" with Kailan Collins and Poppy Harlow. The average audience for "Don Lemon Tonight" fell 29.9% in 2022 to 728,415. The show peaked in popularity in 2020 with an average audience of 1.8 million.
The news of Carlson's exit came as a surprise to many as FOX News Media released a statement the morning of April 24 thanking Carlson for his service. "FOX News Tonight" will replace "Tucker Carlson Tonight" during the 8 p.m. ET hour on FOX News Channel in the interim. "Tucker Carlson Tonight" was the highest-rated news network on basic cable in prime time in 2022, with an average audience of 2.3 million. The news of Carlson's departure came less than a week after the company settled a $787.5 million defamation lawsuit from Dominion Voting Systems based on false claims about the 2020 US presidential election.
These were the latest shake-ups in the prime-time lineups across the major cable news networks in the past few years. FOX News Channel's last big shake-up occurred in April 2017 when Bill O'Reilly was removed from the prime-time schedule. Carlson replaced O'Reilly in 2017 in the prime-time slot and had held the position ever since. FOX News Channel's prime-time hosts Tucker Carlson, Sean Hannity and Laura Ingraham had been stable for a few years, while MSNBC and CNN have been rearranging hosts and shows over the past year. CNN rearranged its schedule in 2021 when Chris Cuomo left the prime-time lineup following a scandal with his brother, former governor of New York Andrew Cuomo. MSNBC's top host, Rachel Maddow, pulled back to once a week in mid-2022 and was replaced by Alex Wagner in the 9 p.m. ET slot.
Cable news networks surged in popularity in 2020 as Americans flocked to the "big three" networks for information on COVID-19-related lockdowns and the U.S. presidential election. Following the peaks achieved in 2020, ratings at CNN and MSNBC pulled back to 2017 levels in 2021 and 2022 while FOX News Channel experienced an uptick in viewership. Paramount to the uptick at FOX News Channel was the success of daytime show "The Five" and late-night show "Gutfeld!"
CNN, FOX News Channel and MSNBC are all fully penetrated across pay-tv operators in the U.S. while other news networks are fighting for distribution. One America News Network has lost nearly all its multichannel subscribers, and Newsmax TV has been involved in multiple high-profile carriage disputes in recent years with operators like DIRECTV and Frontier Communications.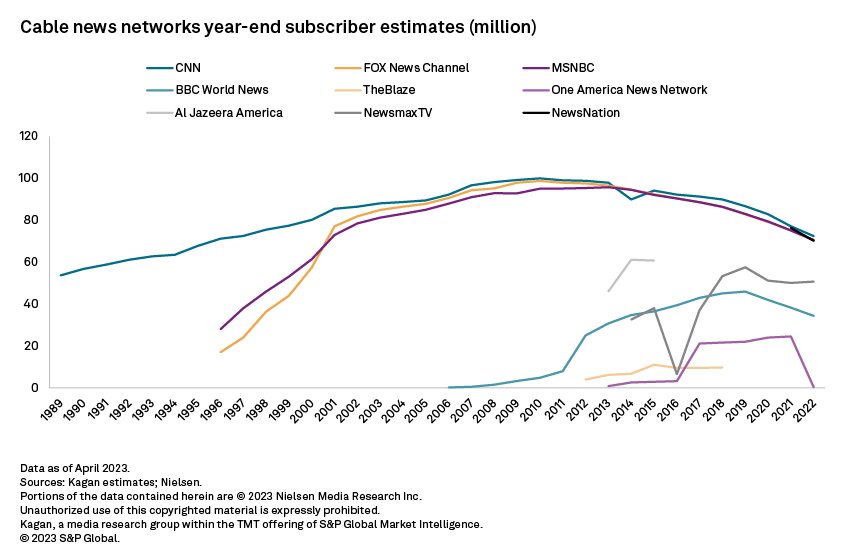 Aside from traditional carriage on multichannel operator video packages, news networks are included across packages offered by virtual multichannel providers, like DISH Network Corp.'s Sling and fuboTV Inc. One of the major exceptions is CNN, and all WarnerMedia networks, being excluded from fuboTV lineups as the two companies have yet to sign a distribution deal. FOX News Channel is the only one of the big three cable news networks available on the Vidgo Inc. virtual multichannel service; however, it is joined on the service's lineup by other smaller news networks, such as Newsmax TV.
While digital news options like Cheddar and local now are free, the big cable news networks charge operators hefty license fees for carriage. MSNBC is cheaper for operators to carry than both CNN and FOX News Channel. The network offered carriage at a low rate to increase distribution early on and has maintained a relatively low license fee compared to its peers. On the flip side, FOX News Channel pushed for higher license fees around 2010 and has been able to leverage its ratings success to grow the fee annually. FOX News Channel has three major carriage renewals slated for 2023 and has been reportedly looking for a sizeable hike in fees.
Thanks to steady increases in license fees coupled with growing audiences, the cable news networks have enjoyed healthy cash flow margins in recent years, with the three networks cracking the 50% margin again in 2022. All three networks did experience a tightening of cash flow margins in 2022 as expenses outpaced revenue growth. However, the networks were still well above the industry-weighted average cash flow margin of 37.5%.