Customer Logins
Obtain the data you need to make the most informed decisions by accessing our extensive portfolio of information, analytics, and expertise. Sign in to the product or service center of your choice.
Customer Logins
The pursuit of clarity in commodity coding in the age of innovation
On January 1st 2022, the World Customs Organization (WCO) will once again institute a new revision to the Harmonized Schedule (as it does every five years); certain commodity categories will have extensive revisions while others change very little. Whether you're an importer, exporter, analyst or even consumer, such revisions have widespread implications for how trade is measured, controlled, and taxed. Here we examine how the system has traditionally attempted to keep up with more innovative commodities and forward look to some of the categories undergoing more significant changes in just a few short months.
A review of the 2022 code changes over the previous 2017 edition reveals a focus on code changes to better track the trade of such innovative goods such as unmanned drones, smart phones, 3-D printers, electric vehicles and security sensitive goods like so-called dual-use goods that can be used for either benign or sensitive purposes depending on the application. As always, IHS Markit will be carefully tracking these code changes and providing context in our ongoing reporting to show where new codes are introduced, or old codes discontinued or changed.
The Harmonized system (HS) is made up of 21 Sections, 97 two-digit chapter headings that represent the whole of merchandise trade. This coding system was set up and entered into force in 1988 and since then has been used by nations around the world in assigning an internationally standard code to imported or exported goods for the tracking of those goods & the collecting of tariffs. Each chapter represents a segment of product types and then those chapters are broken down with more and more detail by the addition of digits to the code from 2- to 4- to 6-digit codes universal across all the world's reporting authorities. Country-specific tariff-line codes may offer more granularity at the 6+-digit level such as 8- or 10-digit codes at the behest of individual countries.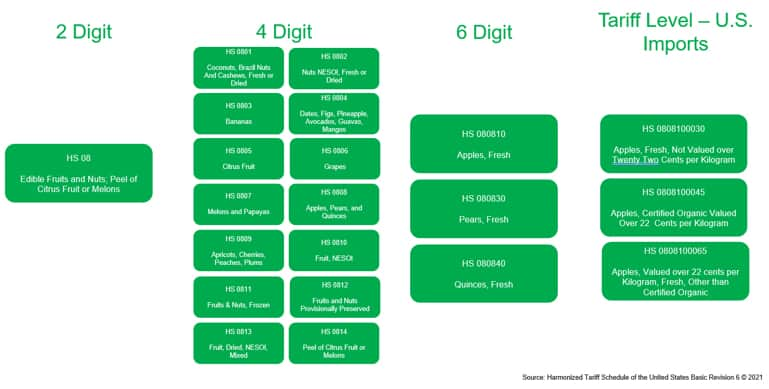 For example, the designation for Edible Fruits and Nuts is HS 08 in the Harmonized Schedule, with that chapter being broken down into fourteen different four digit codes that break down different types of fruits and nuts based on fruit & nut type and preparation. Within these four-digit codes (Headings), HS 0808 is the break out for Apples, Pears and Quinces, under which are three further breakouts, each with its own six digit designation and each containing the one of the three fruit types with apples being HS 080810. This is the lowest level of international standardization, but each customs agency is given license to further breakout this six-digit codes (Subheadings) as best suits its needs. For instance, the United States adds four additional digits to create a ten-digit code (Tariff Lines/National Codes) and in the case of apples, further divides apple imports, by price per kilo and by whether or not they are certified organic.
With clear cut commodities like apples, the changes to the Harmonized Schedule tend to be limited as the product itself is generally unchanged over time, but with some of the products of focus in the 2022 changes, the WCO must adjust the coding to give a view goods that have become more prevalent over the past decade. A few examples are:
Creation of a new 4-Digit category for machines for additive manufacturing, more commonly known as 3-D printers with multiple subcategories according to type


New

HS 84.85 - Machines for Additive Manufacturing

8485.10 - By Metal Deposit

8485.20 - By Plastic or Rubber deposit

8485.40 - By Plaster, Cement, Ceramics, or Glass Deposit

8485-50 - Other

8485.90 - Parts

Discontinuing using the single use code for cell phones and the creation of two new codes to give visibility into the trade of smart phones

Discontinued

HS 8517.12 - Telephones for Cellular Networks or for Other Wireless Networks



New

HS 8517.13 - Smartphones

HS 8517.14 - Other Telephones for cellular networks or other wireless networks

The general code for Electrical Machines Having Individual Functions, Not Elsewhere Specified will be redefined with the introduction of a new code for the trade of electronic cigarettes and personal electric vaporizing devices



Scope Changed

HS 8543.70 - Electrical Machines and Apparatus, Having Individual Functions, NESOI

New

HS 8543.40 - Electronic cigarettes and similar personal electric vaporizing devices
Because the changes to technology and the needs in tracking trade can change over time, the World Customs Organization has a regular schedule of updating the Harmonized System updating it every five years. Sometimes the changes for a single product can stretch over time, making the tracking of its trade a complex prospect. One example is optical discs used in the publishing of music, video, and software. Below is an overview of how the trade of this product has been tracked over the years.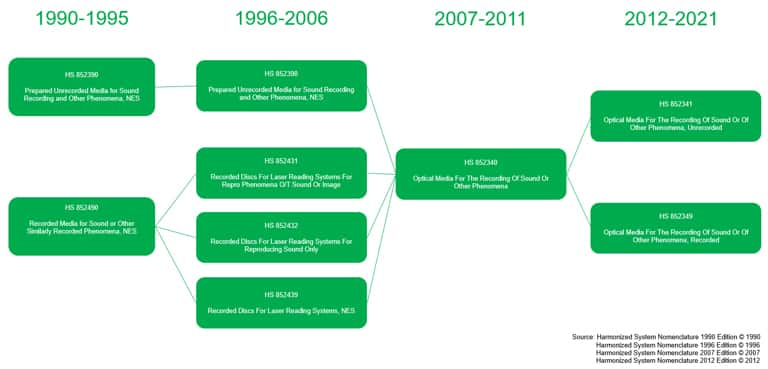 Initially trade for these products fell under two broad codes (HS 852390 & 852490) between 1990 and 1995
Changes in the Harmonized Schedule in 1996 saw trade for HS 852490 for recorded media broken into three new codes - HS 852431, 852432, & 852439. These new code as well as 852390 were used to track optical disc trade for the next 10 years
In 2007, all of these codes were discontinued and a single code HS 852340 was created consolidating all optical disc trade
Five years later in 2012, HS 852340 was discontinued and replaced with two new codes HS 852341 for unrecorded optical discs and HS 852349 for recorded optical discs
The tracking of trade over a long historical span can at times be a complex process and requires diligent research to insure that the codes tracked are current and correct for the products of interest.
The World Customs Organization does not simply make changes to give greater visibility into new products, but also adjusts the Harmonized Schedule to aid in efforts around clean energy, environmental protection, and even international security. Some of the changes for the upcoming 2022 amendment that support such efforts are:
The creation of a series of codes under HS 2903 for Halogenated Derivatives of Hydrocarbons to aid in the monitoring and control substances that deplete the ozone layer in keeping with the Kigali Amendments to the Montreal Protocol
The creation of a new code (HS 293010) for the monitoring of and control of 2-(N,N-Dimethlyamino) ethanethiol as well as a series of new codes under HS 2931 (Organo-Inorganic Compounds, NESOI) in keeping with the Chemical Weapon Convention
The creation and expansion of codes under HS 2933 and HS 2934 to track fentanyls and fentanyl derivatives to monitor and control the trade of these goods under the United Nations Single convention of Narcotic Drugs
Multiple changes to track the movement of metal, mineral, electrical, and electronic waste as proposed by the Secretariat of the Basel Convention
Creation of codes to provide visibility into the trade of goods around solar energy products as proposed by the International Renewable Energy Agency
The creation and redefinition of numerous codes to give a greater view into the monitoring and control of goods that can be used for both benign and sensitive purposes, also called dual use goods
With the coming changes to the Harmonized System being overseen by the World Customs Organization, the trade community receives another opportunity to gain better visibility and insight into the movement of goods. IHS Markit will continue to provide the most up-to-date and accurate data, giving visibility into these code changes and helping our client base best navigate the changing trade landscape.
Subscribe to our monthly newsletter and stay up-to-date with our latest analytics
{"items" : [ {"name":"share","enabled":true,"desc":"<strong>Share</strong>","mobdesc":"Share","options":[ {"name":"facebook","url":"https://www.facebook.com/sharer.php?u=http%3a%2f%2fwww.spglobal.com%2fmarketintelligence%2fen%2fmi%2fresearch-analysis%2fthe-pursuit-of-clarity-in-commodity-coding-in-age-of-innovation.html","enabled":true},{"name":"twitter","url":"https://twitter.com/intent/tweet?url=http%3a%2f%2fwww.spglobal.com%2fmarketintelligence%2fen%2fmi%2fresearch-analysis%2fthe-pursuit-of-clarity-in-commodity-coding-in-age-of-innovation.html&text=The+pursuit+of+clarity+in+commodity+coding+in+the+age+of+innovation+%7c+S%26P+Global+","enabled":true},{"name":"linkedin","url":"https://www.linkedin.com/sharing/share-offsite/?url=http%3a%2f%2fwww.spglobal.com%2fmarketintelligence%2fen%2fmi%2fresearch-analysis%2fthe-pursuit-of-clarity-in-commodity-coding-in-age-of-innovation.html","enabled":true},{"name":"email","url":"?subject=The pursuit of clarity in commodity coding in the age of innovation | S&P Global &body=http%3a%2f%2fwww.spglobal.com%2fmarketintelligence%2fen%2fmi%2fresearch-analysis%2fthe-pursuit-of-clarity-in-commodity-coding-in-age-of-innovation.html","enabled":true},{"name":"whatsapp","url":"https://api.whatsapp.com/send?text=The+pursuit+of+clarity+in+commodity+coding+in+the+age+of+innovation+%7c+S%26P+Global+ http%3a%2f%2fwww.spglobal.com%2fmarketintelligence%2fen%2fmi%2fresearch-analysis%2fthe-pursuit-of-clarity-in-commodity-coding-in-age-of-innovation.html","enabled":true}]}, {"name":"rtt","enabled":true,"mobdesc":"Top"} ]}