Customer Logins
Obtain the data you need to make the most informed decisions by accessing our extensive portfolio of information, analytics, and expertise. Sign in to the product or service center of your choice.
Customer Logins
Daily Global Market Summary - 18 May 2021

All major APAC equity markets closed higher, Europe was mixed, and US indices were lower. US government bonds closed slightly higher and benchmark European bonds closed mixed. European iTraxx and CDX-NA credit indices closed slightly wider across IG and high yield. The US dollar, oil, and natural gas closed lower, gold was flat, and copper and silver were higher on the day.
Please note that we are now including a link to the profiles of contributing authors who are available for one-on-one discussions through our newly launched Experts by IHS Markit platform.
Americas

1. All major US equity indices closed lower; Nasdaq -0.6%, Russell 2000 -0.7%, DJIA -0.8%, and S&P 500 -0.9%.
2. 10yr US govt bonds closed -1bp/1.64% yield and 30yr bonds -1bp/2.36% yield.
3. CDX-NAIG closed +1bp/53bps and CDX-NAHY +3bps/297bps.
4. DXY US dollar index closed -0.5%/89.75, which is the lowest close since March 2018.
5. Gold closed flat/$1,868 per troy oz, silver +0.2%/$28.33 per troy oz, and copper +0.3%/$4.73 per pound.
6. Crude oil closed -1.2%/$65.49 per barrel and natural gas closed -3.1%/$3.01 per mmbtu.
7. Investment in new fossil-fuel supply projects must immediately cease if the world is going to slash net carbon emissions to zero by 2050, the International Energy Agency said Tuesday. The Paris-based energy watchdog also said in a report that hitting the net-zero target would require a rapid acceleration of wind and solar capacity and a halt in sales of combustion-engine cars by 2035. (WSJ)
8. A senior American labor union leader is to inform US lawmakers today (18 May) that all automated vehicles should have human operators present behind the wheel to take over in the event of an emergency, reports Reuters. Greg Regan, president of the Transportation Trades Department of the AFL-CIO union, is to tell a US House of Representatives' energy and commerce subcommittee that autonomous vehicles (AVs) can threaten millions of jobs. In addition, he is to say that any legislation to accelerate the introduction of autonomous cars should not extend to commercial trucks weighing 10,000 pounds or more. Regan said, "We do not allow passenger airplanes to operate without pilots or passenger rail to run without engineers, and we should use a similar approach with AVs that operate on our often-congested roadways and in complex transit networks." (IHS Markit Automotive Mobility's Surabhi Rajpal)
9. US single-family permits fell 3.8% (plus or minus 1.0%; statistically significant) in April and were down in all four regions. It is too early to make the call, but this category may have peaked in January, nationally and in each region. Although lower, recent numbers are still impressive. (IHS Markit Economist Patrick Newport)
a. Multifamily permits jumped 8.9% to a 611,000-annual rate—their third-highest tally in 31 years. This category is volatile so one should not make too much of this milestone. Multifamily permits and starts have followed a flat trend since 2015 and show no signs of taking off.
b. Housing starts fell 9.5% to a 1.569 million annual rate (plus or minus 10.0%, not statistically significant) in April; single-family starts plunged 13.4% (plus or minus 7.9%, statistically significant) to a 1.087 million rate; multifamily starts edged up 0.8% to a 482,000 rate.
c. The costs of building a home have been rising faster than the selling prices of new homes, so builder margins have narrowed. This may explain why single-family housing permit numbers have slipped since January. If builders can raise their selling prices, housing starts could ramp up again. We are not expecting that.
10. US seasonally adjusted e-commerce retail sales registered $215.0 billion in the first quarter of 2021, an increase of 7.7% from the fourth quarter of 2020. (IHS Markit Economist James Bohnaker)
a. Growth was 39.1% year on year (y/y), up from a growth rate of 32.0% in the previous quarter but below the peak of 43.8% y/y in the second quarter of 2020.
b. The e-commerce share of total retail trade held steady at 13.6%. Prior to the pandemic, the share was 11.0% in the fourth quarter of 2019. This share had been increasing at around one percentage point per year on average during the last five years. In other words, the shifting shopping patterns induced by the pandemic thrust the share of e-commerce relative to total retail forward by nearly three years.
c. This data release included annual revisions to e-commerce retail sales data. The level of e-commerce retail sales was revised down in recent years, resulting in $7 billion less in e-commerce sales than previously estimated as of the fourth quarter of 2020.

11. In North America, IHS Markit forecasts the semiconductor shortage as having the most significant impact in April, so far this year. The issue is ongoing and the shortage has begun to affect the highly profitable pick-up truck segment. The impact from the issue in March was less severe than in February, and the current expectation is for resumption of normal output in the third and fourth quarters of 2021, although opportunities for making up lost production could shift to 2022. One reason for output likely being at near or above 100% of planned production in the third quarter will be automakers forgoing traditional mid-year shutdowns for a second year in a row. (IHS Markit AutoIntelligence's Stephanie Brinley)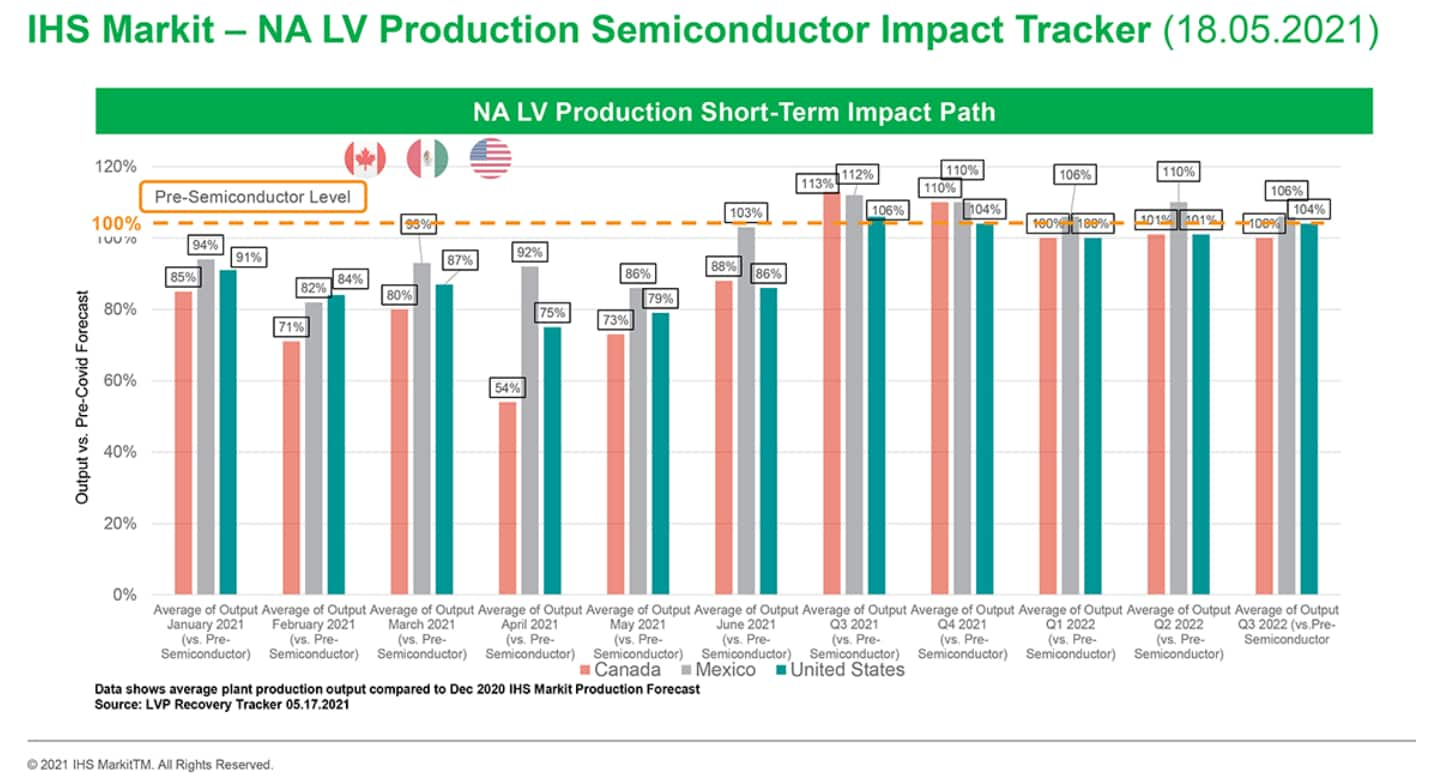 12. Canoo started taking preorders for its electric pick-up on 17 May, setting a price range of USD34,750-49,950 for the Lifestyle Vehicle, which is due to arrive in 2022. According to a press statement from Canoo, Lifestyle Vehicle preorders can be placed online with a USD100 deposit. The Lifestyle Vehicle will be followed by a Pick-up and Multi-Purpose Delivery Vehicle (MPDV) "as soon as" 2023, and preorders can be placed for those, although Canoo has not announced pricing. (IHS Markit AutoIntelligence's Stephanie Brinley)
13. Brazil's two largest beef processors JBS and Marfrig both reported a strong set of global results for the first quarter of this year - but said margins from their Brazilian operations had been squeezed by the high cost of cattle. (IHS Markit Food and Agricultural Commodities' Ana Andrade and Max Green)
a. JBS, the world's largest meatpacker, posted a net profit of BRL2 billion (USD377 million) in the quarter ended March 31, versus a BRL5.93 billion loss in the same period of last year. The company said its US operations had benefited from a recovery in demand and the wide availability of slaughter-ready cattle.
b. In contrast, margins in Brazil were hit by the high cost of cattle, which reached record highs in the first quarter of 2021.
c. Marfrig, Brazil's second largest processor, reported its best first quarter results in Jan-March 2021, posting a net profit of BRL279 million in the first quarter versus a loss of BRK137 million in the same period last year. Like JBS, the strength of Marfrig's US operations helped offset challenges in Brazil, where the high cost of raw materials caused EBITDA margins to fall 8 percentage points, to 5% in the first quarter of 2021.
d. Having peaked at BRL320 per 15kg unit in mid-April, Brazil's indicator price for fattened cattle fell back to BRL307 per 15kg (USD3.88 per kg) at the end of last week (14 May). Prices are expected to continue easing back over the coming weeks due to an increase in the availability of slaughter-ready animals. This pressure is expected to last until mid-June when the supply of animals will start to tighten once again.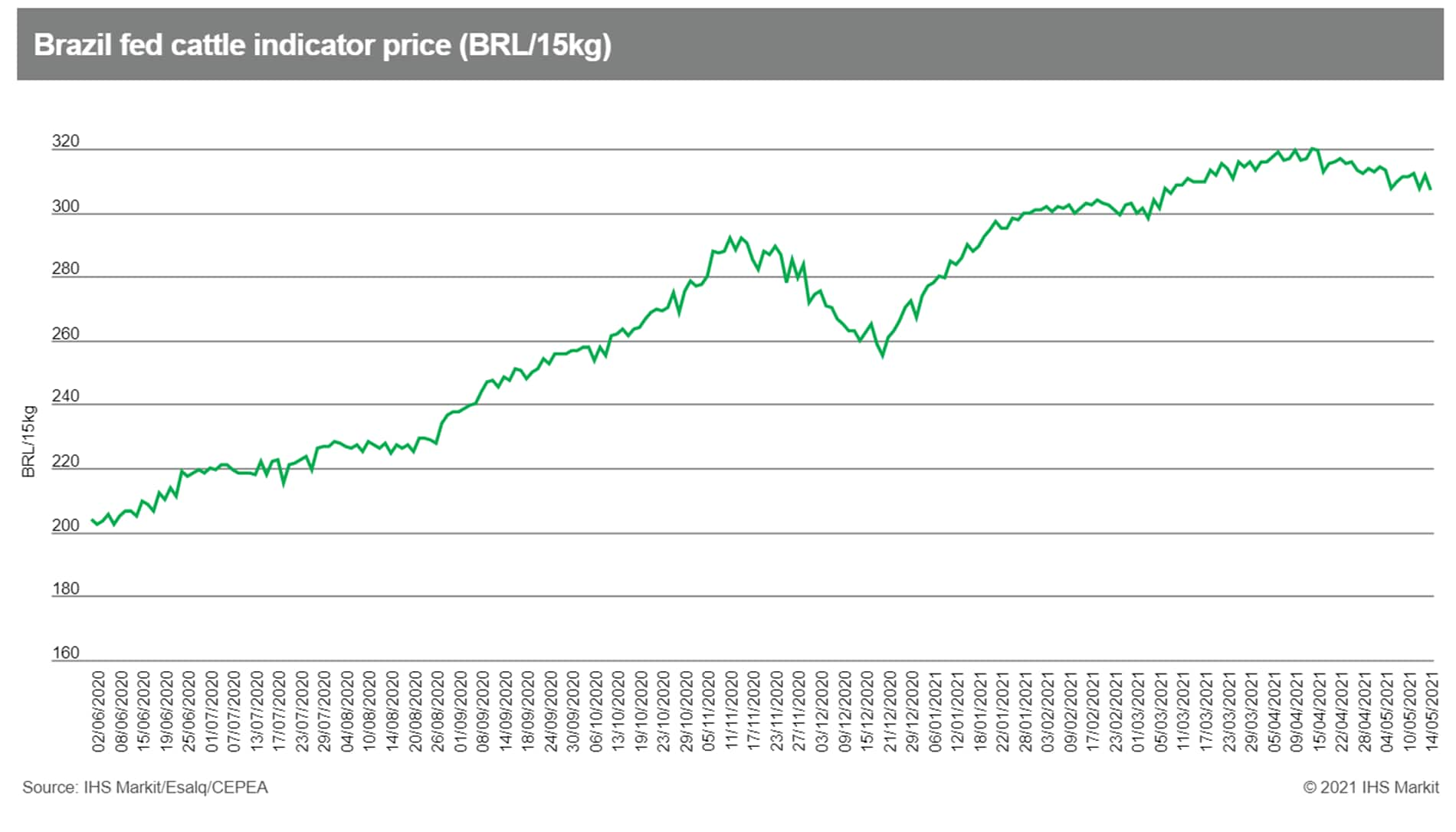 Europe/Middle East/Africa

1. European equity markets closed mixed; UK flat, France -0.2%, Germany -0.1%, Italy +0.1%, and Spain +0.3%.
2. 10yr European govt bonds closed mixed; Italy -2bps, Spain -1bp, France/UK flat, and Germany +1bp.
3. iTraxx-Europe closed +1bp/52bps and iTraxx-Xover +2bps/256bps.
4. Brent crude closed -1.1%/$68.71 per barrel.
5. Germany's Federal Statistical Office (FSO) data show that total German employment declined by 0.5 million to 44.361 million in the first quarter, which exceeds the normal drop for seasonal reasons. The year-on-year (y/y) decline thus deepened from the previous quarter's -1.5% y/y to -1.6% y/y, although the base in the first quarter of 2020 had already been hurt somewhat by the unfolding pandemic. This compares with a 1.0% average y/y gain during 2010-19. (IHS Markit Economist Timo Klein)
a. In seasonally adjusted terms, employment declined by 47,000 or 0.1% versus the fourth quarter of 2020. This contrasts with an average quarterly gain of 0.26% quarter on quarter (q/q) during 2020-19. Separate monthly data do show a rebound in March following declines during November-February, however.
b. The breakdown by sector shows that four sectors bucked the trend and continued to show y/y gains - foremost (understandably) public services/education/health, followed by construction, information and communications, and real estate.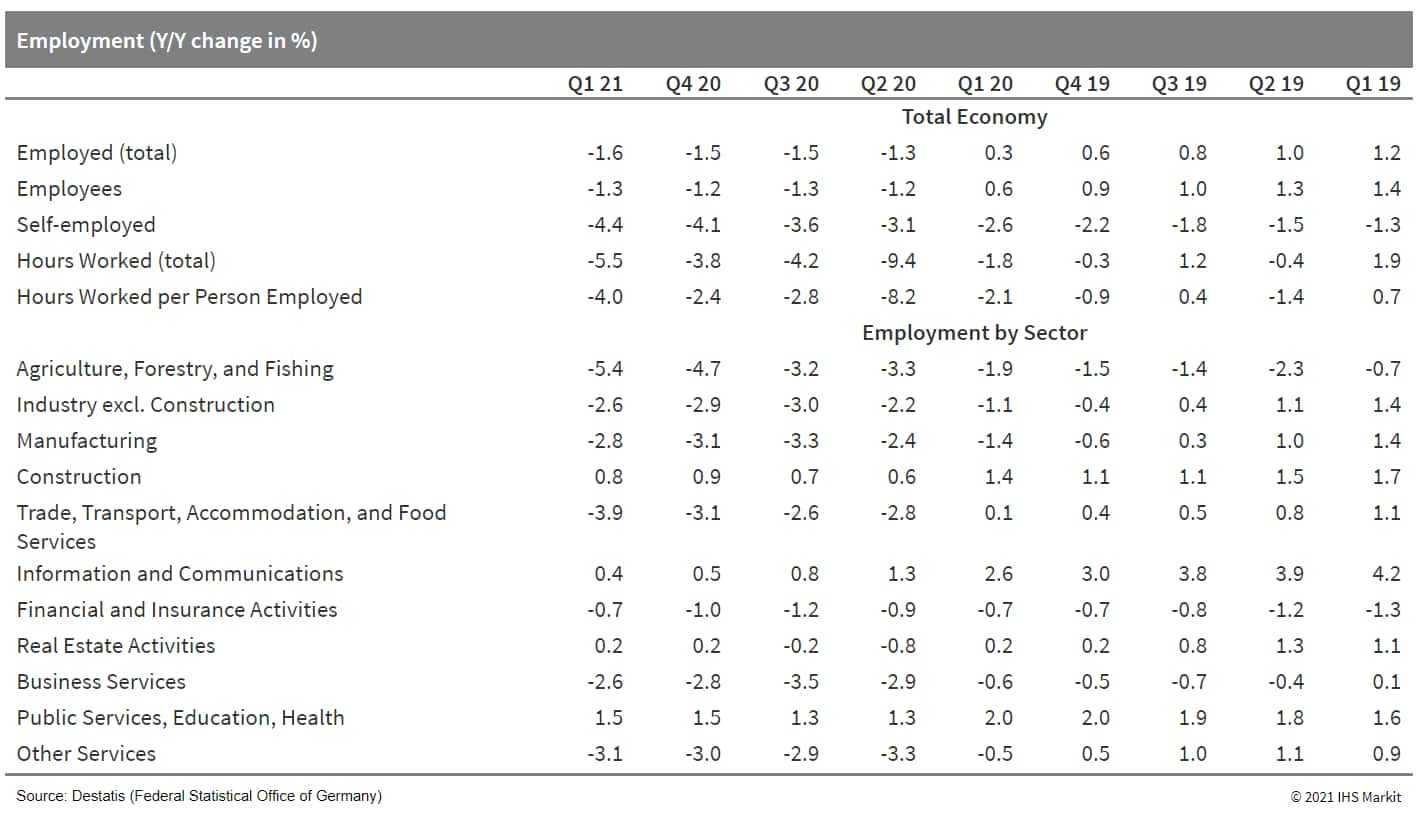 6. The CEO of Bosch, the world's largest automotive components supplier, has said that he expects the global automotive semiconductor shortage to continue into 2022, according a report in German newspaper Frankfurter Allgemeine Zeitung. Bosch CEO Volkmar Denner struck a cautious note when asked about the microchip crisis in an interview with the newspaper. Denner said, "There are difficult months ahead of us, and the situation could remain tense until 2022." (IHS Markit AutoIntelligence's Tim Urquhart)
7. Tesla CEO Elon Musk has complained that red tape and bureaucracy are delaying the start-of-production (SOP) date at his company's new plant in Grünheide (Germany). According to a Bloomberg report, Musk made the comments during a site visit to the facility yesterday (17 May). When asked about when the SOP at the plant would be, he said, "It's hard to predict with precision cause you can only make the cars when all of the pieces are here. It looks like we're able to start production end of this year." In addition, when asked if the red tape that Tesla is dealing with in Germany was an impediment to the company's plans, he said, "I think there could be less that would be better," adding that rules were "immortal". (IHS Markit AutoIntelligence's Tim Urquhart)
8. Stellantis' Opel and Vauxhall brands have launched variants of its battery electric Vivaro-e light commercial vehicle (LCV) that feature a hydrogen fuel cell range extender. According to a statement, the Vivaro-e Hydrogen is similar to the existing Vivaro-e but has had its battery pack replaced by three 700-bar carbon-fiber hydrogen cylinders that supply a 45kW fuel cell, which is capable of generating enough power for continuous highway driving. The powertrain also includes a 10.5kWh lithium-ion battery located under the front seats that provides "dynamic peak power when required" such as on start-up or when accelerating. As well as allowing the fuel cell to run at optimum operating conditions, the battery can also be recharged through regenerative braking and via a plug socket. The battery can provide 50km of electric-only range, while the fuel cylinders offer a range of more than 400km under WLTP test conditions. (IHS Markit AutoIntelligence's Ian Fletcher)
Asia-Pacific
1. All major APAC equity indices closed higher; Japan +2.1%, Hong Kong +1.4%, India/South Korea +1.2%, Australia +0.6%, and Mainland China +0.3%.
2. Mainland China's year-on-year (y/y) real industrial value-added growth continued to fall from 14.1% in March to 9.8% in April as a result of the higher base effect. The growth rate, on a two-year (2020-21) average basis, picked up by 0.6 percentage point to 6.8%, while the month-on-month figure remained in expansion. (IHS Markit Economist Yating Xu)
a. By sector, the headline acceleration was entirely driven by the manufacturing sector, which grew 7.6% (on 2020-21 average basis), up 1.2 percentage points from March and 2.3 points from the 2019 level.
b. Equipment manufacturing and high-tech manufacturing continued to lead the growth, expanding 11.2% and 11.6%, respectively, on a two-year average basis. The new energy vehicles, industrial robots, and integrated circuits segments all reported double-digit growth.
c. Production in the mining and utilities sectors both slowed from March to a much lower level compared with the April 2019 level. Impacted by the chip supply shortage, auto, integrated circuits, and computer production weakened on a month-on-month basis.
d. The service production index, on a two-year (2020-21) average basis, grew by 6.2% compared with 2019 levels, down from 6.8% a month ago and 1.2 percentage points lower than the April 2019 growth rate.
e. Year-on-year FAI growth declined by 5.7 percentage points to 19.9% in April on higher-base effects. On a 2020-21 average basis, FAI growth continued to accelerate from 1.7% through February to 2.9% through March and to 3.9% through February.
f. Average 2020-21 real estate investment increased by 10.3% from the 2019 level in April, accelerating from 7.7% in March. However, construction and sales activities weakened from the first quarter thanks to the mortgage interest rate hike and tightening of credit regulations and purchase controls on the housing market. The floor space of new starts reported faster contraction from 3% to 4%, construction growth slowed from 7% y/y to 6% y/y, and completions growth deteriorated from 2% y/y to 0% y/y.
g. Year-on-year nominal retail sales growth fell by 34.2% in March to 17.7% in April. On a two-year (2020-21) average basis, retail sales growth compared with 2019 levels declined by 2 percentage points to 4.3% in April. Additionally, month-on-month growth slowed by 0.62 percentage point from March to 0.32%.


3. Mainland China's average new home price inflation inched up to 0.48% month on month (m/m) in April, compared with 0.41% m/m in the previous month, according to the survey conducted by the National Bureau of Statistics covering 70 major cities. (IHS Markit Economist Lei Yi)
a. The uptick in month-on-month new home price inflation in April largely came from the rising inflation in tier-1 cities, while the inflation increase in tier-2 and tier-3 cites was relatively milder.
b. Among mainland China's four tier-1 cities, Guangzhou continued to report the highest new home price inflation of 1.1% in month-on-month terms; whereas Beijing and Shenzhen recorded the largest month-on-month inflation increase from March of 0.4 percentage points. Up to 62 out of the 70 surveyed cities registered month-on-month new home price gains in April, unchanged from the March reading.
4. Didi Chuxing's (DiDi) autonomous vehicle (AV) unit has selected NVIDIA DRIVE for its new fleet of robotaxis, which will be built in partnership with Volvo Cars. Volvo's autonomous drive-ready XC90 cars will be integrated with DiDi Gemini, a new autonomous hardware platform, which is equipped with NVIDIA DRIVE AGX Pegasus. DiDi Gemini can achieve "700 trillion operations per second [TOPS] of performance, and includes up to 50 high-resolution sensors and an ASIL-D rated fallback system". (IHS Markit Automotive Mobility's Surabhi Rajpal)
5. GAC Aion, the electric vehicle (EV) subsidiary of GAC Group, has teamed up with DiDi to co-operate on the development of an autonomous new energy vehicle (NEV) model for large-scale commercial application, according to Gasgoo. The two companies will integrate DiDi Autonomous Driving's hardware and software technologies with GAC Aion's NEV design and manufacturing capabilities and the resources of autonomous car platform. (IHS Markit AutoIntelligence's Nitin Budhiraja)
6. Japan's real GDP fell in the first quarter for the first decline in three quarters, moving down 1.3% quarter on quarter (q/q, or 5.1% q/q annualized) after a 2.8% q/q (or 11.6% q/q annualized) rise in the previous quarter. The larger-than-expected contraction for the first quarter mainly reflected a sharper decline in government consumption and weak private capital expenditure (capex). (IHS Markit Economist Harumi Taguchi)
a. The major reason behind the decrease was a 1.4% q/q drop in private consumption, reflecting measures to contain the third wave of the pandemic.
b. Spending in services and durable goods fell by 2.6% q/q and 3.1% q/q, respectively, following two quarters of growth.
c. Spending on semi-durable goods continued to decline with a 3.0% q/q slide. Those weaknesses were partially offset by a rebound in spending on non-durable goods.
7. The South Korean government has unveiled an ambitious plan to invest around USD450 billion over the next decade in its semiconductor manufacturing industry, reports Bloomberg. Samsung Electronics and SK hynix Inc. would lead in the investment of KRW510 trillion (USD448.8 billion) in semiconductor research and production through to 2030 under a national blueprint devised by South Korean President Moon Jae-in's administration. (IHS Markit AutoIntelligence's Jamal Amir)
8. Although Thailand's economy showed an improvement in the first quarter from the previous quarter's contraction, it struggled to contain the COVID-19 pandemic during the first quarter. Real GDP fell by 2.6% year on year (y/y) in the first quarter, only slightly below IHS Markit's projection of a contraction of 2.5% y/y. (IHS Markit Economist Jola Pasku)
a. Private consumption fell by 0.5% y/y during the first quarter, reversing an expansion of 0.9% y/y in the previous quarter. After almost a year without local transmission, a second wave of COVID-19 brought back localized containment restrictions in early January and February. As a result, private consumption weakened across most spending categories in the first quarter, with spending on semi-durable products bearing the largest blow (down 7.5% y/y).
b. Fixed investment activity expanded by 7.3% y/y during the first quarter, reversing a 2.5% y/y contraction recorded in the previous quarter. Private investment returned to positive growth for the first time in five quarters with support from investment in machinery and equipment spending.
9. Gojek will begin providing ride-hailing and e-payment operations "very, very soon" in Vietnam, country manager Phung Tuan Duc said, reports Nikkei Asian Review. The company currently offers motorbike rides, as well as food delivery and parcel shipping services for Vietnamese customers. Duc said, "Instead of going after the next shiny technology, we focus on what the market needs the most. We feel confident to start expanding, and four-wheel [transportation] and payment are the two most requested [services] from our consumer base." (IHS Markit Automotive Mobility's Surabhi Rajpal)
---
S&P Global provides industry-leading data, software and technology platforms and managed services to tackle some of the most difficult challenges in financial markets. We help our customers better understand complicated markets, reduce risk, operate more efficiently and comply with financial regulation.
---
This article was published by S&P Global Market Intelligence and not by S&P Global Ratings, which is a separately managed division of S&P Global.
RELATED INDUSTRIES & TOPICS
{"items" : [ {"name":"share","enabled":true,"desc":"<strong>Share</strong>","mobdesc":"Share","options":[ {"name":"facebook","url":"https://www.facebook.com/sharer.php?u=http%3a%2f%2fwww.spglobal.com%2fmarketintelligence%2fen%2fmi%2fresearch-analysis%2fdaily-global-market-summary--18-may-2021.html","enabled":true},{"name":"twitter","url":"https://twitter.com/intent/tweet?url=http%3a%2f%2fwww.spglobal.com%2fmarketintelligence%2fen%2fmi%2fresearch-analysis%2fdaily-global-market-summary--18-may-2021.html&text=Daily+Global+Market+Summary+-+18+May+2021+%7c+S%26P+Global+","enabled":true},{"name":"linkedin","url":"https://www.linkedin.com/sharing/share-offsite/?url=http%3a%2f%2fwww.spglobal.com%2fmarketintelligence%2fen%2fmi%2fresearch-analysis%2fdaily-global-market-summary--18-may-2021.html","enabled":true},{"name":"email","url":"?subject=Daily Global Market Summary - 18 May 2021 | S&P Global &body=http%3a%2f%2fwww.spglobal.com%2fmarketintelligence%2fen%2fmi%2fresearch-analysis%2fdaily-global-market-summary--18-may-2021.html","enabled":true},{"name":"whatsapp","url":"https://api.whatsapp.com/send?text=Daily+Global+Market+Summary+-+18+May+2021+%7c+S%26P+Global+ http%3a%2f%2fwww.spglobal.com%2fmarketintelligence%2fen%2fmi%2fresearch-analysis%2fdaily-global-market-summary--18-may-2021.html","enabled":true}]}, {"name":"rtt","enabled":true,"mobdesc":"Top"} ]}