Customer Logins
Obtain the data you need to make the most informed decisions by accessing our extensive portfolio of information, analytics, and expertise. Sign in to the product or service center of your choice.
Customer Logins
Country risk month ahead: October 2021
Appointment of Japanese Prime Minister
The national Diet will endorse a new prime minister at an extraordinary parliamentary session on 4 October, following Liberal Democratic Party (LDP) leadership elections on 29 September. Given the LDP's majority in the lower house, whoever is elected LDP president is effectively certain to be endorsed as prime minister. A general election is due in November, and prospects for the LDP-led coalition retaining a majority in the lower house remain strong. All the frontrunners have called for economic stimulus to support businesses following extended coronavirus disease 2019 (COVID-19) virus pandemic-related restrictions, with Fumio Kishida pledging a USD300-billion package. Sanae Takaichi said she would also prioritize increased government spending to support the economy, rather than upholding the current government's goal of reaching a primary balance surplus by fiscal year 2025. Current requirements for foreign investors to seek government approval before share acquisitions in sectors deemed significant to Japan's national security (i.e., energy and telecommunications) will continue, regardless of the election outcome. Existing foreign investment legislation is increasingly likely to be expanded to other sectors, including rare metals and related industries. Among the contenders, a government led by Takaichi is more likely to take a hard-line approach on national security issues. Although all candidates will pursue the current administration's decarbonization goals, a Taro Kōno cabinet would be more likely to push for the phasing out of fossil fuels in favor of increased renewable energy use. Decarbonizations would be more likely to be delayed under Kishida or Takaichi, who would probably favor expanding nuclear energy use alongside renewables.
Peru's constitutional court replacements
Peru's opposition-controlled congress is scheduled to start on 1 October the process for the election of new members of Peru's Constitutional Court (Tribunal Constitutional: TC), who serve for five-year terms. The TC has the final say on the constitutionality of legislation and lower court rulings. The terms of six of the seven magistrates of the TC expired in 2019 but they remain members, as the previous congress was unable to reach an agreement on appointing their replacements. However, the death of Magistrate Carlos Ramos on 21 September should increase pressure for congress to elect new members within the next few months. Although the TC only requires a quorum of five magistrates to hold sessions, without Magistrate Ramos, it faces a greater risk of tied decisions with no deciding vote. Prior to Ramos' death, the TC was split along ideological lines, with three magistrates (including Ramos) who typically voted in favor of more progressive issues and three who typically voted in line with conservative opinion, and Magistrate Manuel Miranda switching between the two sides and providing the deciding swing vote.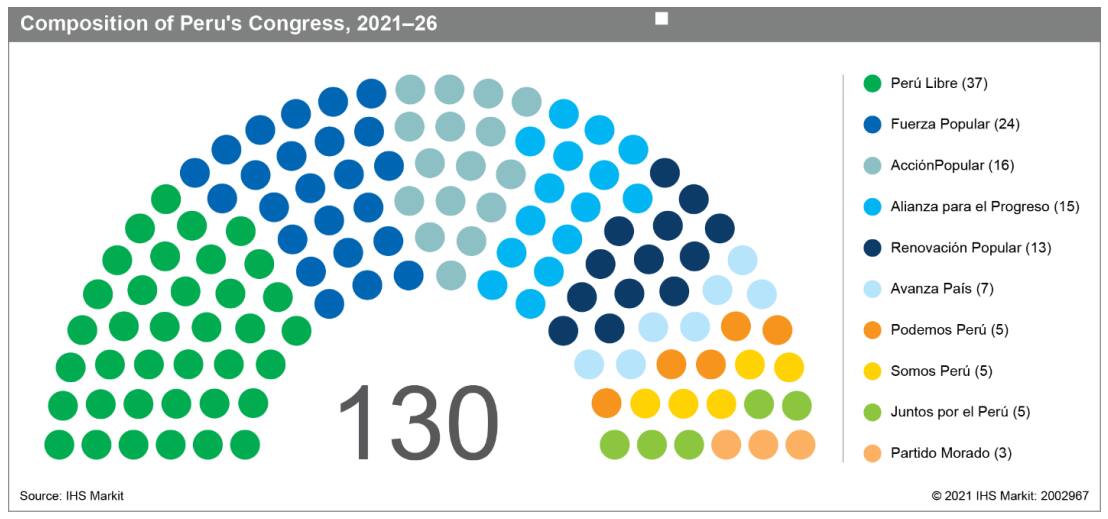 Indicators to watch:
The opposition is likely to appoint more conservative members: if successful, this would potentially limit or block the policy agenda of President Pedro Castillo and his left-leaning Peru Libre party, including constitutional changes.
A more conservative court would have the ability to oppose changes to labor laws and any potential tax changes that are deemed confiscatory, as allowed by the constitution.
Further sanctions on Ethiopia
Prime Minister Abiy Ahmed will be sworn in on 4 October after his party won parliamentary elections in June. In a 16 September statement, the White House declared that the swearing in before the newly elected parliament provides an opportunity for Ahmed to signal a different approach to the Tigray conflict. US President Joe Biden signed an executive order on 17 September empowering the US Treasury and State departments to sanction Ethiopian and Eritrean officials engaged in the armed conflict in Ethiopia's Tigray region, in efforts to push those involved to move toward a ceasefire. However, it is unlikely that Ahmed will alter his approach or seek a ceasefire. This implies that the US is likely to impose financial sanctions on Ethiopian individuals involving freezing their assets (if any are held in the US), a travel ban and a prohibition on individuals and related firms from doing business in the US. Those affected are likely to be part of or linked with the Ethiopian Amharan regional, and Eritrean governments, or the Ethiopian armed forces or Tigray defense forces, with sanctions likely before the end of the year.
Indicators to watch:
If there is no progress towards a ceasefire after November, the US is increasingly likely to threaten to withdraw Ethiopia from the African Growth and Opportunity Act (Agoa), which allows duty-free access to the US market.
If the deadlock continues beyond 12 months without progress, it would become increasingly likely that the US would reduce or withdraw its support for Ethiopia in international financial entities, potentially blocking US International Development Finance Corporation financial support to Safaricom - the first and only private telecoms operator in Ethiopia.
Iraq's legislative elections
Iraq will hold early legislative elections on 10 October (after these were delayed from June 2021), meeting a central demand of protestors engaged in anti-government demonstrations in Baghdad and southern Iraq since late 2019. Prime Minister Mustafa al-Kadhimi, an independent, is not running and has not expressed any ambition to continue in his post. No political party or bloc is likely to receive a majority of seats in Iraq's parliament, but the following established Shia blocs are once again expected to receive the most significant share of the vote: Fatah Alliance (led by Hadi alAmiri and representing some of the resistance factions of the Popular Mobilization Units (PMUs)); State of Law Coalition (led by former prime minister and ally of the PMUs Nuri al-Maliki) and Sa'eroun (the coalition led by Shia cleric Muqtada al-Sadr). The elections are likely to be followed (as previously) by several months of bargaining between factions to agree on a mutually acceptable candidate for prime minister; approval by Iran is an unofficial precondition for a candidate to be selected. Given increased polarization among the Shia parties, specifically Shia cleric Muqtada al-Sadr and the resistance factions committed to forcing a withdrawal of all US forces, the process is likely to be particularly drawn out and fractious. On balance, IHS Markit expects a strong showing for the political wings of the PMUs and al-Maliki, and a potential reduction in seats for the Sadr Movement. This is likely to entail the selection of a prime minister closer to Iran and the resistance PMUs than Kadhimi. In turn, this will reduce the likelihood of planned projects in the energy sector proceeding in partnership with Saudi Arabia and the UAE, with China well-placed to fill the gap.
Indicators to watch:
Following a decision by the protest movement to boycott the elections, further low voter turnout (in 2018 only 44% of eligible voters participated) would translate into an increased share of the vote for the Sadr Movement and PMU-affiliated parties and further increase their influence across political and security institutions.
Should the Sadr Movement perform less well than expected, this would increase the risk of fighting between Sadr supporters and those of his rivals (whether rival militias or Maliki loyalists) and assassinations of respective militia commanders.
Ecuadorian president to meet with opposition
Meetings will take place on 4 October between Ecuadorian President Guillermo Lasso and the indigenous umbrella organization, the Confederation of Indigenous Nationalities of Ecuador (Confederación de Nacionalidades Indígenas del Ecuador: CONAIE). CONAIE will present multiple demands to the president, including freezing fuel prices, offering credits to businesses, and halting mining expansion Given that mining expansion and the removal of subsidies are major policy priorities for Lasso, it is unlikely that he will accede to all CONAIE's demands. CONAIE has announced that it would call for nationwide demonstrations if its demands are not met. Under the leadership of Leonidas Iza, who has links to a number of social organizations, CONAIE has gained strength and capacity to mobilize the public. Lasso has shown limited willingness to accept the demands of social organizations, and if the dialogue is unsuccessful, protest risks will rise across Ecuador. Protests are likely to involve demonstrations of up to 1,000 people on major roads in Quito and marches from indigenous areas, in particular Cotopaxi and Azuay, to Quito. If dialogue is unsuccessful, CONAIE is also more likely to seek more protests in response to government efforts to pass new legislation during at least the next 12 months.
Indicators to watch:
Unions announcing support for CONAIE protests would increase the likelihood of those unions calling on their members to join the protests by carrying out national strikes.
Proposals for government legislation focused on mining expansion would further increase protest risks for mining companies, especially in indigenous areas.
{"items" : [ {"name":"share","enabled":true,"desc":"<strong>Share</strong>","mobdesc":"Share","options":[ {"name":"facebook","url":"https://www.facebook.com/sharer.php?u=http%3a%2f%2fwww.spglobal.com%2fmarketintelligence%2fen%2fmi%2fresearch-analysis%2fcountry-risk-month-ahead-october-2021.html","enabled":true},{"name":"twitter","url":"https://twitter.com/intent/tweet?url=http%3a%2f%2fwww.spglobal.com%2fmarketintelligence%2fen%2fmi%2fresearch-analysis%2fcountry-risk-month-ahead-october-2021.html&text=Country+risk+month+ahead%3a%c2%a0October+2021+%7c+S%26P+Global+","enabled":true},{"name":"linkedin","url":"https://www.linkedin.com/sharing/share-offsite/?url=http%3a%2f%2fwww.spglobal.com%2fmarketintelligence%2fen%2fmi%2fresearch-analysis%2fcountry-risk-month-ahead-october-2021.html","enabled":true},{"name":"email","url":"?subject=Country risk month ahead: October 2021 | S&P Global &body=http%3a%2f%2fwww.spglobal.com%2fmarketintelligence%2fen%2fmi%2fresearch-analysis%2fcountry-risk-month-ahead-october-2021.html","enabled":true},{"name":"whatsapp","url":"https://api.whatsapp.com/send?text=Country+risk+month+ahead%3a%c2%a0October+2021+%7c+S%26P+Global+ http%3a%2f%2fwww.spglobal.com%2fmarketintelligence%2fen%2fmi%2fresearch-analysis%2fcountry-risk-month-ahead-october-2021.html","enabled":true}]}, {"name":"rtt","enabled":true,"mobdesc":"Top"} ]}