Customer Logins
Obtain the data you need to make the most informed decisions by accessing our extensive portfolio of information, analytics, and expertise. Sign in to the product or service center of your choice.
Customer Logins
China, Japan and U.S. Export Control Regulations for Dual-Use and Military Goods
Trade finance professionals recognize the importance of the role they play in enforcing international regulations pertaining to export compliance. With the ultimate aim of preventing illicit trading activity, such as the proliferation of unlicensed shipments of weapons of mass destruction and so-called dual use goods, increased scrutiny is placed on the multiple counterparties involved in a single trade. As trade regulations continue to expand globally, organizations around the world continue to increase the sophistication of their due diligence efforts. This report will analyse the different regional dual-use goods and military export regulations using examples of real life goods descriptions to understand the meaning for multiple counterparties involved in the global supply chain in terms of providing legitimate trading licenses and promoting safe and transparent trade.
Dual-use goods are defined as commodities that can be used for both civilian and military purposes depending on the specific application. An example of a dual-use good is radial ball bearings, which has several common benign applications in food processing equipment, printers and bicycles. Therefore, it is commonly traded internationally between exporter and importer countries. However, it can also be used in mechanical structures for missiles and projectiles. Therefore, care must be taken to ensure transactions referencing the shipment of radial ball bearings is for authorized, licensed purposes.
Multi-national regimes such as the Wassenaar Arrangement, Missile Technology Control Regime (MTCR) and the Chemical Weapons Convention (CWC), have been established to allow countries to trade sensitive goods safely and transparently, thereby promoting regional and international security and stability. The different member states in these organisations meet on a formal basis to collectively agree to a list of dual-use and military goods. By working in unison, national governments aim to ensure dual-use and military goods do not end up in the 'wrong' hands where they could be used for illicit purposes. Responsibility lies with the individual national government to accurately reflect and commit such items to an official dual-use goods and military items trade control list. The European Union release an annual update to their dual-use and military goods regulation. Certain countries outside of the European Union also reference the same category of goods and items, whilst sometimes adding their own country specific export control laws.
A variety of proprietary industry solutions are available to assist supply chain compliance teams to effectively screen trade documented goods descriptions for export control irregularities. For example, the IHS Markit Trade Compliance Secure product solution matches the relevant European Union dual-use or military goods regulation code, where applicable, to a real-life goods description. Recent Trade Compliance Secure product innovations include additional regulations and controls on dual-use and military goods being traded from or transiting through the U.S., China and Japan.
U.S. Export Control Regulations
The U.S. state department, Bureau of Industry and Security (BIS) publish the Commerce Control List (CCL) and a Munitions List (USML). In the CCL, items are designated with an export control classification number (ECCN) where the third character is either a '5', '6' or '9'. These numbers, the third character in a five-character code, are unique to the CCL and represent items that pose specific threats to the country's national security, or specific military items or anti-terrorism and crime control related items.
For example:
0A502 - Shotguns; shotguns "parts" and "components," consisting of complete trigger mechanisms; magazines and magazine extension tubes; "complete breech mechanisms;" etc.
0A977 - Water cannons for riot control
7A611 - Military fire control, laser, imaging and guidance equipment
IHS Markit's Global Trade Atlas (GTA) found the U.S. to be the highest exporter by value (USD) of military items under Harmonised Scheme (HS) Chapter, 93 - Arms and Ammunition (goods in this category include: military weapons, bombs, munitions and torpedoes) over the last five years. These items are all included under export control in both the U.S. Munitions List: Categories 1-4 covering ordnance and bombs, missiles and the U.S. Commerce Control List under Category 0 - Nuclear Materials and Miscellaneous Items.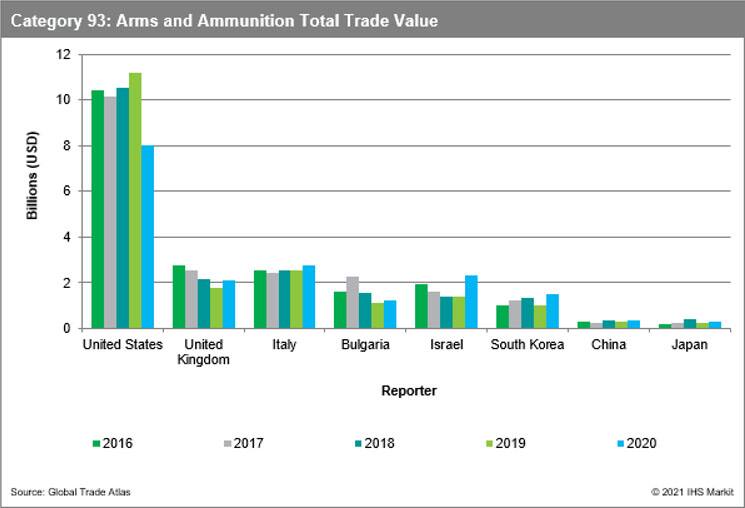 Leveraging US bill of lading data from IHS Markit's PIERS bill of lading database, several examples of raw commodity descriptions were identified that include specific military items:
'6 CAL 5.56 BULLET HEADS'[1] exported from Los Angeles, U.S. to Manila in the Philippines.
'UN0286 WARHEADS ROCKET WITH BURSTING CHARGE'[2] exported from Norfolk, U.S. to Haifa in Israel.
'BROWNING 82020 CARTRIDGES'[3] exported from Wilmington, U.S. to Antwerp in Belgium.
'PUMA M36 4X4'[4] exported from Norfolk, U.S. to Mogadishu in Somalia.
'HEMTT VEHICLES'[5] exported from New York, U.S. to Algeciras in Spain.
All of the above examples are goods that are not directly specified by product or brand name in the aforementioned U.S. regulations but are military items that would require specific trading licenses for shipment. Specific product names like 'CAL 5.56' - a type of bullet used in semi-automatic rifles and 'BROWNING 82020' - a type of shotgun, the 'PUMA M36', an armoured personal carrier vehicle and the 'HEMTT', an acronym for 'Heavy Expanded Mobility Tactical Truck' are often difficult to identify with the naked eye; adding to overall complexity of determining whether a trade should be processed and is in-line with current export regulations.
The BIS impose fines and export trading restrictions on individuals and entities for unlicensed dual-use and military goods trading. In August 2020, a large maritime company based in Singapore was fined over $31m for using underwater survey equipment originating from the U.S., listed under U.S. CCL 6A001 - Acoustic Equipment including underwater survey equipment, for the purposes of exploration and measurement of sea-beds in Iranian waters. BIS fined the company for using U.S.-built products in Iran, an Office of Foreign Assets Control (OFAC) sanctioned country. BIS also indict foreign nationals for shipping sensitive dual-use items to countries that require specific licenses such as the court order given to three individuals from Russia and Bulgaria who exported radiation-hardened circuits valued at $1m to Russia via Bulgaria, an item controlled under U.S. CCL 3A101 - Electronics Parts and Components.
Screening goods descriptions from the SWIFT MT700 series against the U.S. export control regulations for wider dual-use and military goods identification, ensures those in the trade supply chain are completing the relevant compliance checks in an efficient and accurate manner. The screening process also offers protection from any possible infringements and action from enforcement agencies.
China Export Control Law
In December 2020, China released its Export Control Law, after years of drafts and edits. The purpose of the law aligned with many other countries in safeguarding national interest and security and preventing the proliferation of weapons of mass destruction. China included items pertaining to the nuclear industry, military items, dual-use goods taken from the previously mentioned multi-national regimes and finally, specific medicines and chemicals for social use and those for the manufacture of drugs, such as ephedrine.
GTA confirms China was the largest exporter of organic chemicals (HS Chapter 29) over the last five years by value (USD). In this context, China has a section devoted to controlling the export of goods that can be used to make toxic chemicals. Examples of this include the aforementioned ephedrine, as well as sodium bicarbonate and sulphuric acid. In the case of sodium bicarbonate, it's combined with other ingredients to make baking soda but can also be used as a phlegmatizing agent in the production of HMX, an unstable explosive element.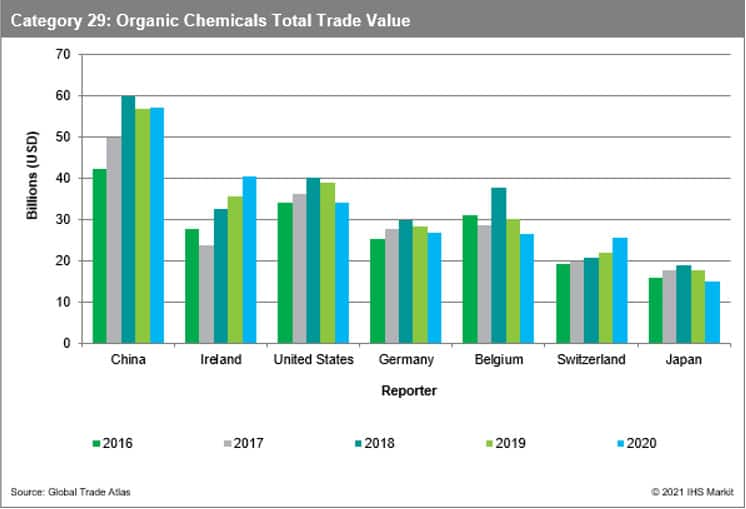 Below are example goods descriptions from U.S. bills of lading imports from China, identified by PIERS:
'SODIUM BICARBONATE CALCIUM CHLORIDE SODA ASH CYANURIC ACID' exported from Qingdao, China to Boston, U.S..
'PSN SULPHURIC ACID UN NUMBER 2796 IMDG CLASS 8 PG II' exported from Shekou, China to Los Angeles, U.S..
China's emphasis on export controls for certain medical and toxic chemicals should not detract from a commitment to protecting Chinese corporate entities from the illegitimate trading of goods which could be used for illicit purposes. The Chinese Ministry of Commerce confirms in the Export Control Law that the regulation applies to both exports and 're-exports' of controlled items, either from China, or goods being transshipped. The regulation also has the authority to temporarily control items that may not be listed in the regulation to further protect national interest and security. The European Union, U.S. and Japan do not have specific trade controls on the aforementioned types of chemicals, therefore, it remains imperative to check where the goods are being supplied from and the country's specific export control policy to ensure safe and legitimate trading practice.
Japan's Export Control List:
Japan's Ministry of Economy, Trade and Industry (METI) references in full the European Union's dual-use and military goods regulation, but also emphasizes the importance of due-diligence required on the 'end-use' and 'end-user'. The general principle covers the prevention of goods traded with entities that could potentially use them to manufacture weapons or other dangerous goods. Within the METI regulation, it also states a series of 'catch-all controls' for items being sent to specific countries. 'Catch-all controls' are not specified explicitly in the dual-use or military goods regulation but can be used to manufacture and produce weapons of mass destruction, such as 'crane trucks'.
Below is a chart representing the total value (USD) of Japanese exports of items under Harmonized Code: 8426 - 'Ships' derricks; cranes, including cable cranes; mobile lifting frames, straddle carriers and works trucks fitted with a crane', and the top six trade partners of these types of items. In the last five years, the United States has been the biggest importer of these types of items from Japan.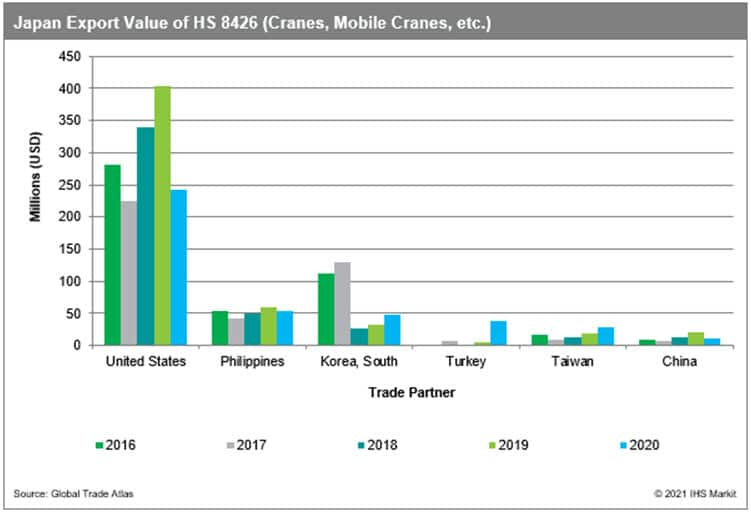 The PIERS US import data for 2020 reports 168 shipments of items relating to Harmonized System code: 8426 from Japan, mainly departing from Nagoya (a total of 129 shipments). Nagoya is Japan's largest trading port, and famously known for being the busiest port for car exports with Toyota headquarters and factories being located in neighbouring inland cities. It has the facilities required to on-board large structures including crane trucks, onto awaiting vessels, which are usually vehicle carrier vessels such as Talisman (IMO: 9191319) and Salome (IMO: 9515412).
Items listed on the bill of ladings included:
'138HSL HYDRAULIC CRAWLER CRANE BASIC M ACHINE ASSY'[6]
'HYLAB CRANES'
'TADANO MOBILE CRANE'[7]
Japanese exporters wishing to trade items such as those above would be required to apply for a relevant export license as they fall within the aforementioned METI list of 'catch-all controls'. Japan's METI are clear on the penalties associated with not providing correct licenses when exporting items on the controlled list, which vary from prison sentences to monetary fines up to 30 million yen ($300,000).
In conclusion, as national governments continue to regulate trade by expanding export control laws, and enforcement agencies apply more stringent penalty fines, efforts to maximise effective trade compliance procedures should remain at the forefront of organisations involved in the trade supply chain. In particular, trade finance institutions who facilitate the flow of trade must be fully aware of multiple export control policies and the different goods and items which each individual item of regulation seeks to control. Each country possesses a different set of goods that should be subject to licence control, but the overarching precedent will always be the same: prevent the proliferation of weapons of mass destruction and ensure national security and stability.
[1] Goods Description: "6 CAL 5.56 BULLET HEADS 80 BXS X 1800 = 432000 PALLET 10 CAL 7.62 BULLET HEADS 79 BXS X 1800 = 143900 TOTAL 10 PALLETS HS 9306.30.4160 ALL PREPAID X20200605025041"
[2] Goods Description: "12 PIECES SHIPPERS LOAD AND COUNT 30 BOXES S L A C UN0286 WARHEADS ROCKET WITH BURSTING CHARGE 1.1D 3375.1 KGS N.E. W. EX2017102194 EMS NO. FB SX. ERN 7035273887 CCTN 18500 HS CODE 9306.90 ZIM LINES FREIGHT PREPAID"
[3] Goods Description: "1 X 20 DRY VAN EXPORT REFERENCES BROWNING 72020 C95294S109702BROWNING72020 C95294S109702 FMC 009 SVC 2929 2432 BOX 17821.000 KG HAZARDOUS DETAILS UN 0012"
[4] Goods Description: "2X40FF CONTAINERS FREIGHT PREPAID PIECES PUMA M36 MK6B 4X4 ARMORED PERSONNEL CARRIER VIN AA90216CALUVP1855 HS 8710.00.0060"
[5] Goods Description: "1 X 40 FLAT 96 38200.000 US LBS 2830.0000 CFT = = = = CYCY 1 SLAC 1 EACH SLAC 1 EACH 2 PIECES HEMTT 26409 VEHICLES 3714 SP. 961 HS CODE 8710.00 DIMS 409 X 104 X 115 MAERKS LINE LTD WAYBILL P 1 G 38200.0 LBS 17327.1 KGS"
[6] Goods Description: "BARE 138HSL HYDRAULIC CRAWLER CRANE BASIC M ACHINE ASSY LS1387154 SKID COUNTERWEIGHT TOP SKID COUNTERWEIGHT MIDDLE SKID BASEWEIGHT ASSY CASE S.T.D. SPARE PARTS TOOLS &ACCESSORIES"
[7] Goods Description: "TADANO MOBILE CRANE 1 UNIT OF ROUGH TERRAIN C RANE MODEL GR600EX CONSTRUCTION MATERIALS DIPLOMATIC SHIPMENT HS CODE 8426.41 TAX ID RFC EEU930201289"
Sign-up up to receive our free quarterly risk and compliance newsletter.
{"items" : [ {"name":"share","enabled":true,"desc":"<strong>Share</strong>","mobdesc":"Share","options":[ {"name":"facebook","url":"https://www.facebook.com/sharer.php?u=http%3a%2f%2fwww.spglobal.com%2fmarketintelligence%2fen%2fmi%2fresearch-analysis%2fchina-japan-and-us-export-control-regulations-for-dualuse-goods.html","enabled":true},{"name":"twitter","url":"https://twitter.com/intent/tweet?url=http%3a%2f%2fwww.spglobal.com%2fmarketintelligence%2fen%2fmi%2fresearch-analysis%2fchina-japan-and-us-export-control-regulations-for-dualuse-goods.html&text=China%2c+Japan+and+U.S.+Export+Control+Regulations+for+Dual-Use+and+Military+Goods+%7c+S%26P+Global+","enabled":true},{"name":"linkedin","url":"https://www.linkedin.com/sharing/share-offsite/?url=http%3a%2f%2fwww.spglobal.com%2fmarketintelligence%2fen%2fmi%2fresearch-analysis%2fchina-japan-and-us-export-control-regulations-for-dualuse-goods.html","enabled":true},{"name":"email","url":"?subject=China, Japan and U.S. Export Control Regulations for Dual-Use and Military Goods | S&P Global &body=http%3a%2f%2fwww.spglobal.com%2fmarketintelligence%2fen%2fmi%2fresearch-analysis%2fchina-japan-and-us-export-control-regulations-for-dualuse-goods.html","enabled":true},{"name":"whatsapp","url":"https://api.whatsapp.com/send?text=China%2c+Japan+and+U.S.+Export+Control+Regulations+for+Dual-Use+and+Military+Goods+%7c+S%26P+Global+ http%3a%2f%2fwww.spglobal.com%2fmarketintelligence%2fen%2fmi%2fresearch-analysis%2fchina-japan-and-us-export-control-regulations-for-dualuse-goods.html","enabled":true}]}, {"name":"rtt","enabled":true,"mobdesc":"Top"} ]}