webinar-replays Market Intelligence /marketintelligence/en/events/webinar-replays/webinar-replay-ratingsxpress-sp-global-ratings-scores-factors-america events-detail__hero js-detail-hero
Webinar Replays
Webinar Replay: RatingsXpress®: S&P Global Ratings' Scores & Factors - America
During this one hour complimentary webinar we will discuss how you can strengthen your credit risk modeling and assessments with RatingsXpress: S&P Global Ratings' Scores & Factors, available on our powerful data feed management solution – Xpressfeed™.
Join us to learn how having access to the underlying business, financial, industry, and economic risk factors and assessments, plus the stand-alone credit profile (SACP), for Corporations and Banks rated by S&P Global Ratings, can help you to:
Create meaningful financial benchmarks for internal risk models to better understand a company's financial risk relative to its rated peer group
Understand an Issuer's SACP to uncover hidden risks as a result of weakening support from the parent, affiliate, or related government
Rank companies with similar ratings from S&P Global Ratings by assessing a company's business risk profile, its industry risk, and competitive position
Replay Now
Alex, please download the S&P Networking App
The Platts Events mobile app puts conference navigation and networking at your fingertips. Available one week before the event, the mobile app gives delegates :
Advance access to the attendee list
Live agenda updates and networking activities
Immediate access to speaker presentations
Essesntial, real-time event details and notifications
Upload a profile photo, set up a meeting, amd more
* Platts attempts to secure as many speaker presentations as possible, however some speakers choose not to share their materials. Therefore some presentations may not become available. Additionally speaker presentations for this event are only available for download from the networking mobile app and web link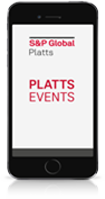 Watch the webinar replay at your convenience.
View Now
This Event Has Ended.