webinar-replays Market Intelligence /marketintelligence/en/events/webinar-replays/webinar-replay-climate-risk-what-are-the-implications-of-tcfd-for-companies events-detail__hero js-detail-hero
Webinar Replays
Webinar Replay: Climate Risk - What Are The Implications of TCFD for Companies?

Climate Risk: What the Implications of TCFD for Companies?
Leading companies have been disclosing on their carbon emissions and impacts for a number of years. The Task Force on Climate Related Financial Disclosures (TCFD) raises the bar on climate disclosure, with recommendations for companies to disclose on the financial implications of climate related risks and opportunities. What are the implications for companies, and what are strategies and tactics for responding?
Join us to learn:
Status and trends in TCFD reporting – who's doing it?
Will investor expectations translate into better disclosure by companies?
Why should you value climate risks, and what are some best practice approaches?
One company's TCFD disclosure journey – getting started and lessons learned.
Replay Now
Alex, please download the S&P Networking App
The Platts Events mobile app puts conference navigation and networking at your fingertips. Available one week before the event, the mobile app gives delegates :
Advance access to the attendee list
Live agenda updates and networking activities
Immediate access to speaker presentations
Essesntial, real-time event details and notifications
Upload a profile photo, set up a meeting, amd more
* Platts attempts to secure as many speaker presentations as possible, however some speakers choose not to share their materials. Therefore some presentations may not become available. Additionally speaker presentations for this event are only available for download from the networking mobile app and web link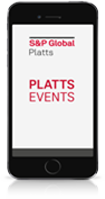 Watch the webinar replay at your convenience.
View Now
Access This Webinar On-Demand