in-person Market Intelligence /marketintelligence/en/events/in-person/the-downstream-impact-of-current-market-dynamics events-detail__hero js-detail-hero
Hosted Events
The Downstream Impact Of Current Market Dynamics
Join us for a complimentary discussion with our Leveraged Commentary & Data (LCD) team about how evolving regulations, credit structure, and market fundamentals may impact investors when the credit cycle turns.
Despite record-setting loan volumes, CLO issuance on track to outpace last year's record levels, continued positive flows into prime funds and BDC growth, today's credit market is vastly different than it was a decade ago.
Regulatory requirements have changed, the middle market is rising to fill investment vehicles, and cov-lite continues to grow.
This live, in-person discussion featuring LCD and a panel of experts will address the evolution of the market since 2008 and what portfolio managers should think about in managing the risks associated with today's market dynamics.
Register Now
Alex, please download the S&P Networking App
The Platts Events mobile app puts conference navigation and networking at your fingertips. Available one week before the event, the mobile app gives delegates :
Advance access to the attendee list
Live agenda updates and networking activities
Immediate access to speaker presentations
Essesntial, real-time event details and notifications
Upload a profile photo, set up a meeting, amd more
* Platts attempts to secure as many speaker presentations as possible, however some speakers choose not to share their materials. Therefore some presentations may not become available. Additionally speaker presentations for this event are only available for download from the networking mobile app and web link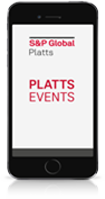 Don't miss out. Reserve your spot now.
Register Now
This Event Has Ended.