in-person Market Intelligence /marketintelligence/en/events/in-person/sp-global-ratings-annual-conference events-detail__hero js-detail-hero
Hosted Events
S&P Global Ratings Annual Conference
November 13, 2018 09:00 - 14:00

Russian Economy And Banking Sector
S&P Global Ratings is pleased to invite you to its Annual Conference in Moscow, which will focus on current and expected trends in the Russian economy and banking sector in the global context.
The agenda includes keynote addresses by S&P Global Ratings' leading analysts and panel discussions with senior representatives of Russia's largest financial organizations who will share their expert opinions on the direction of the market and implications for investment and financial management. We are inviting government officials, investors, bankers and other finance professionals, as well as journalists.
The event is free of charge and will be held at the Four Seasons Hotel, Moscow, on Tuesday, Nov. 13, 2018, from 09.00 until 14.00 (registration begins at 08.00).
Register Now
Alex, please download the S&P Networking App
The Platts Events mobile app puts conference navigation and networking at your fingertips. Available one week before the event, the mobile app gives delegates :
Advance access to the attendee list
Live agenda updates and networking activities
Immediate access to speaker presentations
Essesntial, real-time event details and notifications
Upload a profile photo, set up a meeting, amd more
* Platts attempts to secure as many speaker presentations as possible, however some speakers choose not to share their materials. Therefore some presentations may not become available. Additionally speaker presentations for this event are only available for download from the networking mobile app and web link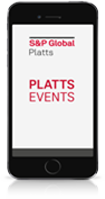 Don't miss out. Reserve your spot now.
Register Now
This Event Has Ended.