Effective enterprise risk management is a key factor for successful management teams. This complex endeavor requires sophisticated leaders with the skills to identify risks before they occur and take effective measures to diminish the impact of their destructive outcomes when they do. As our climate continues to change, effective management of weather-related risks is becoming more complex and ever more important, especially as it relates to the credit quality of regulated utilities in North America. Adverse weather events are forcing utilities to look at ways to protect their assets from natural disasters and maintain their investment-grade credit quality.
The Risks And Costs Of Natural Disasters Are Intensifying
During the past year, the utility industry has unfortunately witnessed the manifestation of climate change risks firsthand. In 2017, the unyielding impacts of wildfires destroyed parts of California, hurricanes ripped through the eastern part of the U.S., and Hurricane Maria devastated Puerto Rico. There was little let up from these severe natural disasters and unpredictable weather patterns in 2018 that included Hurricanes Florence and Michael. Not only does the frequency of these disasters appear to be increasing, but their costs are rising. The natural disasters that have occurred over the past decade have wiped out billions of dollars of assets over a relatively short period. Without the appropriate regulatory compact and other risk mitigation, the financial aftermath of these events could be devastating to any individual utility, adding another layer of unpredictability that utilities must effectively manage.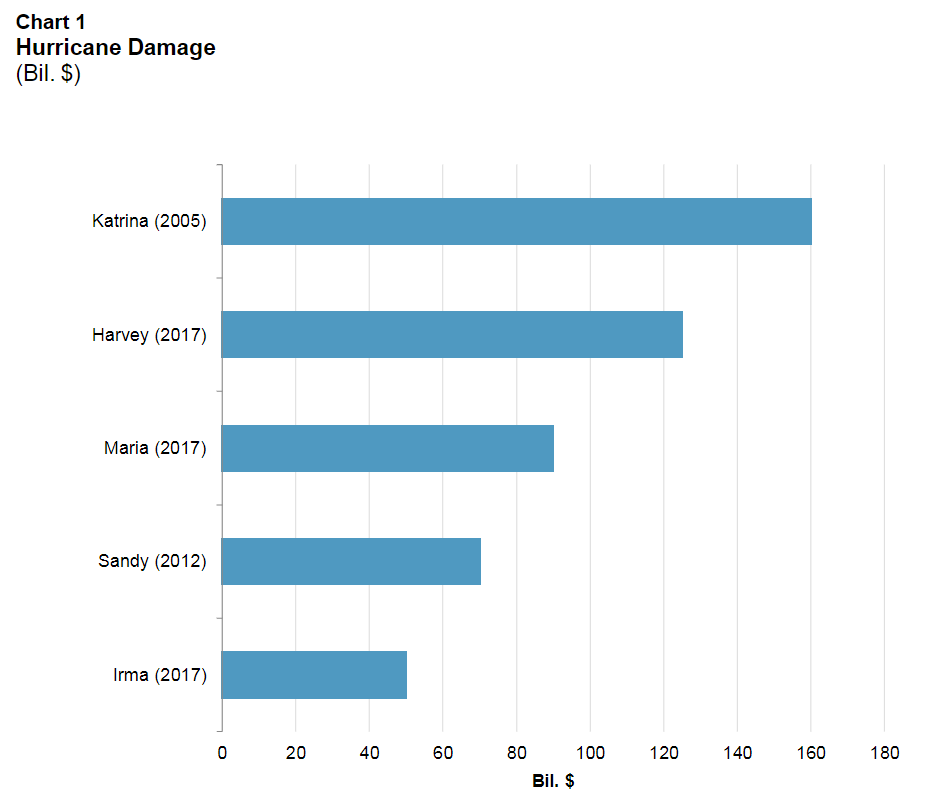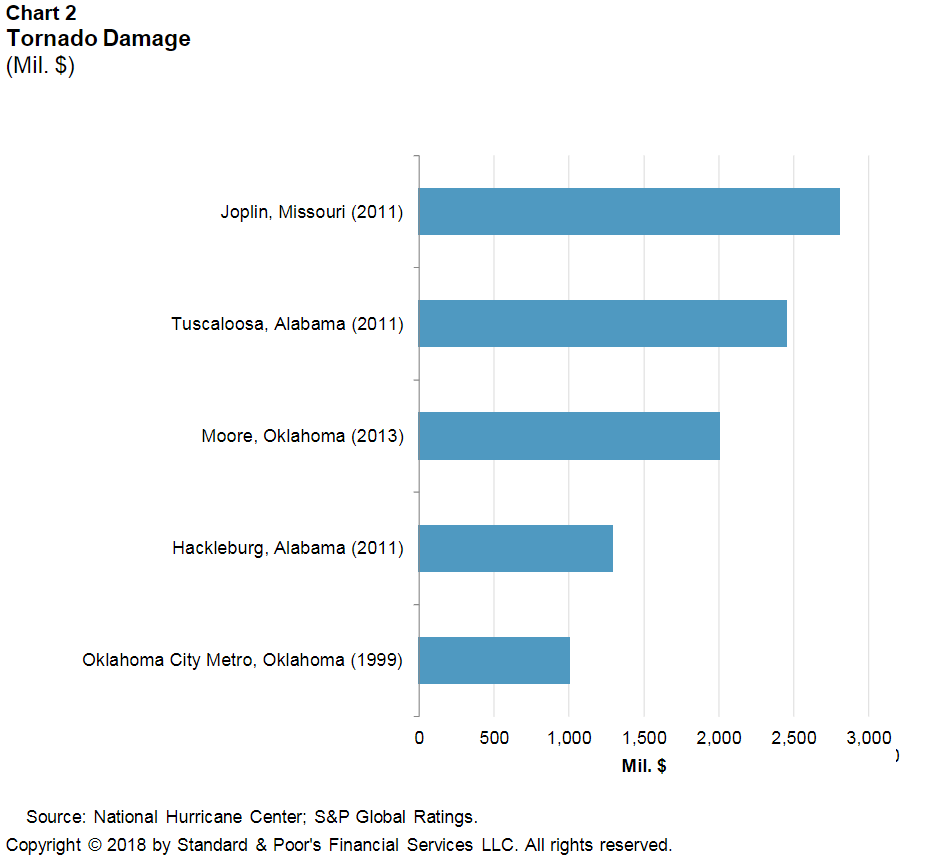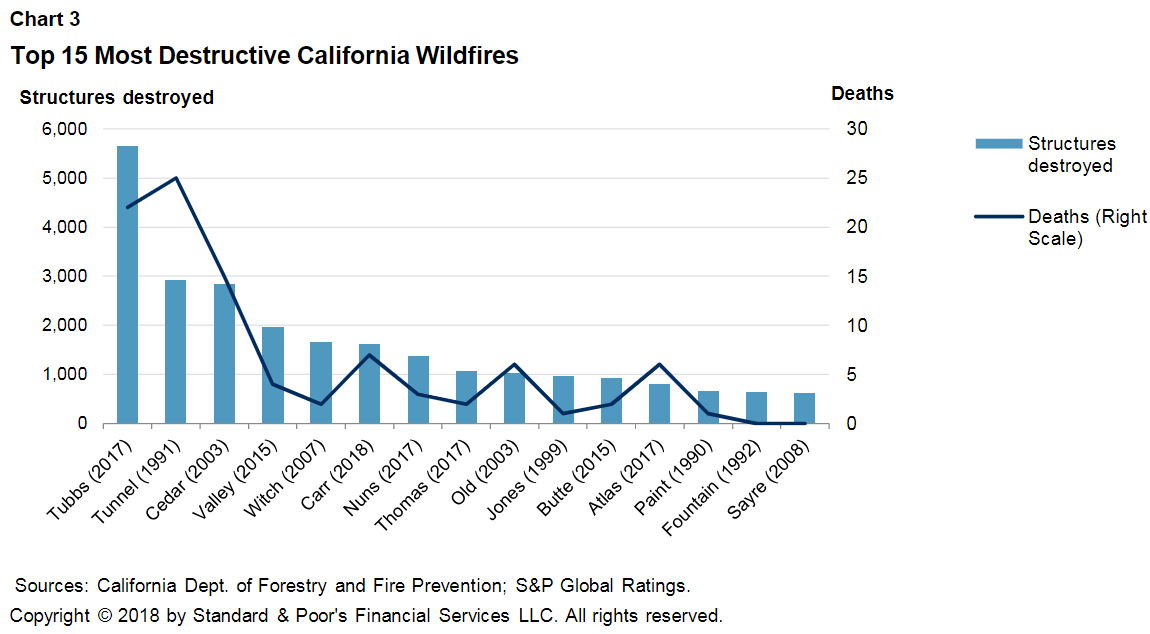 Climate Change May Also Affect Operations
Climate-change related risks not only affects a utility's financial stability but also potentially alters its operational effectiveness. Utilities have a long record of providing a reliable service at a reasonable cost. While reliability has always been the primary concern for the industry, climate change may be reshaping its priorities. For example, because of the California wildfires and the billions of dollars in property damages, utilities are now taking steps to reduce wildfire-related risks and even openly debating the possibility of de-energizing power lines in advance of a fire. In such cases, utilities would proactively turn off electricity to customers, decreasing reliability in an effort to potentially mitigate wildfire risks and related property damages. This demonstrates a major strategy shift for the utility industry, reflective of climate change's challenges.
Financial Solutions To Climate Change Bring Their Own Risks
While regulators generally allow utilities to recover prudently incurred costs from ratepayers, utilities are always cognizant of the effect rising costs have on customers' bills. As these bills increase, customers find it incrementally more difficult to pay, which often hampers a utility's ability to effectively manage regulatory risk. This predicament is a drawback in many of the financial solutions used to reduce weather-related risks, and if not well managed, may lead to unintended consequences. Utilities will have to proactively implement solutions that reduce the financial risks of climate change, which often entails reducing operating costs to negate a sudden rise in customer bills. This strategy, while easier said than done, enables utilities to effectively manage regulatory risk, prevent out-of-the-blue rises in customers' bills, and continue to mitigate unknown risks associated with climate change.
Possible Avenues For Managing Climate Change
We think the industry is adopting a multifaceted approach to climate change risk reduction. Each strategy is not foolproof and has its own risks that could lead to unintended consequences. We also believe that companies may move with varying degrees of urgency, resulting in some companies being more prepared for weather-related calamities than others. We generally expect that the industry will focus its strategies on insurance, infrastructure investments, and managing regulatory risk.
Insurance
When purchasing insurance to protect their assets, utilities must balance the level of insurance against the cost to the ratepayer. The higher level of insurance purchased, the more protected the utility may be from climate change and related natural disasters. Yet that increased cost would eventually be reflected on customers' bills. While the industry has always had to balance these conflicting risks, the pendulum may be swinging toward retaining a higher level of insurance because of more frequent and destructive weather-related events. The "one-in-100-year" storm or wildfire has become a more commonplace occurrence and insurance decisions simply based on past performance may not be indicative of today's environment.
A key risk to this strategy is that a higher level of insurance protection generally lends to higher costs, which would increase customers' bills. Another consideration is that when a natural disaster strikes, insurance premiums materially increase and generally become less available. Thus, when a utility is most desperate to protect its assets, the insurance product becomes most prohibitive or even unavailable. We have seen this recently in California, where some utilities' insurance premiums have exponentially increased and others are limited by the amount of insurance coverage that they can purchase. To offset some of these risks, utilities are assessing other financial products, including catastrophic bonds and weather derivative bonds. These innovative solutions, although generally expensive, may reduce a utility's exposure to climate change risks.
Similar to wildfires, more and more utilities are susceptible to hurricanes. Recent hurricanes wreaked havoc on customers and utilities in the Carolinas, Georgia, and Florida, and other East Coast states remain exposed to rising hurricane risks. As climate change continues to take hold, these states may need to address similar risks, including limits of the insurance protection that can be purchased and the possibility of exponentially higher insurance premiums.
Infrastructure investments
A possible long-term strategy to reducing some of these risks includes technology investments and system hardening. In California, San Diego Gas & Electric Co. has installed multiple weather stations and cameras around its service territory for early detection of wildfires. This technology has already identified wildfires in their early stages, possibly saving billions in property damages. In Florida, for example, utilities have been hardening, or strengthening, their electricity system for years. This was one of the key reasons that following Hurricane Irma in 2017, Florida utilities were able to restore service in days rather than the months of restoration efforts necessary in Puerto Rico.
A risk to this strategy is that system hardening increases the customer bill and utilities would need to identify other cost savings to avoid significant rise in customers' bills. Furthermore, system hardening generally requires some degree of consumer education because there is generally some disconnect to the ratepayer between its costs and benefits. A customer's benefit from system hardening is generally not self-evident and could take years to be realized, while the higher costs are immediately seen on the bill. Lastly, system hardening is a long-term strategy that could require much customer patience, which is usually in short supply. As system hardening is implemented, the customer is paying more but a catastrophic event may strike a part of the service territory that has not yet been upgraded. In this instance, the customer would only see higher bills and no benefit from the partially hardened system. Both San Diego Gas & Electric Co. and the Florida utilities had the benefit of implementing their enhanced technologies and system hardening for over a decade prior to the recent weather-related events. Other utilities that are just starting this process may not be as lucky.
Managing regulatory risk
Effectively managing regulatory risk is another key avenue for utilities to reduce climate change-related risks. Many utility management teams have successfully collaborated with their legislators and commissioners to implement various storm recovery mechanisms that can be used in the event of weather damage in the jurisdiction. These mechanisms include securitization, storm recovery riders, and reserve accounts. Other jurisdictions have made use of a general disaster fund that can be used to pay for costs incurred as a result of severe weather.
Many states have a strong record of implementing riders and recovering costs in a timely fashion to protect credit quality. In Florida, the susceptibility to multiple hurricanes in the same hurricane season can place abnormal strains on liquidity and financial performance. Proactively, Florida utilities and policymakers developed strategies over time to manage these unique risks and to protect the utilities' credit quality. More specifically, these utilities can petition for the recovery of storm costs without being subject to an earnings test and the state has allowed for the securitization of these costs, mitigating the rate impact of such costs on the customer. These credit-supportive measures in Florida have reduced credit risk by shielding fixed income investors from the financial risk of unpredictable weather conditions. We've also seen utilities work with regulators to reduce risk by lowering the threshold when recovery mechanisms can take effect. For example, Eversource Energy's utilities continue to work with their regulators to reduce the minimum threshold when storm costs can be deferred. These situations contrast to the regulatory difficulties that we have more recently seen in California stemming from the wildfires. Since the 2017 California wildfires, we have lowered our ratings on PG&E Corp. two notches and now maintain a negative ratings outlook for all of the large investor-owned California utilities.
The risk to this strategy is that any regulatory mechanism used to recover costs from the customer leads to a higher bill. While Florida's utilities recently demonstrated effective management of regulatory risk by offsetting the higher cost from Hurricane Irma with tax reform, we view this creative approach as a one-off that cannot be consistently duplicated. Another risk to this strategy is that effective management of regulatory risk is not something that can just be turned on when there is a natural disaster, but often requires many small steps and years of negotiating to arrive at the desired result. Many utilities have done an outstanding job of effectively managing regulatory risk but those that are lagging will likely need years to catch-up.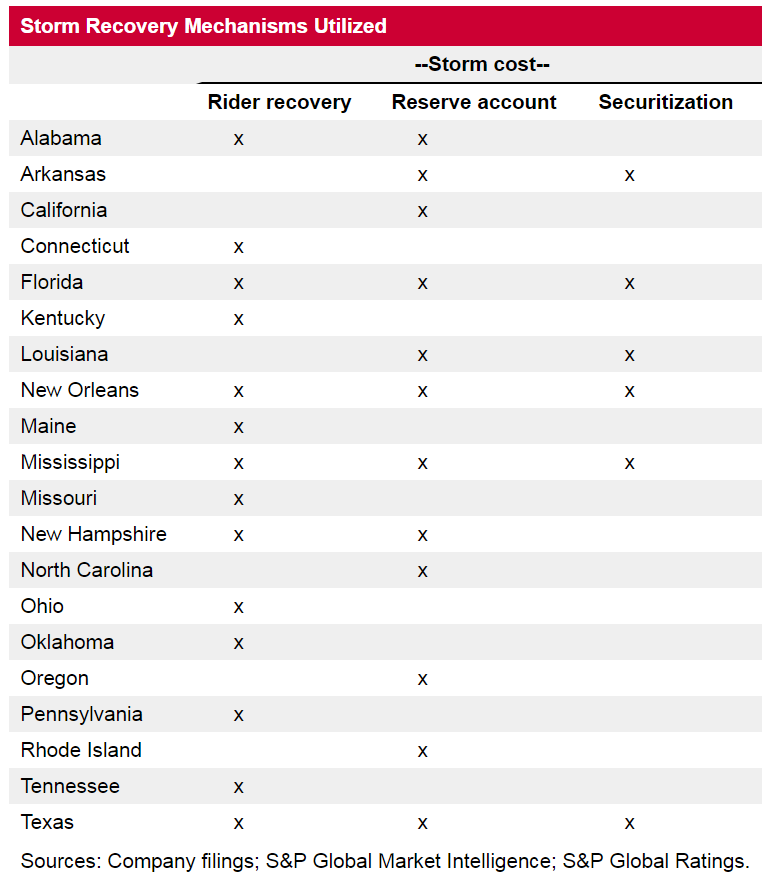 Changing Strategies For A Changing Climate
As a whole, we expect utility industry leaders will take prudent steps to identify climate-related risks in advance of their occurrence and take effective measures to reduce these risks. For climate change, the industry will use various financial, operational, and regulatory means to reduce risk, yet, each strategy is not without its own risks and possible unintended consequences. We also believe that companies will move with various levels of urgency to address these concerns which will continue to have implications for our business risk assessments. While we will continue to monitor climate change developments and company-specific actions to reduce risk, we expect that the industry as a whole will remain vigilant to these rising risks and find an equilibrium that protects credit quality.