Customer Logins
Obtain the data you need to make the most informed decisions by accessing our extensive portfolio of information, analytics, and expertise. Sign in to the product or service center of your choice.
Customer Logins
Fuel for Thought: The commercial vehicle fleet accelerates toward ZEV adoption
LISTEN TO A PODCAST ON THIS TOPIC WITH S&P GLOBAL MOBILITY EXPERTS
The projected curve in tractor-trailer electrification in the US is getting steeper, but a future of roadways filled with EV and hydrogen big rigs is still strewn with potholes.
Tougher emissions regulations arriving in 2030, emerging technological developments, and improvements in the ZEV medium- and heavy-truck cost picture ‒ with hydrogen in particular ‒ have sharply increased the potential for adoption of ZEV or near-ZEV commercial vehicles.
In weighing the factors involved in implementing a ZEV big-rig fleet, S&P Global Mobility now forecasts medium-term ZEV commercial vehicle registrations in the United States higher than ever before. Expectations for the end of the decade now reach nearly 140,000 annual new registrations of ZEV trucks starting in 2030, an expected share of more than 25% of the Class 4-8 medium- and heavy-duty truck market.
That said, for all the pronouncements of a future of battery-powered Tesla Semis and hydrogen-fueled Nikolas, serious impediments remain on the road to mass adoption.
Compared to previous forecasts, S&P Global Mobility's most recent projection represents higher volumes in unit terms, as well as a more rapid expected transition away from established internal combustion engine (ICE) technologies. Expressed in terms of the compound annual growth rate (CAGR) of forecast ZEV registrations, the pace of change has risen from 70% per year to 109% in just two forecast rounds. This steeper expected adoption curve is due to more than just greater optimism about prospects for 2030.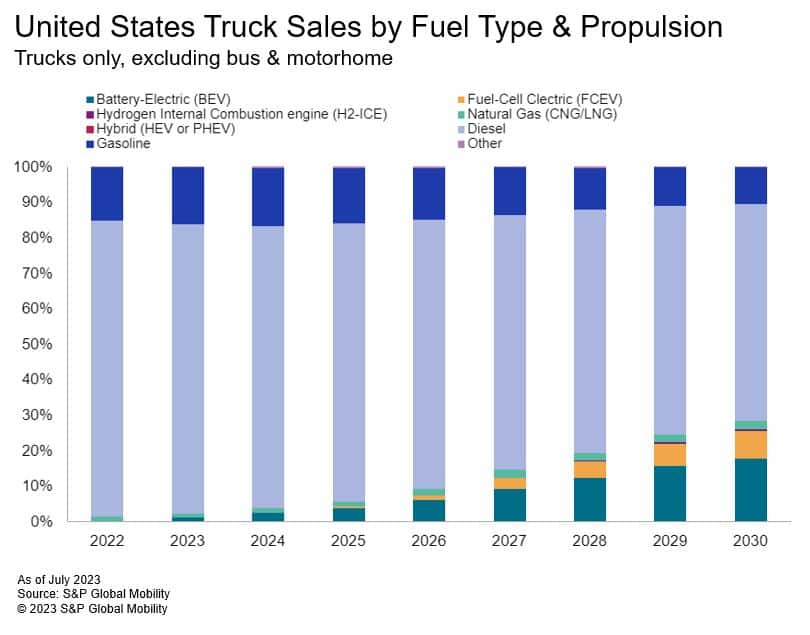 Regulatory push
Bullishness for 2030 has grown alongside increasingly ambitious government regulations and supports ‒ including the Inflation Reduction Act (IRA), proposed changes to Greenhouse Gas (GHG) Phase 2 standards, and proposed GHG Phase 3 standards for MY 2028-2032 from EPA/NHTSA.
The so-called GHG Phase 3 standards reveal a bold initiative to push the pace of change in the industry ‒ drastically reducing allowable CO2 emissions beyond the 2028 threshold foreseen in Phase 2 ‒ to include reopening and tightening already-published goals for model year 2027 diesel engines. By MY 2032, the proposed GHG phase 3 regulations will mandate an incremental OEM fleet average emissions reduction of 37% in the medium-duty truck (MDT, including Class 2b & 3) and 27% in the heavy-duty truck (HDT, Class 8) segments, compared to the final 2027 year of GHG Phase 2 standards.
Regulatory bodies are wielding tax credit and voucher carrots as well as legal sticks to achieve their emissions targets. For instance, the 30% of value (up to $40,000) incentive written into the IRA (in the form of a tax credit) for businesses and tax-exempt organizations that buy a qualified commercial clean vehicle. In California, proposed incentives for a Class 8 hydrogen fuel-cell tractor under the Hybrid and Zero Emission Truck and Bus Voucher Incentive Project (HVIP) could reach as high as $240,000 for a fuel cell electric truck.
These IRA incentives also apply to the cost side ‒ especially for hydrogen-powered vehicles ‒ in that incentives can shape the potential cost curve for refueling some ZEV vehicles. Easing that cost burden would help support the initial steep capital expense of the two chief hydrogen propulsion technologies ‒ hydrogen internal combustion (H2 ICE) and hydrogen fuel cell electric propulsion (FCEV) ‒ in which fuel costs loom large as a share of cost of ownership.
But most of the technology forcing mandates are sticks ‒ such as the implementation of Tier 4 emissions for light commercial vehicles and the Advanced Clean Truck and Advanced Clean Fleets legislation affecting California and at least six of the states that follow the California Air Resource Board (CARB) mandates.
The Advanced Clean Trucks rule requires manufacturers who sell medium-duty and heavy-duty vehicles (Classes 4-8) to sell an increasing proportion of zero emissions commercial vehicles from 2024-2035. A partner bill, the Advanced Clean Fleets rule, is working its way through the rulemaking process. This rule places requirements on fleets that meet certain characteristics to also have an increasing percentage of zero emissions commercial vehicles in their fleets. This rule also goes into effect in 2024. And by the end of 2023, California also is enacting strict rules for the types of drayage trucks allowed to idle at intermodal seaports and railyards.
Getting up to speed
Despite the regulatory push, recent market performance for ZEV MHCVs has been muted, with new registrations of ZEV big rigs so far this year below expectations. While US registration volumes of Class 4-8 ZEVs in the first four months of 2023 had an impressive-sounding 200% year-over-year increase, supported by the registrations of the first trucks from Nikola and Tesla, it represented barely 1,100 units and amounted to just 0.6% of new vehicle registration volume ‒ and was 44% lower than forecast.
Alongside uncertainty and cost, headwinds have included the same supply-chain issues that have buffeted the production of traditional diesel trucks and buses. Among them, manufacturers have counted lengthy wait times to receive parts; inability to source sufficient parts; difficulties finding workers and running full schedules; and elevated input material prices.
In some ways, these problems have been even more of a challenge for dedicated ZEV startups, which have typically tighter capital, challenging cash burns, steeper borrowing rates in the current inflationary cycle, and lower volumes (and thus revenue) to weather a supply-shortage storm, compared to larger, relatively more established makers.
In looking at market expectations from just six months ago, delays in introductions of new Class 4-8 ZEVs have represented about a quarter of all known or suspected start-of-production delays for truck and buses overall ‒ well above the ZEV share of the market.
Dodging potholes
The current high price of hydrogen fuel, significantly higher than diesel, has been prohibitive for most would-be hydrogen vehicle buyers. Even in the case of the theoretically affordable acquisition cost of an H2 ICE truck, prospective fuel costs have raised questions about the benefits compared to other propulsion technologies. With the IRA raising the possibility of hydrogen fuel cost dropping sharply, maybe even to as low as the diesel gallon equivalent, the opportunities for hydrogen become brighter, though still not certain. Indeed, more than two-thirds of the increase in expected 2030 new ZEV truck and bus volumes comes from anticipated hydrogen truck and bus fuel price declines.
That said, improved prospects for H2 ICE depends on H2 ICE products available for purchase. The current forecast from S&P Global Mobility includes seven H2 ICE truck models, all expected in Class 8. This is up from just three models forecast this time a year ago.
Over the next two decades, battery electric trucks and fuel-cell electric trucks are expected to undergo significant advancements ‒ paving the way for increased efficiency, reduced costs, and wider market adoption. It is our expectation that, with next-generation battery technology, trucks will see improved energy density and longer-range capabilities, two very important metrics for truck operations.
Similarly, innovations in hydrogen-related technologies are anticipated to bring longer range and improved durability ‒ making them more viable for widespread adoption. As these technologies continue to mature, economies of scale will drive down production costs, leading to electric trucks becoming more competitively priced.
Overall, the main takeaway is that the industry is at the early stages of innovation of this technology. Improved capabilities as well as reduced cost will only improve their competitiveness and popularity of heavy-duty electrified vehicles.
Demand-side pledges
There are also indirect factors that are neither the result of carrot nor stick. For example, a number of companies ‒ some controlling very large fleets of commercial vehicles ‒ have made aggressive pledges towards the achievement of carbon neutrality at a corporate level.
For many of these fleets, transportation of goods is among the largest contributors to their corporate carbon footprint. For them, the reduction of carbon emissions from the commercial vehicles they control is one of the most impactful levers they can pull. PepsiCo has, as a corporation, pledged to be carbon neutral by 2040 ‒ witness their reported purchase of Tesla Class 8 Semis. PepsiCo has taken delivery of 54 Tesla Semis to date, at about $450,000 each.
PepsiCo is not alone. A number of consumer goods companies have made similar pledges to achieve carbon neutrality by 2040 or 2050. For many of these companies, reducing transportation-based carbon emissions offers a quicker and less capital-intensive approach to reducing carbon footprint when compared to re-engineering production processes.
Similarly, some of the larger consumer goods transport companies have also made carbon neutrality pledges with intent to fulfill their pledges via the aggressive purchase of ZEVs, some of them also in the "light" commercial vehicle category. Amazon has plans for a total of 100,000 custom electric neighborhood delivery vehicles from Rivian by 2030, while FedEx has committed to carbon-neutrality by 2040, with all parcel pickup and delivery vehicles being zero emissions by that date.
What needs to be done
In the near-term, regulation, proclamation, and acquisition are not yet in alignment, and until they are, moving toward a zero-emission intermodal future faces roadblocks.
In today's political environment, it seems likely that regulators will continue to aim ever higher ‒ regardless of real-world economic realities. Over time, this vision will be supported and re-adjusted by business conditions and cost realities on the ground ‒ including slower-than-expected early ZEV commercial vehicle adoption, availability of recharging/refueling networks, as well as unexpected technology "Eureka!" moments and subsequent price changes.
But slow adoption now could also mean slower adoption in the medium term, as large-scale learnings are not achieved and not shared. Lower numbers early on will also make it more difficult for disruptor brands in the space to become and remain financially viable, casting further doubt on a rapid inflection point early on.
--------------------------------------------------------------
Dive deeper into these mobility insights:
Commercial Vehicle Forecast: MDHD truck market coasts through 2024
Supply shortages and new electric vehicle registrations for US commercial vehicles
Learn more about Medium & Heavy Commercial Vehicle Industry Forecast
Hydrogen: In it for the long haul
Can Brazil's commercial truck fleet turn electric?
Learn more about Commercial Vehicle insights and intelligence
---
This article was published by S&P Global Mobility and not by S&P Global Ratings, which is a separately managed division of S&P Global.
{"items" : [ {"name":"share","enabled":true,"desc":"<strong>Share</strong>","mobdesc":"Share","options":[ {"name":"facebook","url":"https://www.facebook.com/sharer.php?u=http%3a%2f%2fwww.spglobal.com%2fmobility%2fen%2fresearch-analysis%2ffuel-for-thought-the-commercial-vehicle-fleet-accelerates.html","enabled":true},{"name":"twitter","url":"https://twitter.com/intent/tweet?url=http%3a%2f%2fwww.spglobal.com%2fmobility%2fen%2fresearch-analysis%2ffuel-for-thought-the-commercial-vehicle-fleet-accelerates.html&text=Fuel+for+Thought%3a+The+commercial+vehicle+fleet+accelerates+toward+ZEV+adoption++%7c+S%26P+Global+","enabled":true},{"name":"linkedin","url":"https://www.linkedin.com/sharing/share-offsite/?url=http%3a%2f%2fwww.spglobal.com%2fmobility%2fen%2fresearch-analysis%2ffuel-for-thought-the-commercial-vehicle-fleet-accelerates.html","enabled":true},{"name":"email","url":"?subject=Fuel for Thought: The commercial vehicle fleet accelerates toward ZEV adoption | S&P Global &body=http%3a%2f%2fwww.spglobal.com%2fmobility%2fen%2fresearch-analysis%2ffuel-for-thought-the-commercial-vehicle-fleet-accelerates.html","enabled":true},{"name":"whatsapp","url":"https://api.whatsapp.com/send?text=Fuel+for+Thought%3a+The+commercial+vehicle+fleet+accelerates+toward+ZEV+adoption++%7c+S%26P+Global+ http%3a%2f%2fwww.spglobal.com%2fmobility%2fen%2fresearch-analysis%2ffuel-for-thought-the-commercial-vehicle-fleet-accelerates.html","enabled":true}]}, {"name":"rtt","enabled":true,"mobdesc":"Top"} ]}