Customer Logins
Obtain the data you need to make the most informed decisions by accessing our extensive portfolio of information, analytics, and expertise. Sign in to the product or service center of your choice.
Customer Logins
Fuel for Thought: Too many toys on the shelf
LISTEN TO A PODCAST ON THIS TOPIC WITH S&P GLOBAL MOBILITY EXPERTS
With internal-combustion and battery-electric vehicles vying for showroom space and advertising dollars, peak model complexity will transform marketing messaging and media spend.
Today, US auto shoppers have nearly 450 vehicle nameplates to consider. Within five years, that number will grow considerably. With the arrival of electric vehicles across every mainstream and luxury brand, approximately 650 models will be competing for showroom space, lot space, digital space, marketing budget and most importantly, customer attention. This isn't just a US phenomenon; a similar equation will happen in the European market — perhaps more so, as mainland Chinese automakers are already launching their EV-minded brands there as well.
It's hard enough for consumers to keep track of all the various vehicles vying for headspace with a portfolio that mostly comprises internal-combustion engine (ICE) vehicles. But the push for electrification is about to escalate that consumer confusion. How automakers and their advertising agencies respond to this challenge will determine how effectively — and profitably — they manage the transition from ICE to battery-electric vehicle (BEV).
As early as 2026, S&P Global Mobility expects the total of new EV models available to break 200 in the US market, as the ICE new model count continues a steady decline. In late 2027/early 2028, the total model count should be at its apex — with the number of options across all propulsion system designs approaching 650. The situation will be just as dramatic in Europe.
S&P Global Mobility refers to this situation as Peak Model Complexity — and its impact on marketing throughout the funnel, across all initiatives, will be transformative.
Market share parity by 2028
S&P Global Mobility forecasts that the three propulsion system designs — EV, hybrid, and ICE — will each account for between 29% and 36% market share by the end of this decade. After that, EV share is expected to continue to grow while hybrid plateaus and then joins ICE in a continuous, but slow, decline.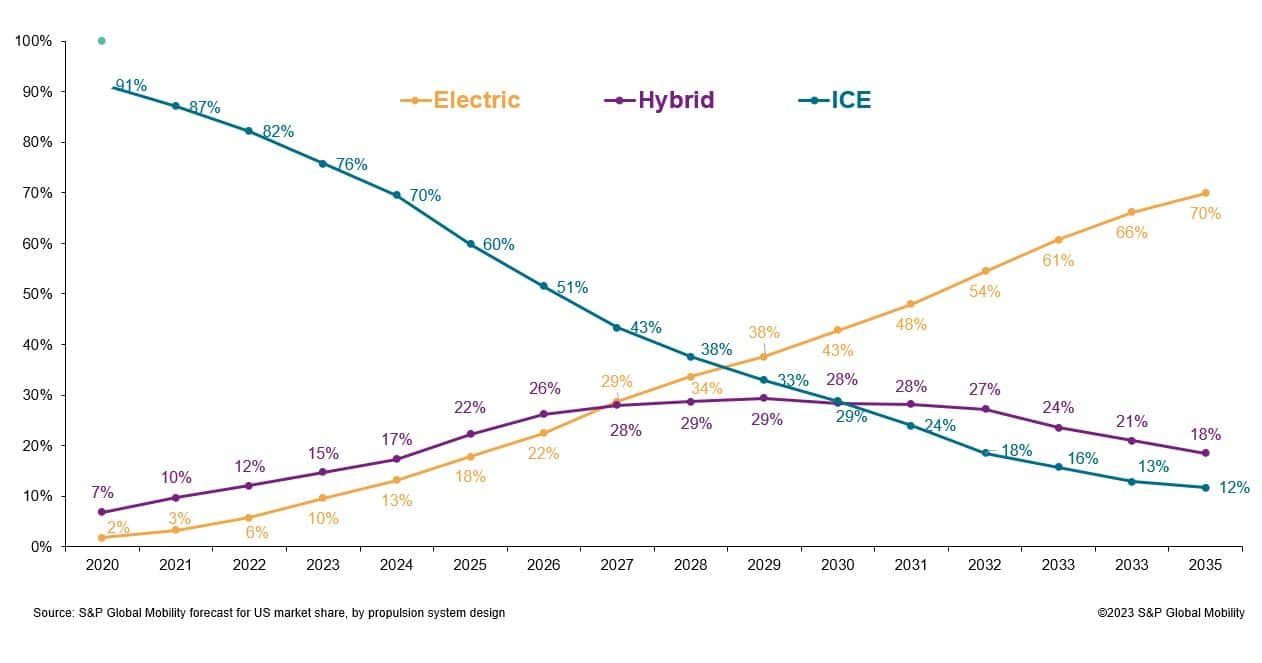 The increased model count will cause a drop in sales-per-nameplate figures: In 2018, the average sales volume per nameplate in the US market was 49,000 units. That is expected to dip to 36,000 by 2027. This requires some new thinking by OEMs, which for decades have stated that a nameplate must sell between 40,000 and 60,000 units to be profitable.
But this tectonic shift is happening already — impacting production cycles, sales forecasting, supplier relationships and marketing budget allocation.
The impact to profit margins, platform economics, operating expenses, product lifecycles and go-to-market timing will cut across all aspects of the auto business — from new and used car sales, to vehicle acquisition, parts and service. Retailers and their marketers will need to do more with less, and sooner than later.
Every marketing campaign and initiative will face this decision: Which message or offer should we serve to which customer — EV, hybrid, or ICE?
Obviously, big-hitter vehicles like the Ford F-150 and Toyota RAV4 will continue to have strong marketing budgets. But if a company is adding four or more new electric nameplates, and not deleting any internal combustion vehicles, they need to decide if there will be an incremental spend, or if some vehicle's marketing budget will be adjusted.
Already, many OEMs employ a "fire-and-forget" marketing strategy, where a new-product launch gets a big spend, but then ad dollars wither until a sales event comes along. Automakers are already stretched thin on covering their existing ICE model lines; what happens to the strategy when a slew of EVs — and an EV branding campaign — are added to the mix?
The situation may be even more accelerated in the European market, as the swing from ICE to BEV is already well underway. However, it seems the number of ICE nameplates are being removed from the market at the same pace as new BEVs are being introduced. But that doesn't eliminate the need to educate and alert consumers to the arrival of differently named BEVs.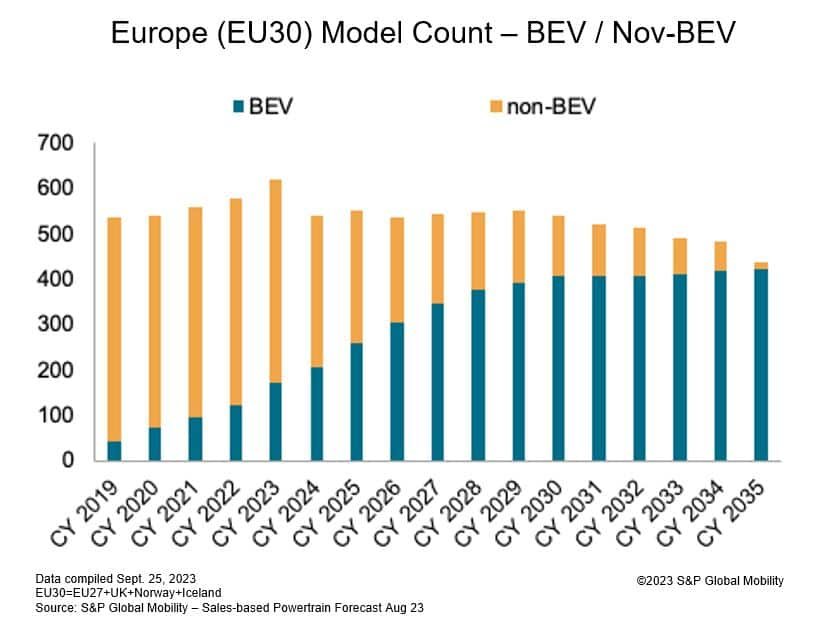 Brand loyalty and nomads
The recent semiconductor supply chain crisis crimped vehicle inventories, which in turn triggered historic low brand loyalty levels for return-to-market households. Improving inventories have provided a rebound to those loyalty levels. However, the effects from two years of a constrained market remain evident, and vehicle buying behaviors changed as a result.
In US loyalty data collected in 2022, 53% of shoppers were "nomads," meaning they had no brand affinity to the vehicle they disposed of or just acquired. This rate approaches historic highs — that's a bad thing for OEMs — and is important as these households defect to another brand. Nearly 6 of every 10 nomad shoppers are going to switch brands with their next vehicle purchase.
Meanwhile, lease rates plummeted in 2022 to less than 18% of new vehicle sales, down from 30% in 2018. This drop translates to about 1.5 million fewer households that are regularly returning to market. And lease returns are some of the most brand loyal and valuable customers when considering:
64% brand loyalty for lease households versus 46% for those that purchase;

63% of lease households return to market in less than three years versus 51% for purchase households;

Lease returns also provide a consistent flow of certified pre-owned stock, which provides a loyalty lift of 8 percentage points for brands over those that buy.
Electrification and the shift to luxury
Over the last five years, US consumers have increased their purchases of luxury-badged vehicles — which now account for 20% of sales, up from 13.5% in 2018, according to S&P Global Mobility registration data analysis.
While luxury vehicles have higher profit margins and more add-on features, it's a crowded marketplace. There are nearly as many luxury brands (22) competing for 20% of the market, as there are mainstream brands (27) competing for the other 80%. As a result, luxury brands have the lowest loyalty rates. Even with the "Tesla bump" for its industry-leading loyalty, luxury still trails the industry average by nearly 7 percentage points. Conquesting opportunities exist for those brands and dealers that can leverage purchase triggers like loyalty behavior, lease term and buying preferences.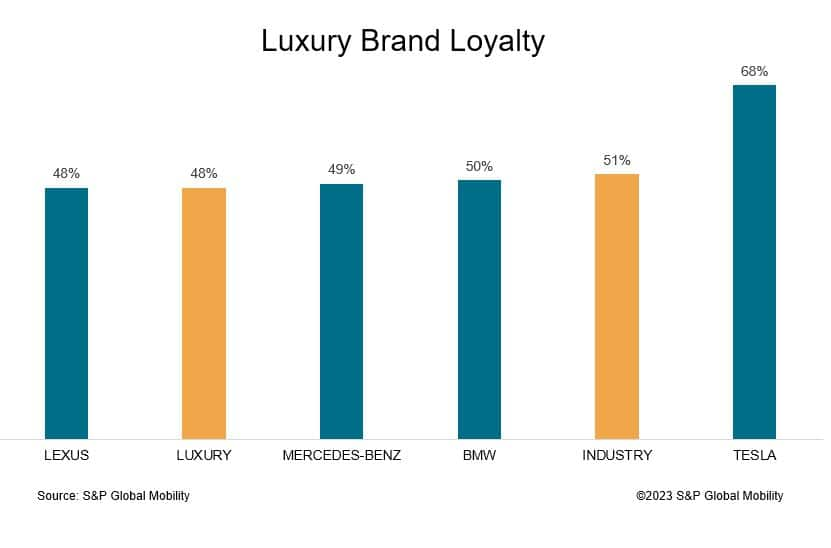 BEVs — already benefiting from the largest increases in marketing support during the constrained market — will continue to receive a huge chunk of media spend over the course of this decade for new model launch support.
This imbalance of media spend versus market share is starting to play out in days' supply and incentive offers as several EV models are currently at the top of both categories. Looking at inventories for all EVs (except for Tesla) through the first eight months of 2023, we can see advertised dealer inventory levels for these popular models, on average, are growing twice as fast as the rest of the industry.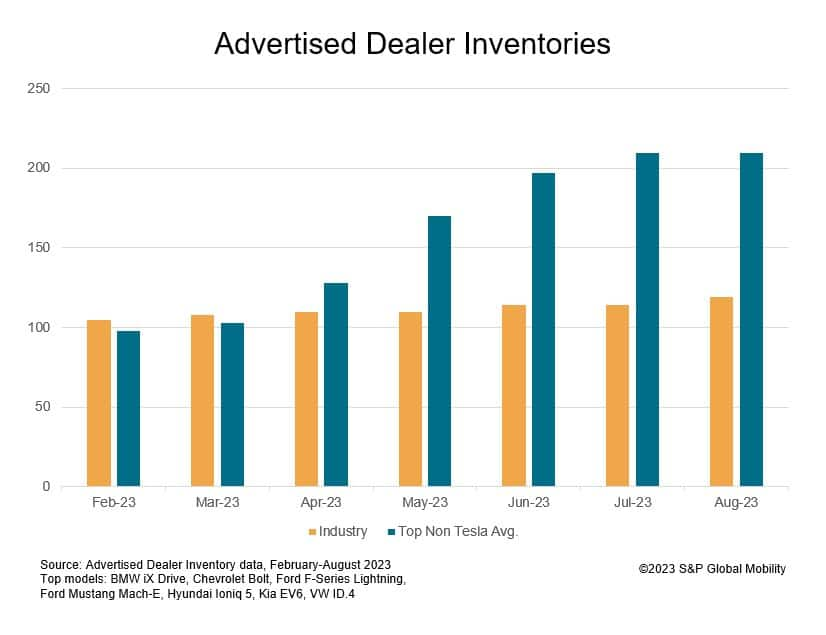 EVs also remain a mostly additive purchase, with 7 in 10 joining other vehicles in the driveway instead of replacing one, according to S&P Global Mobility analysis. Additionally, the vehicle shortages related to the semiconductor crisis have trained US buyers to wait. S&P Global Mobility's 2022 Vehicle Buyer Journey study showed that 56% of new car shoppers are willing to wait one month to get the vehicle they want. These buying motivations don't align strongly with incentive messaging.
The status of EVs as replacement vehicles will likely shift later this decade, signaling a substantial change in buying motivations as demand starts to close the gap with marketing spend. In the meantime, though, retailers need to develop targeted messaging strategies for their hybrid and ICE inventory.
Managing marketing complexity
As vehicle supply and model counts rise, so does competition for consumer attention. Customers expect personalization and relevant offers, and prefer to handle most of the consideration and transaction process digitally. With different customer types, vehicle types and buying motivations, there is increased importance in targeted, unique and dynamic messaging.
Turning marketplace challenges into opportunity starts here. Better personalization needs to have accurate, actionable data. There are four important ways marketers can develop more effective messaging, reduce waste and improve marketing ROI:
Employ vehicle verification. Does the consumer have their car? Reduce wasted impressions and stop annoying customers with irrelevant offers by identifying vehicle disposers.

Enrich customer profiles. Go beyond your customer's most recent purchase to develop a comprehensive household profile — including what other vehicles are owned, financial profiles, lease information, and loyalty to a segment, make or model.

Resolve identity gaps from inaccurate data. Identification data is often incomplete. Data cleansing and hygiene reduce database management costs and improve the chances that your message is delivered to the intended customer.

Scale first-party assets by developing look-a-likes from your CRM profiles. Create specific audiences as qualified prospects and message to recruit these net-new car shoppers into your CRM program.
Identifying and targeting the households that matter
Better targeting and measurement are now available within broad-reach media like TV. Auto marketers no longer need to rely solely on demographic buying to reach customers at scale.
Polk Audiences data shows that about 52 million US households — about 40% of the population — regularly buy new cars. Another 22 million own used vehicles. But 50 million households do not own a vehicle at all — representing a vast number of potential wasted impressions.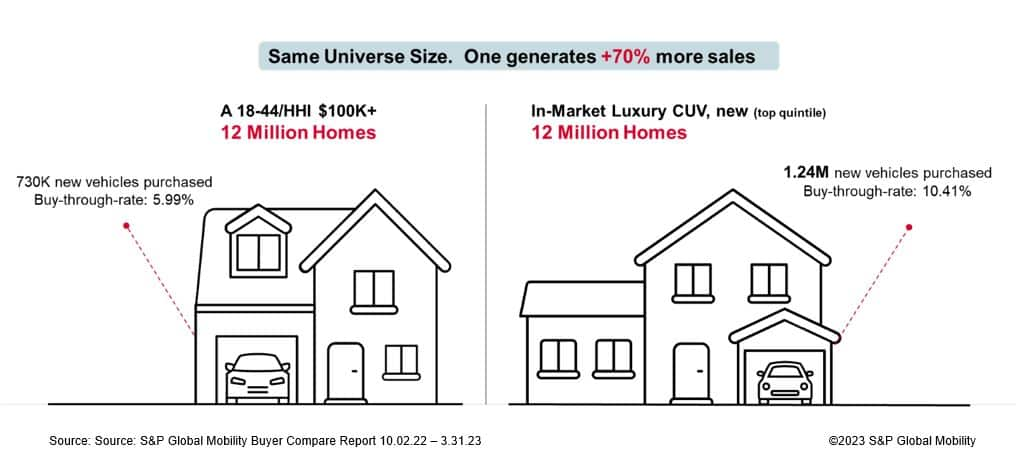 With the forthcoming blitz of new vehicle launches, there will be more pressure on media budgets and automakers' ability to drive sales efficiently. By moving beyond demographic targets, marketers can mitigate waste and target households with the highest propensity to buy now.
Looking into Polk Audiences In-Market segments, OEMs and dealers can compare sales and buy-through rates to demo-based buying audiences. In this example, we see the highly desirable upscale, young adult demographic aged 18-44 with a household income of more than $100,000, compared to in-market shoppers for a luxury compact utility vehicle (CUV). They have the same universe size of 12 million households. The addressable, targeted approach is well positioned to deliver more sales — a lot more sales.
Today, automotive marketers are making great strides in leveraging technology and data science to develop advanced audiences, messaging strategies and improved digital communication tools. These are going to be critical for success because, in a few tomorrows, marketers will have to manage more customer types, vehicle types and buying motivations — all while trying to break through 30% more competitive noise.
Authors:
Jason Jordhamo - Director, Polk Automotive Solutions, S&P Global Mobility
Joe Kyriakoza - Vice President and General Manager, Polk Automotive Solutions, S&P Global Mobility
--------------------------------------------------------------
Dive deeper into these mobility insights:
MOBILITY INTELLIGENCE FOR AUTOMOTIVE MARKETING
THE EVOLUTION OF THE EV CONSUMER
WARNING SIGNS ON THE PASS TO MASS EV ADOPTION
VEHICLE OWNER DATABASE SERVICES
FOR MORE ON LOYALTY AND CONQUEST ANALYTICS
SUBSCRIBE TO OUR TOP 10 INDUSTRY TRENDS NEWSLETTER
---
This article was published by S&P Global Mobility and not by S&P Global Ratings, which is a separately managed division of S&P Global.
{"items" : [ {"name":"share","enabled":true,"desc":"<strong>Share</strong>","mobdesc":"Share","options":[ {"name":"facebook","url":"https://www.facebook.com/sharer.php?u=http%3a%2f%2fwww.spglobal.com%2fmobility%2fen%2fresearch-analysis%2ffuel-for-thought-ev-marketing-challenges-vehicle-portfolio-grows.html","enabled":true},{"name":"twitter","url":"https://twitter.com/intent/tweet?url=http%3a%2f%2fwww.spglobal.com%2fmobility%2fen%2fresearch-analysis%2ffuel-for-thought-ev-marketing-challenges-vehicle-portfolio-grows.html&text=Fuel+for+Thought%3a+Too+many+toys+on+the+shelf+%7c+S%26P+Global+","enabled":true},{"name":"linkedin","url":"https://www.linkedin.com/sharing/share-offsite/?url=http%3a%2f%2fwww.spglobal.com%2fmobility%2fen%2fresearch-analysis%2ffuel-for-thought-ev-marketing-challenges-vehicle-portfolio-grows.html","enabled":true},{"name":"email","url":"?subject=Fuel for Thought: Too many toys on the shelf | S&P Global &body=http%3a%2f%2fwww.spglobal.com%2fmobility%2fen%2fresearch-analysis%2ffuel-for-thought-ev-marketing-challenges-vehicle-portfolio-grows.html","enabled":true},{"name":"whatsapp","url":"https://api.whatsapp.com/send?text=Fuel+for+Thought%3a+Too+many+toys+on+the+shelf+%7c+S%26P+Global+ http%3a%2f%2fwww.spglobal.com%2fmobility%2fen%2fresearch-analysis%2ffuel-for-thought-ev-marketing-challenges-vehicle-portfolio-grows.html","enabled":true}]}, {"name":"rtt","enabled":true,"mobdesc":"Top"} ]}