Start every business day with our analyses of the most pressing developments affecting markets today, alongside a curated selection of our latest and most important insights on the global economy.

Challenges Abound for Florida Property Insurers
Property insurance providers operating in Florida are struggling with a host of persistent issues. Claim frequency has worsened as the severity of catastrophic and noncatastrophic weather events climbs. The cost of claims has pushed up insurance premiums for consumers and increased the cost of reinsurance. Most hurricane seasons now see once-rare Category 4 and 5 hurricanes hitting Florida's extensive coastline.
"Most insurance companies are prepared for one or two catastrophes," Paul Handerhan, president of the Federal Association for Insurance Reform, told S&P Global Market Intelligence. "But when you get hit by four or five within a two-year period, that really erodes your policyholder surplus."
Litigation and claims from Hurricane Ian caused Florida's property insurers heavy losses in 2022. The insurers that haven't yet abandoned the state are hoping that tort reforms recently signed into law by Gov. Ron DeSantis will ease the substantial legal burden they face. The aim of the legal reforms is to keep reinsurers from pulling out of Florida during the policy renewal season by reducing the legal exposure of insurance companies. Insurers depend on deep-pocketed reinsurance companies to protect them against huge losses from catastrophic weather events. Many reinsurers will take a wait-and-see approach to the Florida market this year to determine if reforms have a substantial impact. This has left many Florida-based insurers struggling to purchase adequate reinsurance at the start of the Atlantic hurricane season.
Many reinsurers have reduced their exposure to the Florida property market or hiked their prices in response to the increased frequency of extreme weather events. Munich Re and Swiss Re, two leading reinsurance providers, have radically pared back their involvement in the Sunshine State. Many Florida-focused property and casualty insurers have recently seen their credit ratings downgraded by rating agency Demotech. These downgrades have further discouraged reinsurers from the state. To compensate, the state government created a temporary reinsurance program that allows policyholders to keep their coverage even if the insurer receives a downgrade.
One silver lining for Florida property insurers is that the coming Atlantic hurricane season is expected to be comparatively mild because of the El Nino weather pattern. With fewer named storms, tort reform and reinsurance support, 2023 may not be so grim for Florida property insurance providers.
Today is Monday, June 5, 2023, and here is today's essential intelligence.
Written by Nathan Hunt.
Economy
---
Singapore Economy Weakens In Early 2023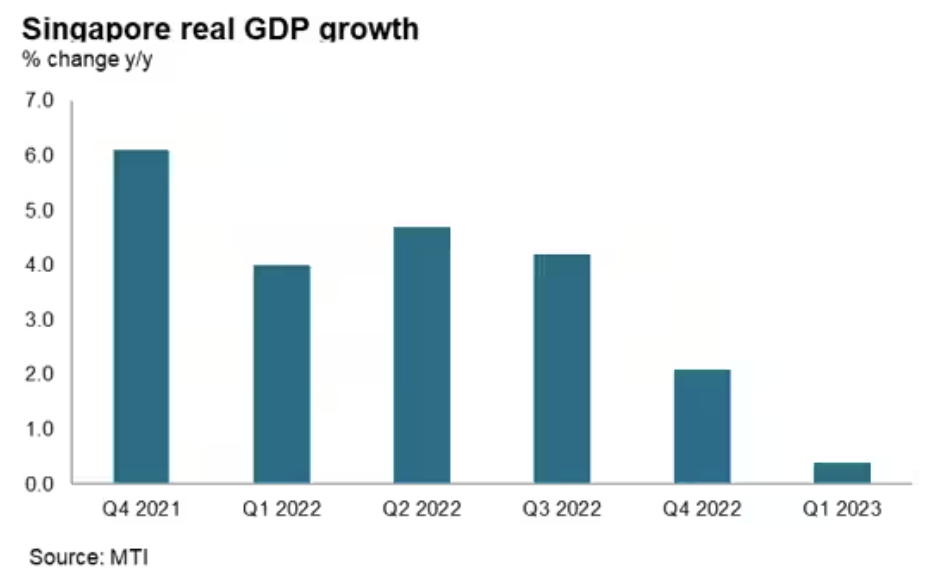 Singapore's GDP growth slowed to a pace of 0.4% year-on-year (y/y) in the first quarter of 2023, after recording quarterly growth momentum of 2.1% y/y in the fourth quarter of 2022. The manufacturing sector remained weak, with manufacturing output contracting by 5.6% year-on-year in the first quarter of 2023, after declining by 2.6% y/y in the fourth quarter of 2022.
—Read the article from S&P Global Market Intelligence
Access more insights on the global economy >
Capital Markets
---
US House Prices Show Recovery For 2nd Consecutive Month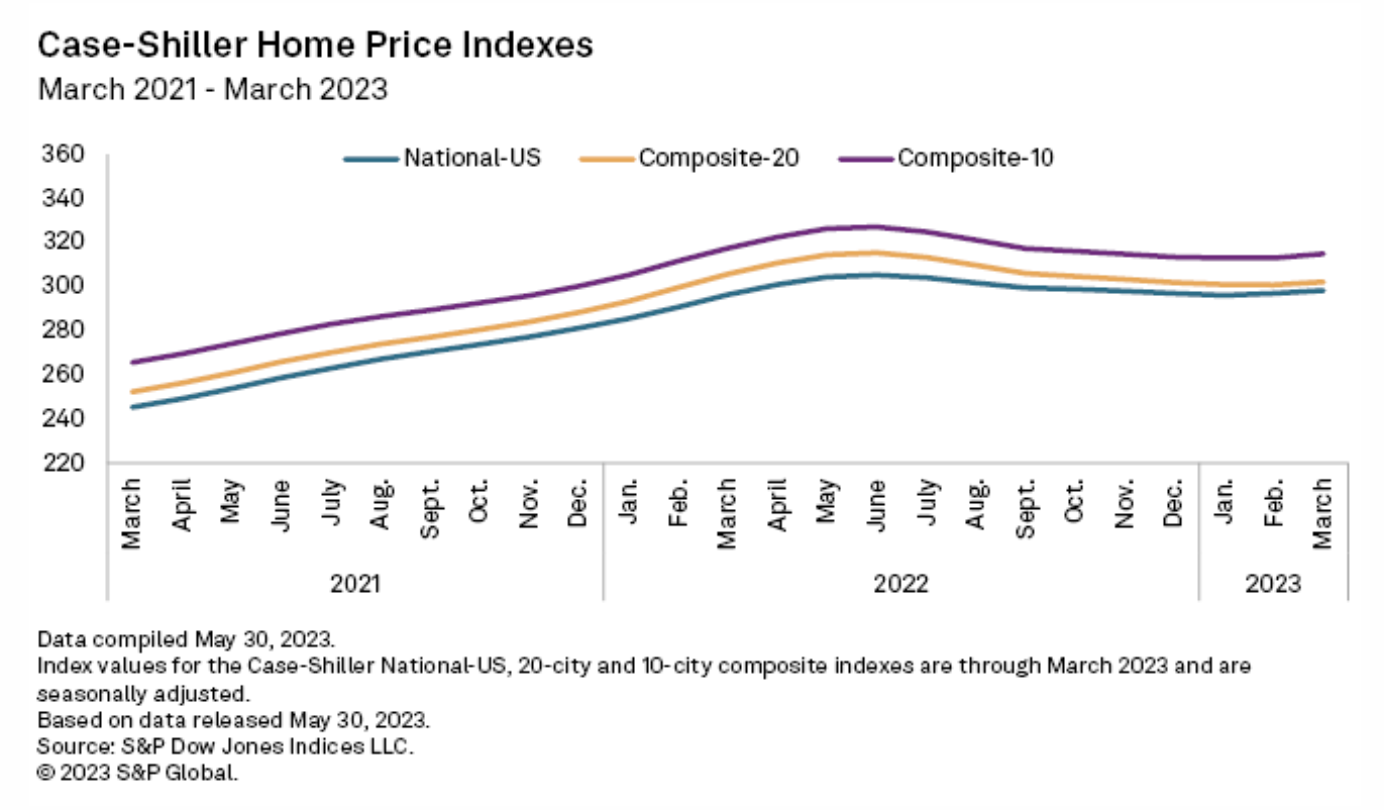 The month-over-month recovery in home prices continues in March, following a slight increase in February. Prior to that, house prices posted monthly declines for seven consecutive months. The S&P CoreLogic Case-Shiller US National Home Price NSA Index was up 0.4% month over month in March after seasonal adjustment, compared to the 0.3% monthly increase recorded in February. On an annual basis, housing prices continued the trend of growth at a slower rate.
—Read the article from S&P Global Market Intelligence
Access more insights on capital markets >
Global Trade
---
Global Factory Output Buoyed By Healing Supply Chains, But Demand For Goods Continues To Fall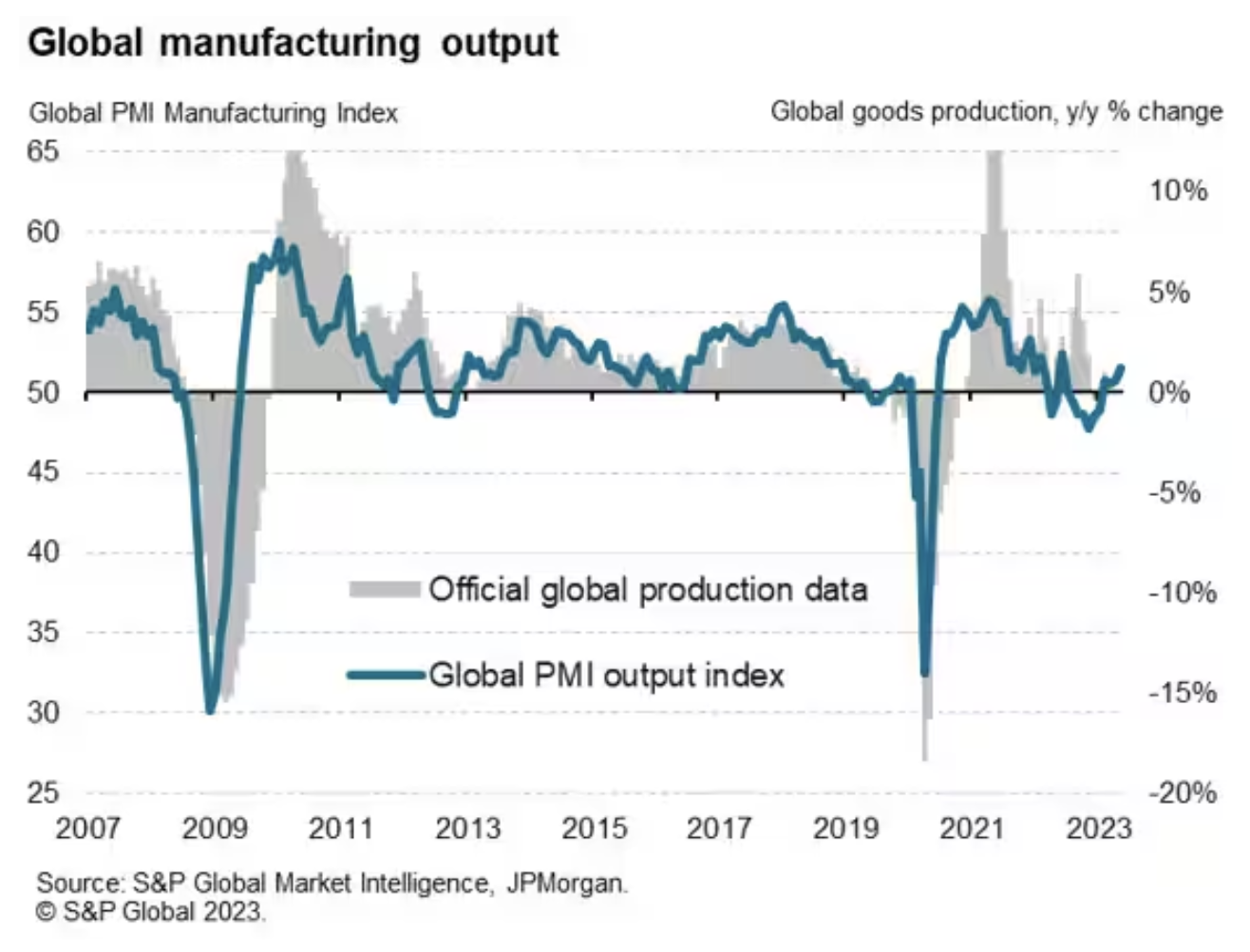 The JPMorgan Global Manufacturing Purchasing Managers' Index™ (PMI™) compiled by S&P Global, registered 49.6 in May, unchanged for a third successive month and indicating a marginal deterioration of business conditions. Conditions have now worsened for nine straight months. While there was some brighter news on the production front, with output rising for a fourth month in a row, the production gains were again driven by improved supply (enabling the fulfilment of orders placed in prior months) rather than any new inflows of orders.
—Read the article from S&P Global Market Intelligence
Access more insights on global trade >
Sustainability
---
Australia's Biggest Carbon Credit Generating Method To Expire In September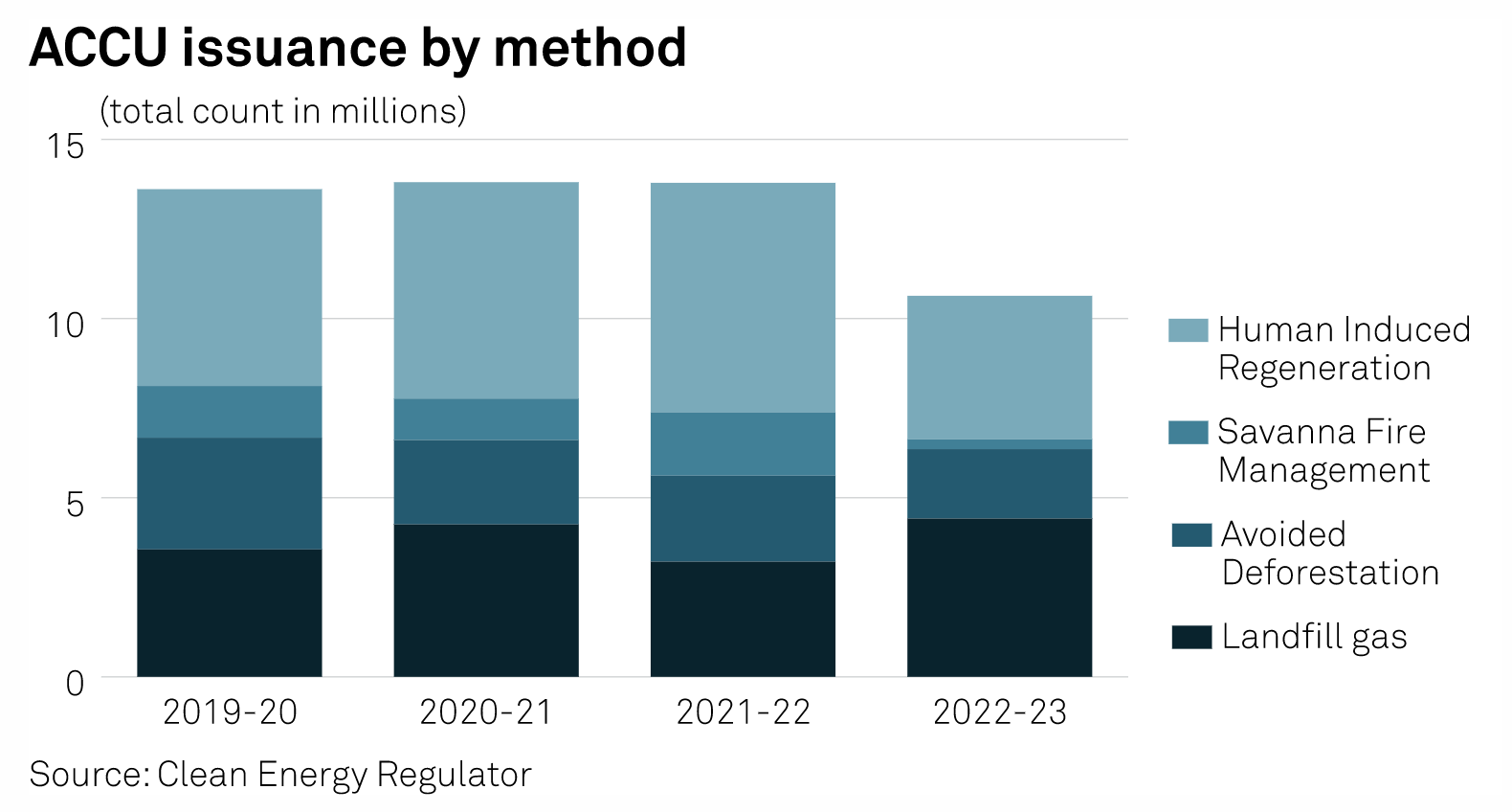 The Human-Induced Regeneration method, the biggest generator of carbon credits in Australia, will expire in September 2023, the Clean Energy Regulator said June 2. There will be no new project registration under the HIR method after Sept. 30, with project developers advised to submit new applications by July 2, the regulator said. HIR projects involve storing carbon by regenerating permanent native forests on a property where vegetation has been suppressed by activities such as unmanaged livestock grazing, feral animal activity, and chemical destruction of regrowth.
—Read the article from S&P Global Commodity Insights
Access more insights on sustainability >
Energy & Commodities
---
A Kansas Surprise: One Gas Sees New Expansion Potential In Slow-Growth State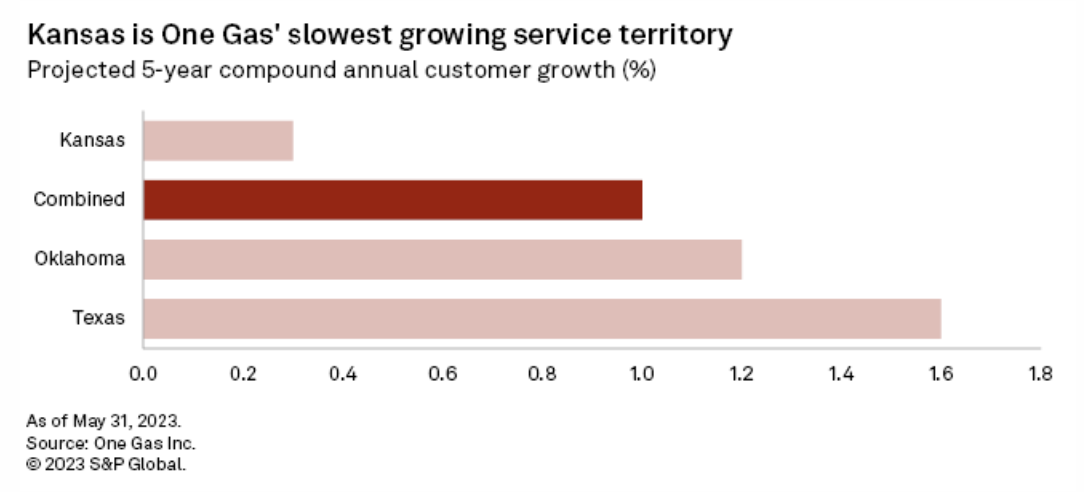 One Gas Inc. has long touted its customer expansion in Texas and Oklahoma along the fast-growing Interstate 35 corridor. But now the Tulsa, Okla.-based gas distributor is seeing its prospects improve in Kansas, historically a slower-growth service territory. "Kansas has been a surprise," One Gas President and CEO Sid McAnnally said in an interview with S&P Global Commodity Insights.
—Read the article from S&P Global Market Intelligence
Access more insights on energy and commodities >
Technology & Media
---
Merchants Look To Optimize Payments, Fraud Prevention And Digital Experience Strategies
Macroeconomic pressures will create no shortage of turbulence for merchants this year as they seek to adapt to changing market conditions and buyer behaviors. Encouragingly, our survey shows that, despite the market challenges, commerce technology decision-makers remain steadfast in delivering on their digital transformation strategies. The through lines in this year's survey results are a strong commitment to creating contextually relevant customer experiences and a deeper focus on modernization and optimization.
—Read the article from S&P Global Market Intelligence