Subscribe on LinkedIn to be notified of each new Daily Update—a curated selection of essential intelligence on financial markets and the global economy from S&P Global.
Jeff Bezos, the billionaire founder of e-commerce behemoth Amazon, will step down as CEO in the third quarter of this year, after which he will serve as the executive chairman of the company's board. Andy Jassy, the current CEO of the firm's cloud computing business unit, Amazon Web Services, will succeed Mr. Bezos.
Mr. Jassy is "the strongest guy on the bench, most-known athlete, well-regarded internally and externally," Michael Levine, a senior research analyst for internet and media at the financial firm Pivotal Research Group, told S&P Global Market Intelligence in an interview. "You know what you are getting."
The move came as Amazon on Feb. 2 reported massive fourth-quarter income and sales. Net income more than doubled, to $7.22 billion, up year-over-year from $3.27 billion; net sales grew to $125.56 billion, a roughly 44% increase from $87.44 billion a year earlier.
Mr. Bezos's stepping down may not be as significant as it appears, due to the prominent role that companies' executive board members play in dictating the direction of firms' future. But the changing of the guard of the $1.7 trillion market-capitalized company could also signal how corporate governance and consumer preferences will evolve in a post-pandemic world.
After all, Mr. Bezos himself asserted that he isn't going anywhere but rather wants to reposition his priorities.
"Being the CEO of Amazon is a deep responsibility, and it's consuming. When you have a responsibility like that, it's hard to put attention on anything else," Mr. Bezos said in an email to employees. "As Exec Chair I will stay engaged in important Amazon initiatives but also have the time and energy I need to focus on the Day 1 Fund, the Bezos Earth Fund, Blue Origin, The Washington Post, and my other passions. I've never had more energy, and this isn't about retiring."
Since the announcement, market observers have wondered what Mr. Bezos will do next—pondering whether the world's second-wealthiest person (behind Tesla CEO Elon Musk) will power his focus on climate change into broad philanthropy efforts, as former Microsoft CEO Bill Gates has done for public health, or govern the company from a quieter position.
To succeed, Mr. Jassy "really needs Jeff to step away and be less visible," Jason Schloetzer, an associate professor at Georgetown University's McDonough School of Business, told S&P Global Market Intelligence. "It's really up to Bezos about shaping his role in a way that allows Andy to be the superstar CEO and Jeff can really focus on other activities."
Mr. Jassy will take over the company as its business is booming, especially in cloud computing, retail, and delivery, as well as disrupting new sectors, including healthcare. The company launched its online Amazon Pharmacy platform in November as the coronavirus crisis continued to heighten people's dependence on telehealth services.
"This is not only the hand-off of the baton but acknowledging that the future of Amazon is focused on services," Tom Forte, an analyst at the investment banking firm D.A. Davidson, told S&P Global Market Intelligence of Amazon's decision to promote Mr. Jassy.
The leadership change is underscored by the increasing importance of environmental, social, and governance (ESG) factors and stakeholder capitalism across the corporate landscape. As the purpose of corporations is being redefined, their new "aim is to increase economic and societal resilience by accelerating inclusive economics and societies (creating jobs, re-skilling, lowering unemployment) while shaping a new concept for economic integration and digital revolution," S&P Global Ratings said in a recent report.
Employing more than 1 million people worldwide, Amazon has faced exposure to ESG opportunities and risks. In 2018, the retailer was one of the first in the U.S. to raise its minimum wage to $15 an hour in an effort to address workers' compensation needs with living wages. But employees have repeatedly protested the company's working conditions, and Amazon recently agreed to pay more than $61.7 million in response to allegations it cheated drivers out of customer tips for more than two years, according to the Federal Trade Commission.
Other challenges remain: Amazon is facing antitrust scrutiny from both U.S. and European lawmakers, and major global retailers and their logistics partners are expected to suffer pandemic-prompted supply chain disruptions and delivery delays throughout this year.
"Over the next 12 to 18 months, I think investors are going to be watching this [new leadership] closely to see if there's any missteps," Daniel Ives, an analyst with the financial services and investments firm Wedbush Securities, told S&P Global Market Intelligence.
Today is Thursday, February 4, 2021, and here is today's essential intelligence.
The Future of Credit
---
GCC Corporate And Infrastructure Outlook 2021: Proceeding With Caution
S&P Global Ratings expects GDP in the Gulf Cooperation Council (GCC) countries to recover modestly, by about 2% in 2021 on average, from the sharp contraction in 2020.
—Read the full report from S&P Global Ratings
Banking Sector Under Pressure
---
Lower And Later: The Shifting Horizon For Bank Credit Losses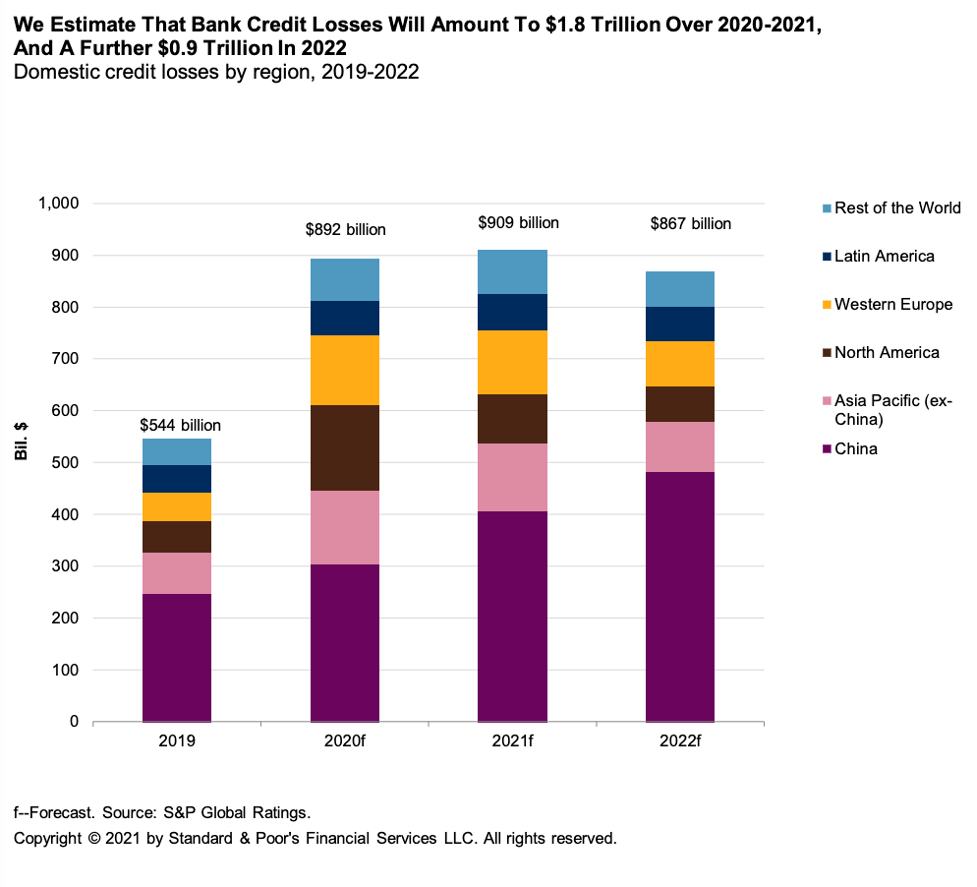 For banks across the globe, S&P Global Ratings forecasts credit losses of around $1.8 trillion for 2020 and 2021—15% lower than the previous forecast of $2.1 trillion in July 2020.
—Read the full report from S&P Global Ratings
True Picture Of North African And Jordanian Banks' Creditworthiness Will Emerge In 2021
S&P Global Ratings assumes a gradual economic recovery in 2021 in most of North Africa and Jordan, which could be delayed by the resurgence of COVID-19 cases, new mutations, and potential delay in Europe's economic recovery.
—Read the full report from S&P Global Ratings
Banks Struggle With SME Data Gap As They Apply EU Green Taxonomy
European banks' exposure to small- and medium-sized businesses constitutes a major challenge when applying a new EU classification system on climate-friendly investments because there is a widespread lack of data, a new report finds.
—Read the full article from S&P Global Market Intelligence
ESG in the Time of COVID-19
---
Infographic: Shipping Sector Weighs Impact Of EU ETS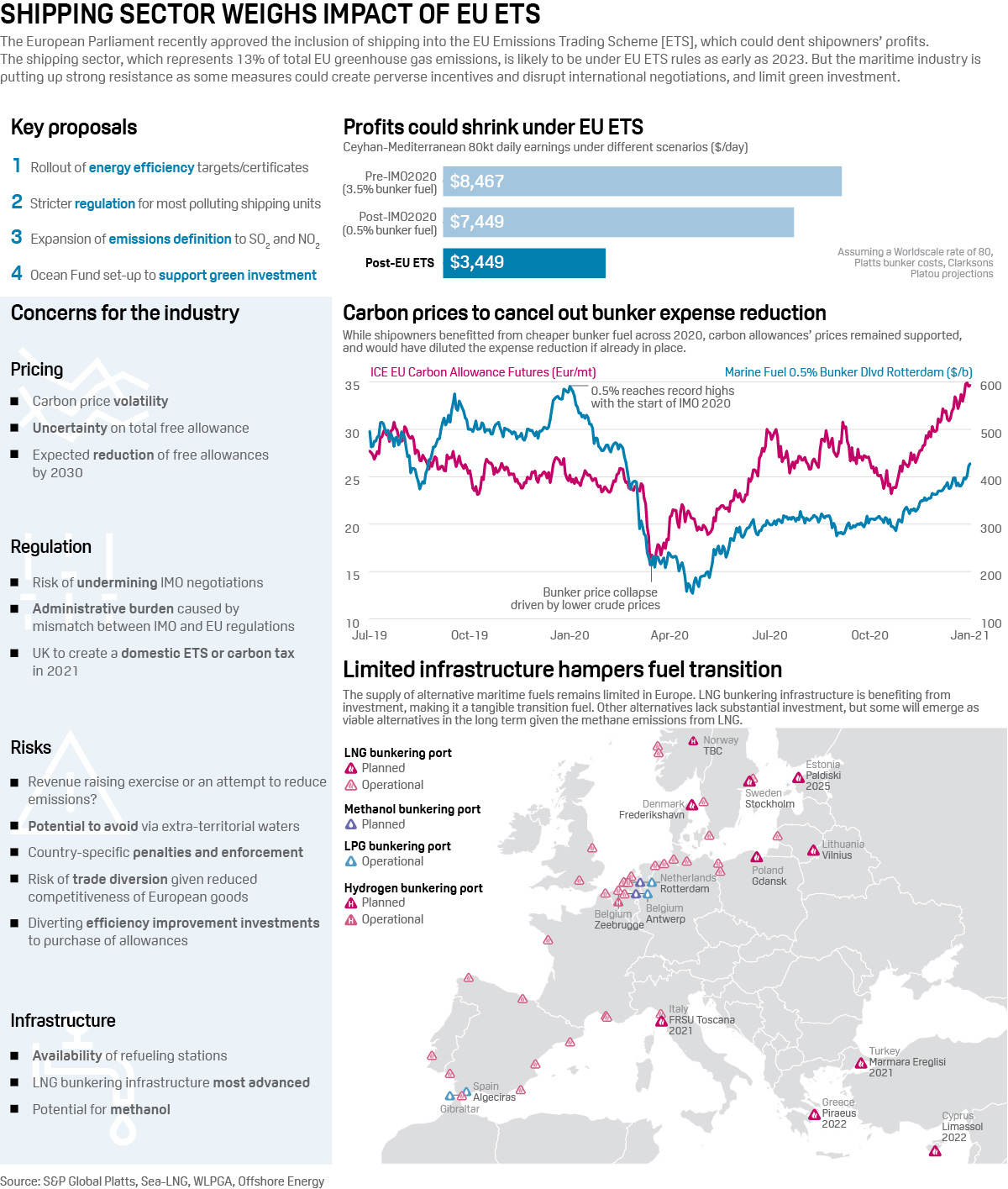 The European Parliament recently approved the inclusion of shipping into the EU Emissions Trading Scheme [ETS], which could dent shipowners' profits. The shipping sector, which represents 13% of total EU greenhouse gas emissions, is likely to be under EU ETS rules as early as 2023. But the maritime industry is putting up strong resistance as some measures could create perverse incentives and disrupt international negotiations, and limit green investment.
—Read the full article from S&P Global Platts
Insight from Dubai: Oil and low-carbon investments go side by side in Abu Dhabi's energy transition strategy
Abu Dhabi is pressing ahead with ambitious plans to hike oil production and become self-sufficient in gas, while also targeting low-carbon technologies such as CCUS and hydrogen.
—Read the full article from S&P Global Platts
The Future of Energy & Commodities
---
Watch: Market Movers Asia, Feb 1-5: Medical Device Manufacturing Drives Feedstock Condensate, Naphtha Demand
The highlights on S&P Global Platts Market Movers in Asia, with Head of Metals Insight Paul Bartholomew: Medical device demand drives condensate and naphtha purchases; metals raw materials market to take cue from China, India, and Japan's manufacturing data; China's thermal coal demand dwindles ahead of the Lunar New Year holidays; and tight supply seen to drive methanol prices.
—Watch and share this Market Movers video from S&P Global Platts
OPEC+ Sounds an Upbeat Note, as Saudi Arabia's Extra Cut Bolsters Oil Prices
With Brent prices within spitting distance of $60/b and Saudi Arabia shouldering an extra load of production cuts, OPEC+ ministers concluded a speedy monitoring committee meeting Feb. 3 with an upbeat assessment of the oil market.
—Read the full article from S&P Global Platts
Written and compiled by Molly Mintz.