Customer Logins
Obtain the data you need to make the most informed decisions by accessing our extensive portfolio of information, analytics, and expertise. Sign in to the product or service center of your choice.
Customer Logins
Consumers desire automated safety over self-driving tech
Semi-autonomous driving features are still missing that crucial trust factor, whereas automated safety features are gaining traction and acceptance
Car buyers understand and want advanced driver assistance systems (ADAS) features that provide safer driving - and they expect them to be standard in new luxury and mainstream vehicles. But the same feelings do not apply when ADAS is applied to autonomous driving systems.
According to a spring 2023 S&P Global Mobility consumer survey, trust and familiarity remain barriers to car shoppers adopting autonomous driving technology. Put simply, as the amount of vehicle automation increases, consumer desire decreases.
Each of the five most-desired ADAS features improves safety. Blind spot warning ranks as the most desired feature, wanted by 83% of consumers. More than 80% of those surveyed want forward collision warning and rear mirror cameras. Other top-five desired features include automatic emergency braking (AEB) for cyclists and pedestrians, as well as night vision.
"Exposure is helping to drive much of the desirability for these features," said Yanina Mills, senior technical research analyst at S&P Global Mobility.
However, while autonomous driving features add convenience by reducing the tedium of driving, they fall well short of ADAS safety features when it comes to buyer desirability. "Safety versus convenience operate in two different ballparks of interest," according to Brock Walquist, senior technical research analyst at S&P Global Mobility.
Drivers are no strangers to ADAS. The S&P Global Mobility survey found that fully half of the vehicle owners surveyed have experienced these systems. Approximately 35% own vehicles with forward collision warning, and 30% have vehicles with blind spot detection.
By contrast, consumer experience with self-driving is essentially non-existent, further inhibiting its desirability. Whereas many automated safety features poll in the 80th percentile range, only 61% of the 7,732 global respondents expressed interest in self-driving, making it the least desirable ADAS feature listed in the survey.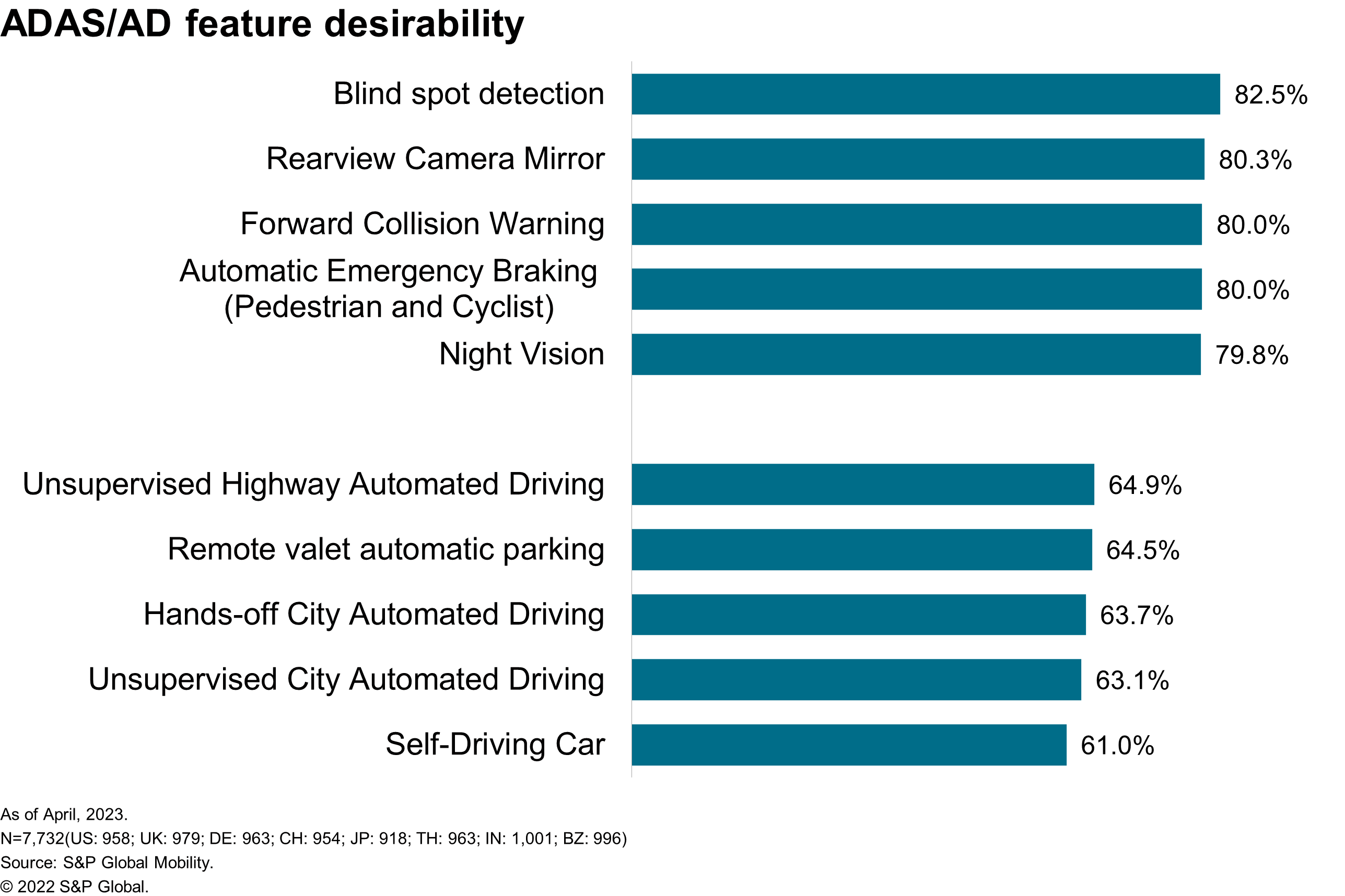 Almost every manufacturer offers Level 2 systems that assume some measure of driving tasks - while being supervised by the driver. Level 2+ systems, such as General Motor's Super Cruise and Ford's Blue Cruise, add hands-off automated highway driving. Drivers still need to pay attention while the computer is in control, monitored by a camera-based system.
But increased capability doesn't increase buyer desire. Consumers still prefer automated driving features where the driver maintains more control. Only 69% of consumers desire Level 2 autonomy. Even fewer (65%) buyers desire Level 2+ hands-off automated highway driving.
Relative exposure again plays a role. Walquist says "There is a gap in experience and exposure to those systems. We're just now starting to see (hands-off systems) move outside of the premium models, but that's a process."
For now, buyers struggle to find a strong reason for autonomous driving features. As Mills notes, "Consumers aren't able to find a use case that's relatable to them."
Among those polled, 53% of consumers felt that an autonomous car would drive more efficiently than a normal car, 48% felt that it would be safer, and 27% would use it to relieve tedious driving conditions. If OEMs want to convince more buyers that autonomous driving systems are worthwhile, they need to better communicate their benefits, Mills said.
But consumer sentiment is different across regions. Consumers in Mainland China, for example, have consistently shown the highest desirability scores for self-driving technology; they're also the most likely to both ride and purchase a self-driving vehicle compared to other surveyed markets. Consumers in the US, UK, and Germany show the lowest scores in these areas, demonstrating distinctly different behavior between established automotive markets and the rising economic power of the second most-populated country in the world.
FOR THE FULL REPORT, SUBSCRIBE HERE

Then there's the matter of trust. According to Walquist, "The whole idea of a system that takes control from the driver continues to not sit well with consumers." Just 47% of consumers said they would ride in a car with self-driving abilities and that they would consider purchasing one. Optimism about self-driving cars remains cautious at best - and consideration is high up the purchase funnel before the papers get signed.
Speaking of purchase price, buyers may really want safe cars, but they will resist paying extra for safety features.
Consumer desire for safety runs deep. About 81 percent of buyers are willing to pay more for vehicles with higher safety ratings. 92% state that safety ratings are "somewhat" or "very important" when buying a vehicle.
That said, consumers clearly do not want to pay extra for ADAS safety features. More than 50% of buyers expect these features to be standard.
"Consumers have an expectation that safety equipment should just be a part of every vehicle produced and sold," said Jeremy Carlson, lead analyst for autonomy at S&P Global Mobility. "They'll ask themselves, 'If it's a critical safety technology, why are you asking me to pay for it on top of my vehicle purchase?'"
The weak-to-nonexistent link between ADAS and vehicle safety ratings also plays a part in resistance to paying extra. "Most rating organizations might recommend AEB. They might recommend lane-keep assist. But they are not part of the scoring protocols," Walquist said.
Euro NCAP and the Insurance Institute for Highway Safety (IIHS) are leading the way to incorporate ADAS into their safety ratings, but most other organizations lag far behind. That said, NHTSA announced on May 31 its intention to mandate AEB that detects vehicles and pedestrians for new US-market vehicles.
Buyers also want to know what they're getting. The complexity of many autonomous systems makes that hard.
Understanding the capability of different autonomous systems is bewildering, because no two systems are exactly alike. From available speed range, to urban vs highway capability, to automated lane changes, each OEM implements their system in a slightly different way.
"It all contributes to a difficulty for consumers to stop and say, 'I know what I'm getting, I know where it will operate, and therefore, I know what kind of utility I'm getting by investing in this technology,'" Carlson said.
As usual within the industry, Tesla proves to be the exception to the rule. Walquist notes that "Tesla was out front with offering Autopilot. It was a big part of their value proposition. As a result, they pulled in a lot of the early adopters who were interested in that technology."
But most other buyers need more convincing, according to Mills. "There is a lack of exposure to the mainstream consumer. They don't exactly know how it is going to work. There is confusion. They are asking, 'Is it self-driving, or is it just going to help me a bit and I still have to focus?'"
Moving to a Level 3 automated-driving system - and beyond - poses huge technical and ideological hurdles. Such systems remove the need for constant driver vigilance, shifting responsibility (and legal liability) from the driver to the manufacturer. Initial applications will be limited to certain roads at certain speeds. Early Level 3 systems just won't be all that useful to a consumer.
Some OEMs are skipping this step altogether because of the murky legal area in which it resides. But other OEMs measure engineering success in ways beyond consumer usefulness. Carlson notes, "For a company like Mercedes that is launching Level 3 on flagships like the S-Class and EQS, there is a level of technology leadership that brings value to the brand."
S&P Global Mobility found that consumers trust German manufacturers the most when it comes to developing automated driving systems. Approximately 75% of consumers are confident that German premium automakers (Audi, BMW, Mercedes-Benz, Porsche) can develop a safe and effective self-driving vehicle.
But manufacturers don't all have the same goal when it comes to autonomous capability. Walquist says, "There are two levels of conversation that are taking place in every automaker. 'Do we want to be a leader in terms of automation, or do we want to be a leader in functionality and safety?'"
Several reasons contribute to this split - especially the concern about allowing the operator to disengage from the act of driving. Both the United States and China have focused on enabling Level 2 and 2+ systems to operate in a wider variety of situations, while still requiring that the driver pays attention.
The ill-defined societal zone of liability and legislation for Level 3 means many manufacturers are taking a view that, "When technology and legislation are aligned, then we'll make that step (to Level 3.) But for now, let's extend current technology to different environments," Walquist said.
The evolving nature of automated driving poses challenges - both to OEMs who want to sell these systems, and to consumers who are weighing their purchase. Automakers will need to better define the benefits of autonomy to improve its desirability to consumers.
FOR THE FULL REPORT, SUBSCRIBE HERE
SELF-DRIVING CARS WON'T HAPPEN WITHOUT SMARTER ADAS
AUTO SAFETY SYSTEMS - CALIBRATION CHALLENGES AND OPPORTUNITIES
AUTO FEATURES AND TECH BENCHMARKING
FOR MORE ON AUTONOMY FORECASTS
FOR MORE ON S&P GLOBAL MOBILITY CONSUMER INSIGHTS
---
This article was published by S&P Global Mobility and not by S&P Global Ratings, which is a separately managed division of S&P Global.
{"items" : [ {"name":"share","enabled":true,"desc":"<strong>Share</strong>","mobdesc":"Share","options":[ {"name":"facebook","url":"https://www.facebook.com/sharer.php?u=http%3a%2f%2fwww.spglobal.com%2fmobility%2fen%2fresearch-analysis%2fconsumers-desire-automated-safety-over-selfdriving-tech.html","enabled":true},{"name":"twitter","url":"https://twitter.com/intent/tweet?url=http%3a%2f%2fwww.spglobal.com%2fmobility%2fen%2fresearch-analysis%2fconsumers-desire-automated-safety-over-selfdriving-tech.html&text=Consumers+desire+automated+safety+over+self-driving+tech+%7c+S%26P+Global+","enabled":true},{"name":"linkedin","url":"https://www.linkedin.com/sharing/share-offsite/?url=http%3a%2f%2fwww.spglobal.com%2fmobility%2fen%2fresearch-analysis%2fconsumers-desire-automated-safety-over-selfdriving-tech.html","enabled":true},{"name":"email","url":"?subject=Consumers desire automated safety over self-driving tech | S&P Global &body=http%3a%2f%2fwww.spglobal.com%2fmobility%2fen%2fresearch-analysis%2fconsumers-desire-automated-safety-over-selfdriving-tech.html","enabled":true},{"name":"whatsapp","url":"https://api.whatsapp.com/send?text=Consumers+desire+automated+safety+over+self-driving+tech+%7c+S%26P+Global+ http%3a%2f%2fwww.spglobal.com%2fmobility%2fen%2fresearch-analysis%2fconsumers-desire-automated-safety-over-selfdriving-tech.html","enabled":true}]}, {"name":"rtt","enabled":true,"mobdesc":"Top"} ]}