Published June 2020
This report covers primarily magnesium oxide (also known as magnesia), with additional data on magnesium hydroxide, magnesium chloride, magnesium sulfate, and precipitated magnesium carbonate as available. Magnesium chemicals are used in many different applications, including refractories, agriculture (both as fertilizer and in feed), magnesium metal production, water treatment, deicing, pigments, and paints. Magnesium oxide is the most commercially important of the magnesium chemicals.
Mainland China continues to dominate the market as the largest producer and consumer of magnesium oxide, as well as the largest global exporter. In 2019, over half of Chinese magnesium oxide exports were refractory magnesia for use in steel manufacture and cement production. The remainder was caustic-calcined magnesia, destined for environmental, construction, and agricultural markets. Global consumption for magnesium oxide is set to increase by an average of 1.5% per year over the forecast period of 2019–24.
The following pie chart shows world consumption of magnesium oxide: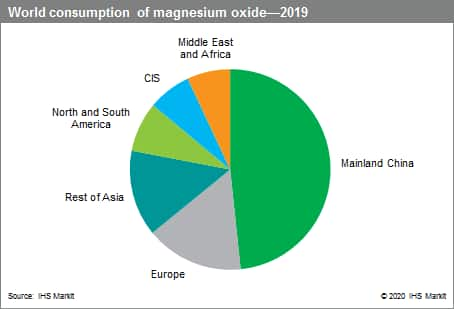 Large mineral deposits of magnesite are located in mainland China, North Korea, and Russia. Mainland China is the largest producer of magnesium oxide from natural magnesite, accounting for about two-thirds of the magnesium oxide produced in 2019. The region's abundant magnesite deposits result in most of its domestic producers manufacturing magnesium chemicals from this natural ore.
Dead-burned magnesia (DBM) and fused magnesia (FM) are mainly used in refractories for steel production and in cement manufacture, and are known as "refractory magnesia." DBM is calcined at high temperature and is virtually unreactive, while FM is melted and crystallized magnesium oxide. Caustic-calcined magnesia (CCM) is termed "nonrefractory magnesia," and is calcined at a lower temperature than DBM, and because of its reactivity, it is used in agriculture, construction, chemical manufacture, environmental applications, pulp and paper production, pharmaceuticals, and food manufacture. In 2019, over 60% of the magnesium oxide consumed was refractory magnesia; the remainder was nonrefractory.
Magnesium hydroxide is generally produced from seawater and brines, or from brucite (a natural magnesium hydroxide–rich mineral), or from caustic-calcined magnesia. The world's largest producers and consumers are mainland China and Japan. In Japan, the majority is obtained as a slurry from seawater; the slurry is used directly for flue gas desulfurization. Magnesium hydroxide (magnesium dihydrate, MDH) flame retardants have grown quickly; they are excellent smoke suppressants, and can be processed at high temperatures of over 300°C, so are preferred over aluminum trihydrate (ATH), the main competitor for high-temperature applications.
Magnesium chloride is largely used in Sorel cement production, dust binding, thawing and deicing, food, and pharmaceuticals. Synthetic, or recrystallized, magnesium sulfate is produced by reaction of CCM and sulfuric acid, or recrystallization of natural kieserite; most commonly, the heptahydrate salt is produced (Epsom salt). More than three-fourths of this material is consumed in fertilizers and animal feed.
For more detailed information, see the table of contents, shown below.
S&P Global's Chemical Economics Handbook – Magnesium Oxide and Other Magnesium Chemicals is the comprehensive and trusted guide for anyone seeking information on this industry. This latest report details global and regional information, including

Key benefits
S&P Global's Chemical Economics Handbook – Magnesium Oxide and Other Magnesium Chemicals has been compiled using primary interviews with key suppliers and organizations, and leading representatives from the industry in combination with S&P Global's unparalleled access to upstream and downstream market intelligence and expert insights into industry dynamics, trade, and economics.
This report can help you
Identify trends and driving forces influencing chemical markets
Forecast and plan for future demand
Understand the impact of competing materials
Identify and evaluate potential customers and competitors
Evaluate producers
Track changing prices and trade movements
Analyze the impact of feedstocks, regulations, and other factors on chemical profitability