With its international expansion largely complete by 2016, Netflix has turned to a wide array of pricing strategies across markets in subsequent years as it looks to balance subscriber growth and profits. Global streamers face a variety of challenges — including service affordability, broadband availability and pricing of rival services — that vary widely from market to market and make a one-size-fits-all approach to pricing nearly impossible.

* Netflix has aggressively raised prices over the years in many of its top markets by total subscribers, especially in markets where it emerged early on as the dominant streaming video subscription service.
* Price hikes have generally been more frequent and steeper for Netflix's Standard and Premium tiers as the company has been more hesitant to bump up pricing for the entry-level Basic plan. The introduction of its new Basic with Ads offering in select markets could see Netflix become more willing to charge more for its Basic ad-free service now that it has a less expensive entry-level tier for price-conscious consumers.
* Netflix's rivals on the global stage, including Walt Disney Co., Warner Bros. Discovery Inc. and Paramount Global, could borrow from Netflix's pricing strategies as they look to grow average revenues per user across their respective streaming divisions and push toward profitability.

Netflix has not been shy about bumping up pricing in its 10 largest markets by subscribers, with the U.S., Canada and Mexico leading the way with 10 or more price hikes across tiers in each market since 2016. Every major market, except for South Korea, has experienced at least five price increases in the 2016-2022 time frame. Price bumps were generally more frequent for Netflix's Standard and Premium tiers, likely due to a reluctance to ratchet up Basic tier plans too quickly for fear of pricing out new subscribers in some markets.
Netflix's top 10 markets accounted for an estimated 71% of total subscribers as of June, led by the U.S. (29.8% of subscribers), Brazil (7.6%) and the U.K. (7.5%). Focusing price increases in its largest markets is not only the quickest path to boosting profits but also reflects where the company has a sizable market share and is deeply embedded in the viewing habits of consumers, making churn due to higher prices less likely.
Please note that pricing changes detailed here are for publicly announced changes and are for the year that pricing changes went into effect, which may differ in some cases from the year a planned pricing change was announced. Pricing changes are for permanent changes and do not include short-term promotional offers or special pricing made available through third-party services.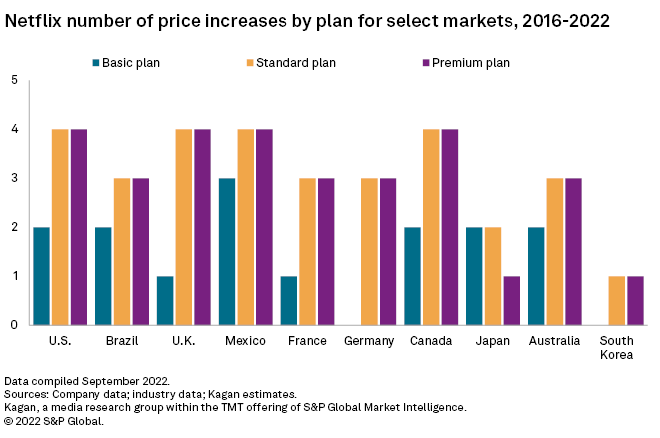 As far as the magnitude of price hikes in major markets, the Premium tier has seen the largest percentage increase since 2016 in every market, except for Japan. Pricing of the Premium tier in 2022 in Brazil and Mexico was nearly 90% higher versus 2016 pricing while the U.K., the U.S. and Canada also saw the Premium tier rise by about 67% to 78%. Standard tier pricing also soared by 50% or more in Brazil, Mexico, Canada, Japan and the U.S.
Price gains for the Basic plan over time were much more sedate, including two markets — Germany and South Korea — where the price of Netflix's Basic plan has remained unchanged since 2016. Japan was the only market where the Basic tier piece increased by 50% or more, with most markets seeing an increase in the 15% to 30% range. With the addition of the cheaper Basic with Ads plan across select markets beginning in late 2022, the ad-free Basic tier could rise in price in some markets where Netflix has been holding its price relatively stable over time.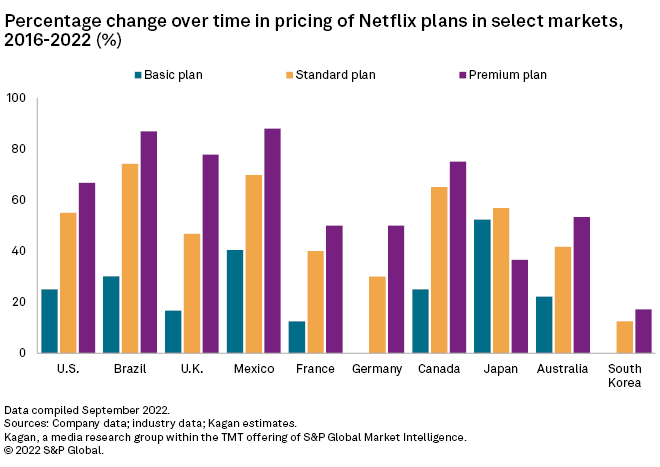 The frequency and size of price increases across North American markets — which encompass nearly 40% of Netflix's total global subs — show a range of strategies. Price hikes in the U.S. have generally been in the 10% to 15% range, with the latest wave coming in 2022. Canada saw sizable jumps across all tiers in 2017 and 2018, but increases since have been far more moderate and focused on Standard and Premium plans. Mexico experienced three straight years of price bumps in 2019-2021 but none in 2022.
Netflix's pricing strategy in 2023 and beyond could employ a similar market-to-market approach globally, especially if macroeconomic pressures and inflation keep rising. Individual price hikes of 20% or greater are likely a thing of the past and future increases could be more in the roughly 10% to 12% range common in 2021 and 2022.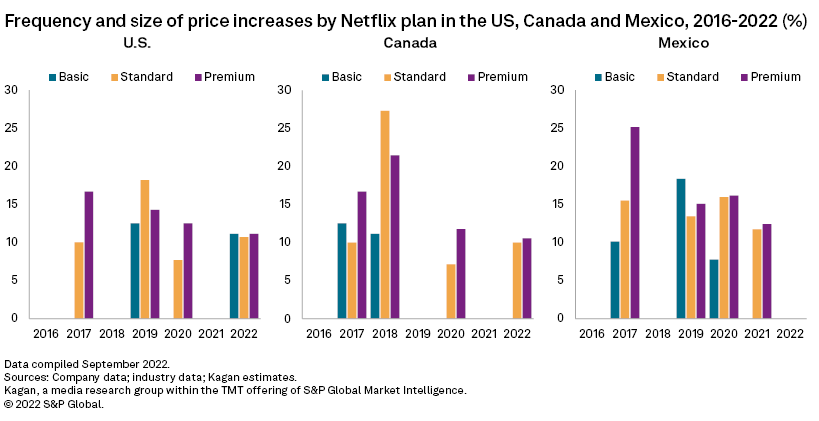 A strong correlation exists between the frequency of price changes in the Standard plan since 2016 and the share of the mid-2022 paid member base the service had already acquired at the end of 2016. This shows that decision-makers at Netflix had more confidence in charging consumers more in markets where by 2016 the service had at least two-thirds of its June 2022 base, namely the U.S. with 73%, Canada with 67%, the U.K. with 39% and Mexico with 36%. On the other hand, markets such as South Korea and Japan, which saw over 90% of their customers joining in during the last six years, only encountered one and two price hikes respectively.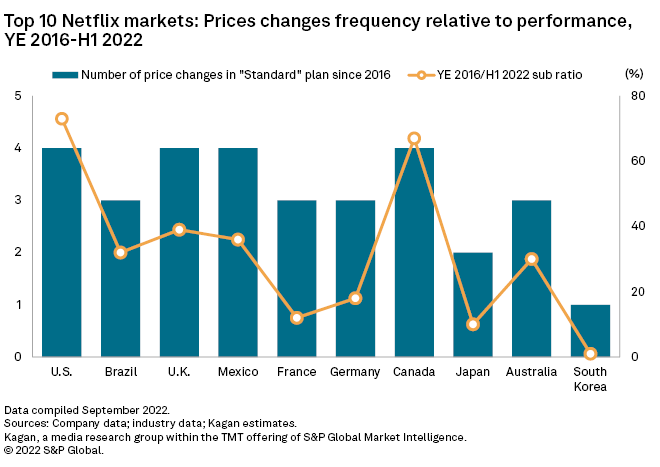 Our summary findings reveal that 25 out of 31 markets, or 81%, saw the price of the entry-level tier rising by less than 25%. This could indicate that subscribers to the Basic plan are price-elastic and potentially more likely to churn out and drop the service versus subscribers to Standard and Premium plans. On the other hand, as we move toward the more expensive tiers, the distribution shifts to larger percentage price increases, with 45% of the Premium subscribers across all 31 markets having seen their monthly cost rising over 50% over the past six years.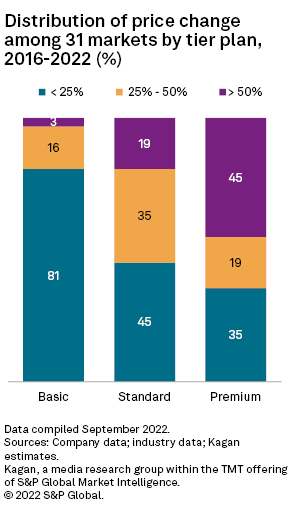 Compared to price hikes in other markets, Netflix's pricing strategy in India moved in the opposite direction. In response to the streamer's "frustrating" performance in India, as Reed Hastings commented in January 2022, the streamer significantly lowered the subscription fees of all its tiers with the biggest cut of 60.1% applied to the Basic plan in December 2021. The streaming giant has failed to secure a leading position in the market despite having launched a mobile tier at a lower price in 2019.
The latest price cut narrowed the pricing gap between Netflix and its competitors, but Netflix's Mobile pack remains the most expensive entry plan in India. Rivals have utilized the pricing gap and gradually raised prices to a level that is still more affordable than a Netflix subscription.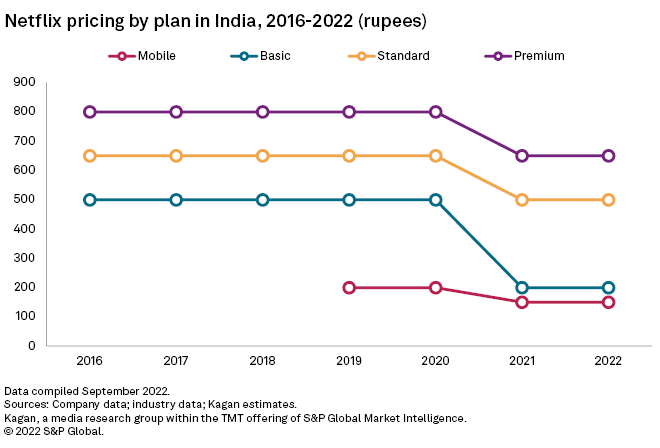 Although pricing levels have varied around the globe, a Netflix subscription has generally remained within the means of average consumers in most markets, based on our affordability index, which measures subscription fees as a percentage of the market's estimated per capita gross national income purchasing power parity, or GNI PPP, for 2022. Note that having a lower value reflects better affordability.
According to our analysis, Netflix is slightly more expensive in select emerging markets, where estimated per capita GNI PPP clocked in below $2,000 per month in 2022. As seen in countries like India and Indonesia, the streamer initially charged fees that had typically been around two to three times higher than other competitors when it first launched. Adopting a premium pricing strategy in markets with more price-conscious consumers due to lower incomes arguably limited the streamer's reach and contributed to its slow start, which prompted a change in strategy.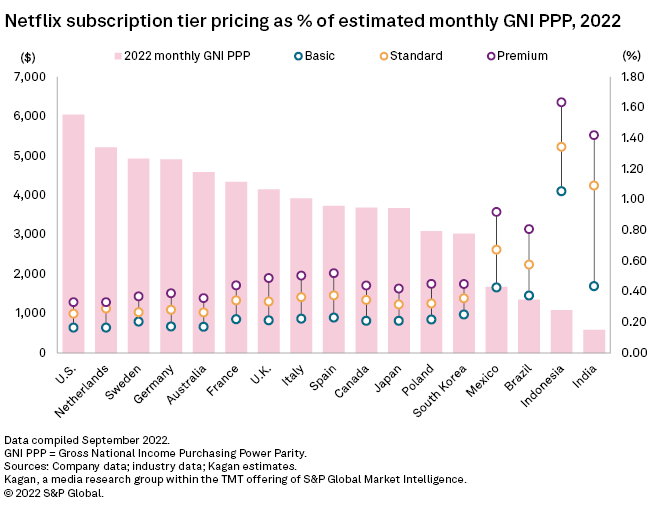 The rollout of a mobile-only plan contributed to improving accessibility in Indonesia, as entry-level affordability for the service in the market dropped to about 0.3% compared to 1.1% for the Basic plan. Netflix's move to slash its subscription fees in India also cut affordability for the Basic plan to just 0.4% versus 1.1% based on previous pricing.
The Basic subscription plan registered a 0.2% in our affordability index for most of the markets where estimated per capita GNI PPP exceeded $3,000 per month in 2022. Unlike in most emerging markets, Netflix's Basic tier in some of these more developed markets tends to be priced lower than what competitors like Disney+ charge, but the streamer also offers subscriptions to more expensive Standard and Premium plans that provide varying access to features like simultaneous streams, content formats and offline downloads, among others. Of note, Netflix has kept the difference in affordability between its Standard and Premium plans considerably smaller compared to emerging markets, likely to encourage users with higher capacity to pay to upgrade for better features, which could help boost ARPUs and profitability.
Economics of Internet is a regular feature from Kagan, a media research group within S&P Global Market Intelligence's TMT offering, providing exclusive research and commentary.
This article was published by S&P Global Market Intelligence and not by S&P Global Ratings, which is a separately managed division of S&P Global.
Gain access to our full news & research coverage and the industry-specific data that informs our insights.
Request Demo