Netflix Inc.'s earnings results for the first quarter were a mixed bag, with strong free cash flow and solid operating income offset by sluggish subscriber gains. With subscriber growth slowing significantly in mature markets in North America and Europe, newer forays into advertising and improved monetization of password-sharing households could be key in keeping free cash flow and operating income solidly in the black.

➤ Netflix added 1.8 million net new subs in the first quarter to push its global paid subscriber base to 232.5 million. Asia-Pacific markets supplied much of that growth, with Latin America subs declining slightly, while subscriber bases in the US and Canada, Europe, and the Middle East and Africa saw only slim gains.
➤ Operating income of $1.71 billion was better than the guidance of $1.6 billion, although it was down 13.1% on an annual basis, in large part due to foreign exchange impacts. Cost control efforts around content spend, marketing, technology, and general and administrative expenses helped boost operating income in the quarter, and that theme could continue throughout 2023 as Netflix looks to be more judicious around spending.
➤ The company generated $2.12 billion in free cash flow (FCF) during the first quarter and raised its guidance for 2023, during which it now expects to generate $3.5 billion in total FCF for the year. While streaming rivals including Walt Disney Co., Paramount Global and Warner Bros. Discovery Inc. are striving to prove they can operate profitably on a global scale, Netflix continues to deliver operating profits and produce significant FCF.

Heady subscriber growth through the end of 2021 slowed dramatically in early 2022 as the pull-forward effect on subscribers from the pandemic began to be felt. A strong fourth quarter of 2022 saw Netflix add nearly 8 million subs on a sequential basis, but gains tapered in the first quarter of 2023 with just 1.8 million net new subs added sequentially.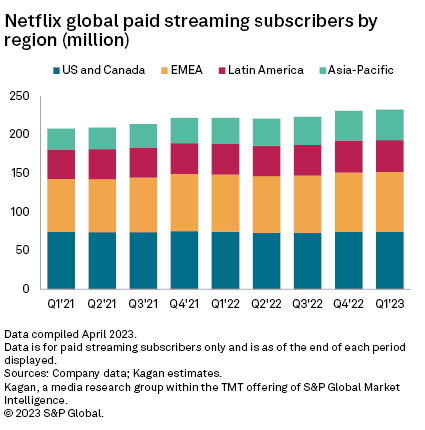 While the launch of a cheaper ad-supported tier in 12 major markets globally may help spur some subscriber gains among price-conscious consumers, Netflix's planned broad rollout of "paid sharing" options to the US and other markets in the second quarter of 2023 could be a short-term drag on subscriber counts. Netflix has trialed its paid sharing options in some Latin American markets and Canada, New Zealand, Portugal and Spain, typically giving subscribers on Standard and Premium tiers the option to pay an additional monthly fee to allow access to one on two additional users outside their home. Netflix expects the paid sharing rollout to produce a short-term dip in subscribers and revenues in some markets when it is launched, with subscriber counts and revenues recovering as some users and former sharers make their way back to the service and paid shared accounts are added on.
Regional subscriber changes in the first quarter were largely a continuation of trends in place for much of 2022. Asia-Pacific has been a steady contributor to subscriber gains while North America, Europe and Latin America present more of a mixed picture. As Netflix's business has matured, company executives have increasingly noted on recent earnings calls that they believe that metrics such as operating income and free cash flow are more important benchmarks for company success than subscriber counts.
Total revenue for the quarter came in at $8.16 billion, increasing 3.7% versus the prior-year quarter. Cost of revenues, which includes line items such as spending on content, swelled 12.1% annually to reach $4.8 billion, while spending on marketing, technology, and general and administrative costs was roughly flat or only up marginally on an annual basis as the company has engaged in selective layoffs and other cost-cutting initiatives over the last six months.
With subscriber gains tapering off in many markets, revenue growth will likely be spurred by a combination of price hikes, effectively monetizing paid sharing opportunities and maximizing ad revenue from users on ad-supported tiers. Netflix has yet to disclose any numbers as to how many subscribers have opted for its Basic with Ads, but Kagan's US Consumer Insights survey of 2,500 US online adults fielded in March found that 12% of Netflix users said they were using the Basic with Ads offering, roughly in line with uptake in Europe for the advertising tier. Netflix noted in its first-quarter earnings release that it was upgrading features for its ad tier and that the $6.99/month ad-supported offering in the US was generating higher average revenue per membership than its Standard plan priced at $15.49/month.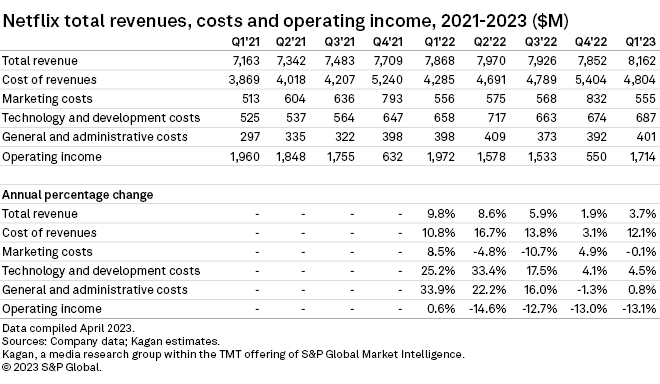 Free cash flow in the quarter jumped to $2.12 billion and has remained in positive territory for five consecutive quarters. While some metrics such as content spending, operating income and FCF tend to be somewhat seasonal for Netflix, with the first quarter typically a good quarter for operating income and FCF due to lower content costs relative to other quarters, producing consistent positive FCF has been a major focus for Netflix as it looks to evolve from its technology roots into a broader major media company.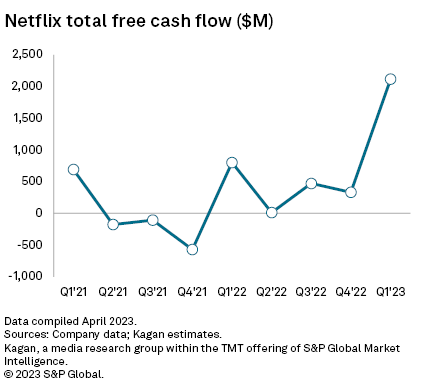 Economics of Internet is a regular feature from Kagan, a media research group within S&P Global Market Intelligence's TMT offering, providing exclusive research and commentary.
This article was published by S&P Global Market Intelligence and not by S&P Global Ratings, which is a separately managed division of S&P Global.
Gain access to our full news & research coverage and the industry-specific data that informs our insights.
Request Follow Up