Rising demand for lithium from the battery sector for use in electric vehicles, or EV, and rising prices have driven acquisitions of projects and mines with lithium resources over the past 7.5 years. With supply now outstripping demand, however, the current decline in lithium prices is expected to dampen deal activity over at least the near to medium term.
Buyers of lithium assets have been mostly small to midsized mining companies seeking to capitalize quickly on a rising market, while processors have sought direct access to raw material for battery manufacture.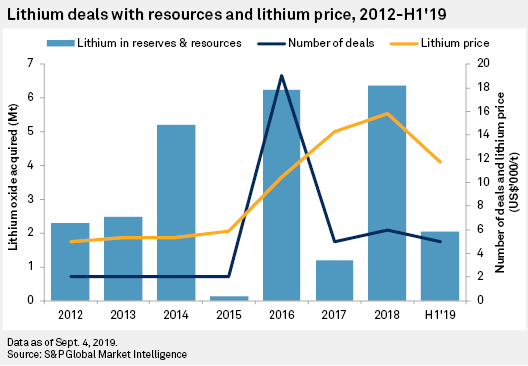 From 2012 through the second half of 2019, there were 43 deals globally involving lithium assets with 25.9 million tonnes of lithium oxide in resources. Of these deals, 36 were direct purchases of various deposit types (see below). The remaining seven transactions are still uncompleted "earn-in" deals.
Falling prices end period of hot lithium dealmaking
Monthly market prices for lithium carbonate almost quadrupled from early 2012 to March 2018. Although prices have almost halved over the following 17 months, they still represent a doubling of 2012 prices.
Acquisitions have come in spurts over the period. As prices began rising, junior miners rushed into the lithium space in 2016. Mined supply has since surged ahead of slower-growing demand, however, driving down the price. Prices are expected to rise again eventually, with demand growing over the next decade as major automobile companies increasingly shift production to electric and hybrid vehicles.
To learn more about our coverage on the lithium sector
Click Here
Hard-rock assets more attractive than brine assets
Lithium deposits come mainly in two forms — lithium-rich brines and hard-rock pegmatite deposits. Lithium is also found in clay deposits but more rarely. Lithium from brine operations is higher value than lithium from hard rock, but is more expensive to produce. Most deals have been by smaller companies, who have favored the lower-cost pegmatites.
Acquired assets mostly in Australia and Latin America
Location is also a major factor in transactions, as the deposit types are particular to certain regions. Latin America and Asia-Pacific — primarily Australia — which produce most of the world's lithium, have hosted an aggregate 81% of lithium oxide acquired globally. Brine deposits accounted for 89% of Latin American lithium in transactions, while Asia-Pacific deals for pegmatite contained 91% of the region's total.
Australian assets contained 42% of lithium acquired globally, mostly pegmatite. Chile followed with 25% and Argentina with 13%, both in brine deposits only. Illustrating the high level of junior company acquisitions activity, Australia and Canada hosted an aggregate 58% of the 43 deals in the period.
Large lithium processors acquire most resources
Major lithium miners and processors purchased over half of total acquired resources, mostly in producing assets. U.S.-based Albemarle Corp. purchased the most lithium in two deals: the completed takeover of U.S.-based Rockwood Holdings Ltd. and the pending purchase of 60% of the Wodgina mine in Australia.
Junior companies were next with 30 smaller deals. Likely reflecting some juniors' desire to become producers, 10 of their deals were for feasibility-stage projects.
Companies classified as "Other" by our Corporate Exploration Strategies series, which include large industrial corporations, were third with six acquisitions. The largest is U.S.-based Wesfarmers Ltd.'s pending takeover of Australia-based Kidman Resources Ltd.
Intermediate-sized companies acquired a small amount of lithium oxide in three deals. The largest was China-based Jilin Jien Nickel Industry Co. Ltd.'s purchase of the Quebec mine in Canada from Canada-based RB Energy Inc.
Future lithium M&A depends on battery demand
Mining industry budgets for global lithium exploration, including earn-in deals, grew almost sevenfold between 2015 and 2018. Although explorers' acquisition activity is expected to pull back in the near to medium term, lower valuations of these juniors may attract purchases by producers and manufacturers. With lithium prices not expected to recover until the mid-2020s, deal activity overall is expected to be modest in the meantime, barring a significant increase in battery demand, although we can expect some strategic purchases by larger players with a longer-term view.