Artificial intelligence has not replaced Hollywood actors or writers yet, but the technology is one of the issues that prompted historic twin strikes by labor unions representing the two groups.
Technology overall is playing an outsized role in the impasse between studio executives and their creative workforce. As generative AI becomes more commonplace, both the Writers Guild of America and the Screen Actors Guild – American Federation of Television and Radio Artists want assurances that their members will retain control over their literary materials or likenesses — including any digital replications.
It is the first time union actors and writers have been on strike simultaneously in 60 years.

➤ Generative AI is a major concern for striking writers and actors, who worry it could negatively impact their livelihoods.
➤ Media companies are experimenting with generative AI for content creation, moving beyond earlier, machine-learning efforts.
➤ The experiments come as Wall Street is pressuring Hollywood to improve its bottom line.

Studios have experimented with digital likenesses for years, for de-aging an actor or even allowing a star to appear in a film after their death. But that was before generative AI reshaped the landscape. Now, a technology once viewed primarily as a tool for pattern classification is seen as a generator of content, including text, images or videos. 451 Research projects revenue from generative AI will rise from $3.7 billion in 2023 to $36.4 billion by 2028.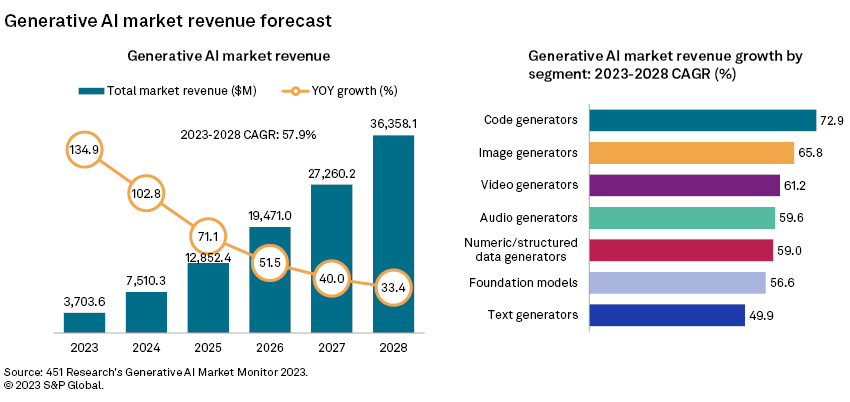 Below is a list of publicly disclosed AI efforts and/or comments from major studios and streamers.
Netflix
Netflix Inc. has used machine learning on its platform and content for years, including for personalized recommendations, video encoding and optimizing content production. The company also uses machine learning in its content acquisition efforts, with the tech helping to select titles that might fill a library gap or deliver for an unserved audience.
More recently, Netflix has taken its initiatives a few steps further.
Company researchers published a paper on using machine learning to partially automate the process of match cutting, or transitioning between a pair of shots that use similar framing, composition or action to move between scenes. Finding shots that work together is a highly manual and time-consuming process that can take days as editors sort between millions of shot pairs. Netflix's system would partially automate the process to give the film editor a much smaller selection of likely pairings.
In a more controversial move, Netflix angered creators and animators earlier this year when it announced that it used image generation tools to create background images in the animated short "Dog and Boy" from Netflix Anime Creators Base. In a tweet, Netflix attributed the decision to an ongoing labor shortage in the Japanese animation market. The film's animation director said the AI tools, combined with hand-drawn techniques, allowed him to expand his "range of expression" and "create something unique to humans."
Animators quickly blasted the company's announcement, saying there was no shortage of animators, only a shortage of well-paying animation jobs.
Netflix recently added a job posting looking for a product manager for its machine learning platform with a salary range of $300,000 to $900,000 per year.
Disney
As an owner and producer of some of the most valuable intellectual property on the planet, Walt Disney Co. has views on AI.
DisneyResearch|Studios has been publishing papers on AI for years. Many focused on creating the equivalent of chatbots or autonomous agents to handle customer interactions.
More recently, the Disney group published a paper in June that looked at deep learning-based methods for improving images. The paper proposed a new framework for kernel-aware image resampling, which changes the amount of data in an image. Improving the appearance of images has obvious applications for Disney's studios. Existing technologies in the space, for instance, allow visual effects production workflows to operate in 2K while still ultimately delivering at 4K resolution, with a 2x upscale performed just before final delivery.
While those applications offer benefits for the company, Disney executives know AI also comes with risks, particularly from an IP-management perspective. The company's legal team is already working to game-plan the potential challenges that come from AI, Disney CEO Bob Iger said in May.
Comcast/NBCUniversal
Like other big media firms, Comcast Corp. has been exploring AI, machine learning and natural-language processing applications for years, including voice-activated services and personalization and content recommendation tools. Comcast's vast first-party customer data — which includes interactions with its set-top boxes and other hardware — and its film and TV intellectual property provide the company with ample material to test and train various applications of the emerging tech.
The company in 2018 established its Comcast NBCUniversal LIFT Labs accelerator program, which has assisted more than 50 startups to date. More than 80% of the program's participants secured a proof of concept, pilot or commercial deal with Comcast/NBCU. While graduates of the LIFT Labs program have spanned a wide range of technology and media disciplines, Comcast's 2023 Spring LIFT Labs program was entirely devoted to generative AI startups.
All eight startups in the 2023 spring program secured pilots or proof of concepts with Comcast, NBCU or Sky. The participants included Charisma.ai, which offers interactive content creation; Coactive, which focuses on analyzing unstructured content and video data; Inworld, which enables the development of AI-powered virtual worlds; Monterey AI, which focuses on unstructured data management; NLX, which offers a conversational AI platform for enterprises; Reality Defender, which offers deepfake and AI-generated content detection tools; Rephrase.ai, which enables digital avatar creation; and Wscripted, which offers narrative summaries of creative content.
Comcast has historically been active both as an investor and an acquirer when it comes to embracing new technology. This includes the migration to online communities in the 2000s, the adoption of advanced advertising technology in the 2010s and the rising popularity of free video services in the 2020s. Data from 451 Research's M&A KnowledgeBase (MAKB) for select Comcast acquisitions in the tech and media sectors includes more than 30 purchases since 2006, including notable buys such as IVillage, Fandango, FreeWheel and Xumo.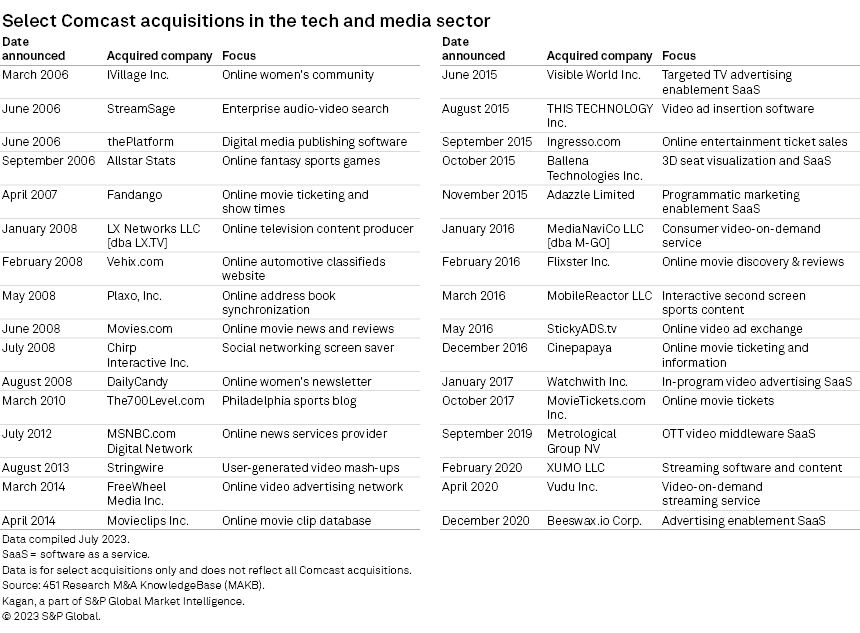 Under pressure
Early generative AI forays from other big media firms including Warner Bros. Discovery Inc. and Paramount Global have been less focused on content creation and more on optimizing and automating content-related workflows. This includes personalizing recommendations, managing metadata, analyzing content catalogues and localizing content for viewers in specific geographies.
The advent of generative AI coincides with a tumultuous operating environment for big media firms. Netflix, Disney, Comcast, Warner Bros. Discovery and Paramount have all come under pressure from shareholders to embrace a more austere approach toward spending — especially on the streaming side — and to focus on profitability. Embracing various generative AI applications to cut costs and improve operating efficiency could hold extra appeal for media companies that are increasingly being judged on metrics such as EBITDA, debt levels and free cash flow.
EBITDA margin is a measure of a firm's profitability before accounting for interest, taxes, depreciation and amortization. Cable TV providers in the pre-Netflix era produced margins of about 40%. The average margin has declined significantly in recent years as industry average revenues per user have not grown enough to compensate for rising operational costs. The average EBITDA margin for US-based media corporates as of July 2023 was 25.1%, according to S&P Global Market Intelligence data. Aside from Comcast, which owns a diversified portfolio of assets that spans the media and telecom industry, other companies in our list have underperformed the peer average, based on their latest fillings.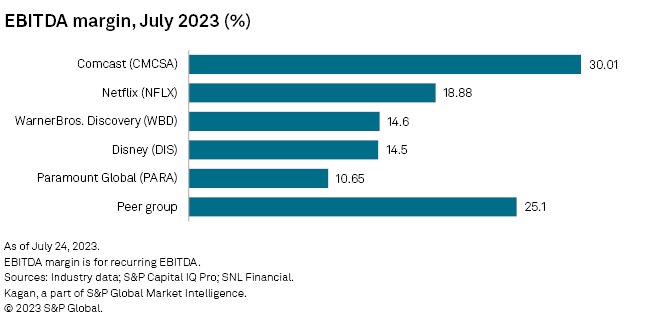 Debt-to-equity ratios show most US companies with vast operations in the streaming and production sector carry higher levels of debt relative to their equity when compared to the peer average of 0.64. The "current ratio" is indicative of a company's ability to fulfill debt obligations due within a year by using liquid assets. The companies included in our analysis exhibit a current ratio that ranges from 0.78 to 1.23, lower than the sector's average of 1.5. With borrowing costs on the rise, investors have become skeptical of media corporates' state of liquidity, and these companies' ability to produce a healthy free cash flow has become more important than ever.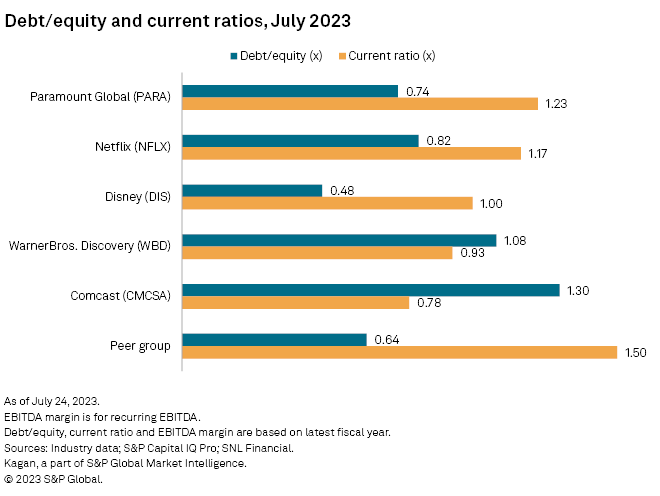 In the past decade, a number of M&A deals in the media sector — such as the WarnerMedia-Discovery tie-up and the CBS Corp.-Viacom Inc. merger — left the combined entity wrestling with sizable debt loads. Total enterprise value to trailing-12-month EBITDA, a multiple used to determine the value of a company, takes into account its net debt in addition to its market capitalization. Generally, firms with values up to 10x trailing-12-month EBITDA are considered attractive investments, with the peer average currently at 12.2x.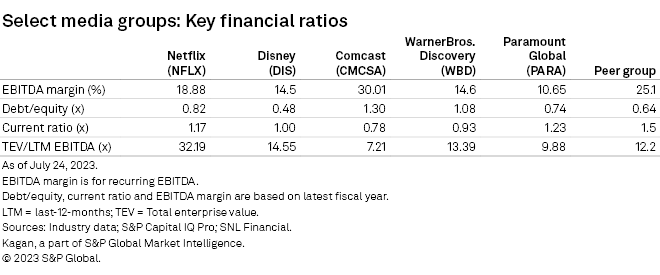 Slow revenue growth, low margins, continued cord cutting in the US multichannel market and a soft TV advertising environment have all been key factors behind investors' skepticism toward media stocks. All firms in our analysis have consistently underperformed the blue-chip S&P 500 index over the past three and five years. The S&P 500 index has had gains of close to 20% since the start of the year, with big tech firms such as NVIDIA Corp., Meta Platforms Inc., Amazon.com Inc. and Microsoft Corp. greatly benefiting from interest in AI. Year-to-date, the AI boom has coincided with Netflix, Comcast and Warner Bros. Discovery outperforming the S&P 500.
With room to improve many key financial metrics, media firms involved in content production could be willing to risk rocky relations and a prolonged strike with writers and actors by leaning into AI tools that could boost bottom lines.
Access analysis here on the equity performance and challenges media groups have been facing.

451 Research is part of S&P Global Market Intelligence.
This article was published by S&P Global Market Intelligence and not by S&P Global Ratings, which is a separately managed division of S&P Global.