MediaTek Inc. has a long history of creating systems on chips (SoCs) for midrange and low-end phones, TVs and tablets, but the company noted during its 2023 Analyst Day on April 27 in Austin, Texas, that it wants to make a play for higher-margin opportunities built around a wave of connected devices tapping into the metaverse, artificial intelligence and advanced connectivity.

MediaTek believes its engineering savvy and strong fabrication partnerships, forged in a long history of high-volume orders, puts it in a unique position to meet a new array of emerging use cases and customer personas. Still, the fabless silicon designer is struggling to establish a strong identity to take on entrenched players such as Broadcom Inc., Intel Corp. and QUALCOMM Inc.

While Kagan does not have estimates for MediaTek's shipments, we do track many of the broader segments its chipsets power. Our research indicates that smartphones, smart TVs and streaming media devices are pushing into and past maturity after a surge in demand during the pandemic.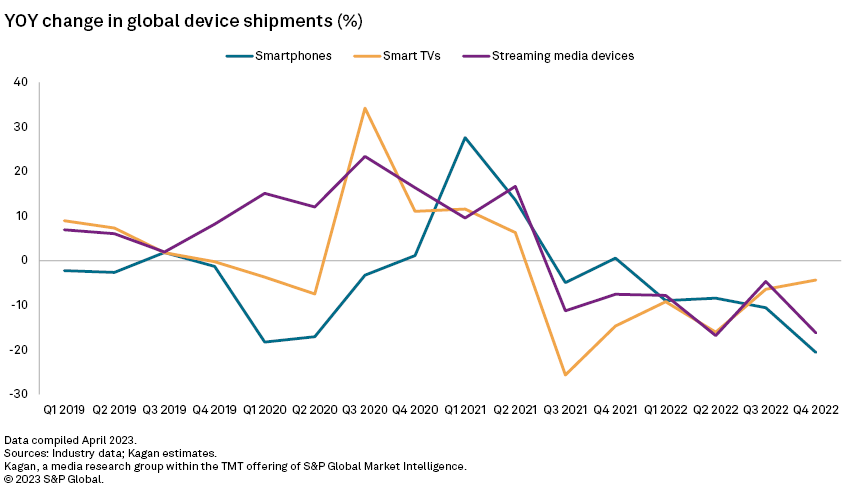 MediaTek is more exposed to this pullback than many of its SoC peers. By its own estimates, the company commands 40% of the smartphone chipset market and 60% of the smart TV chipset market.
So, MediaTek is placing as many bets as it can to take advantage of whichever nascent technologies will become tomorrow's top revenue drivers. In the process, MediaTek is looking to develop a prestigious, and potentially more profitable, portfolio of products.
The company has operated in relative obscurity since being spun off from United Microelectronics Corp. in 1997. It started out designing chips for devices such as DVD players and set-top boxes and would eventually move into the smartphone segment, which then became its primary operating concern.
Historically, MediaTek has specialized in mass market phones and has established global partnerships with vendors such as Samsung Electronics Co. Ltd. and Motorola Mobility LLC. In 2020, the company made a play for the ultra-premium handset market with its Dimensity 9000 chipsets, and China-based vendors such as Guangdong Oppo Mobile Telecommunications Corp.Ltd., Vivo Communication Technology Co. Ltd. and OnePlus Technology (Shenzhen) Co. Ltd. are some of its partners for the marquee silicon.
This evolution into the high-end space allows MediaTek to advertise itself as a company with a long history developing chips with low power consumption while also flexing its ability to make premium grade processing solutions.
This dynamic helped it land a deal with Sony Group Corp. to develop the SoC in the PSVR 2, a high-end virtual reality headset that tethers to the PlayStation 5. This is a break with much of the AR/VR industry, which has relied on Qualcomm's Snapdragon XR series of chips.
MediaTek sees its global serviceable addressable market in AR/VR hardware at $1 billion in revenue as of 2022, which it expects will double over the next five years. The company said it can use at least some of what it developed for Sony to work with other AR/VR vendors and potentially introduce an off-the-shelf option.
Kagan estimates that end users in consumer and commercial settings spent $5.4 billion worldwide on metaverse hardware in 2022 and expects the market to grow to $9.5 billion by 2027. Note that MediaTek is only driving component revenue from vendors, and that consumers are paying a much higher price for the final product.
Like many companies in the tech industry, MediaTek is trying to reconcile several stubbornly fluid concepts around augmented reality, efficient telemetry, improved sensor technology and artificial intelligence.
When and where these segments converge is the point at which well-positioned chip sellers can reap significant rewards with more capable and efficient systems to manage all these smarter devices.
By Kagan's definition, many of these advancements would fall under the metaverse umbrella, but MediaTek Corporate Vice President Vincent Hu called the ability for all devices to seamlessly connect with each other and human interactions to be computing's "ambient era," an evolutionary step past the metaverse.
To some extent, and regardless of label, this future is already taking shape. Fleets of equipment used in industrial and enterprise settings are increasingly digitized and in sync with one another. Many consumers have gladly adopted computerized wearables and smart home devices.
Now consider the advancements that devices optimized to process generative AI requests or render metaverse-style 3D environments will require. Furthermore, silicon designers will have to wrestle with problems as additional devices have to become digitized or autonomous.
MediaTek sees its serviceable addressable market for this conception of the internet of things rising 24% from 2022 through 2027, reaching $36 billion.
These long-term goals are also reflected in the company's plans for the automotive segment. MediaTek sees an opportunity to bring to cars and trucks the same connectivity and media functions it provides for smartphones. The company also says its silicon can handle functions such as in-dash and heads-up displays, telemetry for driver assistance and power management.
Other notes from MediaTek's Analyst Day:
– MediaTek says it has priority access to available capacity on TSMC's advanced manufacturing nodes, taking a back seat only to one other vendor, likely a reference to Apple.
– Fifty percent of the company's 23 million fixed wireless access chips were 5G compatible in 2022.
– MediaTek sees advancements with two-way satellite communications as a strategic strength for the company in the mobile market.
– The company indicated it continues to hear from customers that Intel's X86 devices are too power-hungry and that more devices will move to ARM-based architectures, a transition that has been going on for at least a decade.
– Generative AI could require a 4x investment commitment from hyperscalers such as Microsoft Corp.'s Azure, according to MediaTek.
– The Wi-Fi 7 standard, which promises faster speeds and longer ranges, is on schedule to have its certification requirements in place by the end of 2023, and mainstream devices will start to adopt the standard by 2025.
– The ultra low-power Redcap wireless communications standard, which is ideal for lightweight wearables, is expected to ramp in 2027.
Technology is a regular feature from Kagan, a media research group within S&P Global Market Intelligence's TMT offering, providing exclusive research and commentary.
This article was published by S&P Global Market Intelligence and not by S&P Global Ratings, which is a separately managed division of S&P Global.
Gain access to our full news & research coverage and the industry-specific data that informs our insights.
Request Follow Up