Aug. 15 2018 — Tesla, Inc. (Tesla) is anything but boring. It is revolutionizing the automobile industry with cutting-edge technology, sending cars to Mars, and baffling investors during unconventional earnings calls where Elon Musk, the firm's CEO, openly argues with analysts. Giving investors a bumpy ride, in the last year alone Tesla's stock fluctuated widely with a 52-week High/Low of 390/245. Now, the recent announcement that the Tesla board is evaluating taking the company private has perturbed the markets. But, what are the implications for Tesla's creditworthiness if the company goes private, and how tight should creditors fasten their seatbelts?
Tesla's financials are far less shiny than its showrooms displaying state-of-the-art vehicles. The company might be eco-friendly, but it is less investor-friendly as it is consistently reporting negative net income whilst piling up debt. Although details on how a possible buyout will be financed are still unknown, taking Tesla private will have a material impact on the credit quality of the company, and any additional debt will put more strain on its financials.
At S&P Global Market Intelligence, as part of the Credit Analytics suite, we developed PD Model Fundamentals (PDFN), which produce probability of default (PD) values over a one- to more than 30-year horizon for public and private corporations of any size. PDFN incorporates both financial risk and business risk to generate an overall PD value. This innovative approach captures, in a statistical PD model, important credit risk drivers and provides users with a well-rounded measure of credit risk, where different risk sources can be easily identified. Business risk encompasses the business and competitive profile of the company using factors such as country risk, industry risk, and company competitiveness. Financial risk is assessed using a number of financial ratios that cover all main credit risk dimensions.
From Public to Private
We assess the PD for Tesla using PDFN Public Corporates and compare it to the output of PDFN Private Corporates. Although the two models are analogous and share the same methodological approach, they are characterized by a slightly different "DNA". An extensive analysis by S&P Global Market Intelligence demonstrated that the credit quality of public and private companies is driven by a comparable set of risk dimensions, but slight differences were identified in the financial ratios that provide the highest explanatory power to assess credit quality.
These differences reflect the inherent distinction between the two organizational types. Public companies must operate with a higher degree of transparency and are under constant scrutiny by investors, but enjoy more open access to capital markets. Private companies, on the other hand, are not required to disclose their financial information and can operate more freely, but are more restricted in their financing options, relying on private funding.
In Table 1, we compare risk drivers of PDFN Public Corporates and PDFN Private Corporates and estimate the one-year PD for Tesla using the last 12 months of data. The results of both models provide a consistent narrative. Tesla's business risk is fair, but weak financials materialize in a very high financial risk, driving up the PD.
Estimated PD is notably higher if Tesla is treated as a private company, consistent with the notion that private companies have more limited access to capital markets should they need it to support their operations. PDFN also maps the numerical PD values to an S&P Global Market Intelligence credit score (i.e. 'bbb'). These scores are based on historical observed default rates (ODRs) extracted from the S&P Global Ratings' database (available on CreditPro®)1 . Similarly, the higher PD in the PDFN Private Corporates model is reflected as a one notch worse estimate of the credit risk score.
Table 1: Overview of PD Model Fundamentals and credit risk assessment of Tesla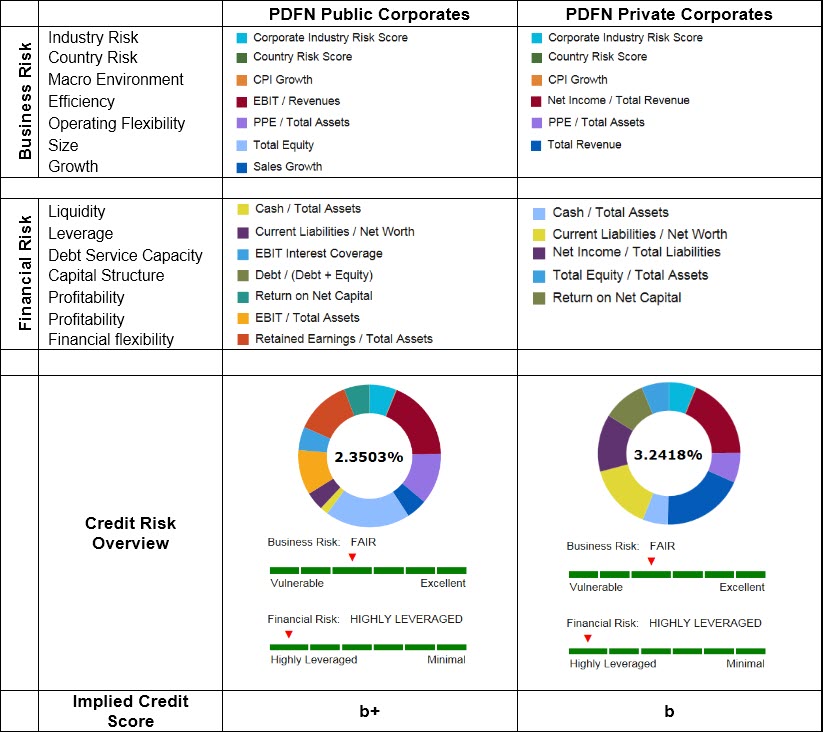 Source: S&P Global Market Intelligence, as of August 8, 2018. For illustrative purposes only.
What-if Analysis
PDFN is equipped with analytical tools such as contribution analysis, which allows users to identify drivers of risk in absolute or relative terms, and sensitivity values, which help users assess how susceptible the PD estimate is to the underlying changes of risk drivers. In Figure 1, we rank the absolute contribution and the sensitivity of risk drivers in PDFN Private Corporates. Financial risk factors (blue circles) are important contributors to the PD estimate, as denoted by their absolute contributions. However, the sensitivity of the PD to additional changes of financial ratios is low. In the language of a statistical model, Tesla's financials are near rock bottom and any further deterioration of financial ratios will have a weak impact on already very high financial risk.
In comparison, the absolute contribution of business risk factors (red circles) is mixed. Some, like efficiency and size, already significantly contribute to the credit score, whilst the impact of country and industry risk remains minor. Importantly, however, the sensitivity of business risk factors is high, implying that any deterioration of these factors will have a meaningful impact on the credit score.
Figure 1: Overview of absolute contribution and sensitivity of credit risk drivers for Tesla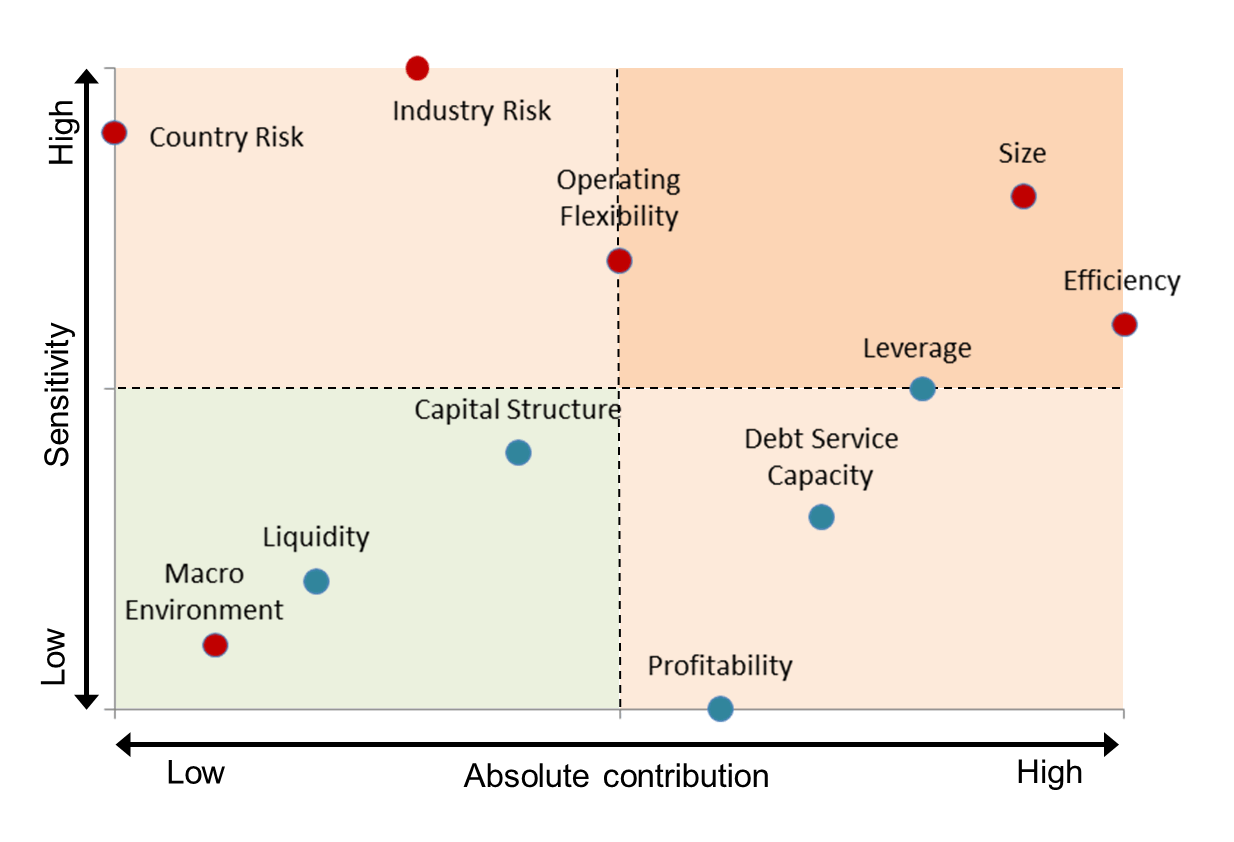 Source: S&P Global Market Intelligence (as of August 8, 2018). For illustrative purposes only.
To probe possible effects of Tesla going private, we conducted a hypothetical sensitivity analysis of Tesla's credit score. Using PDFN Private Corporates, we assessed the impact of an additional $10bn of debt financed at a current market rate of 7.4% yield to maturity (YTM) on Tesla's 2025 bond (to carry out a full buyout Tesla might need up to $70bn). This amount of additional debt would double the current debt level and, correspondingly, increase interest expenses. We adjust affected financial ratios accordingly, whilst keeping other financials (such as revenues) unchanged. The increase in the estimated one-year PD is demonstrated in Figure 2. Although the increase in debt is considerable in nominal and relative terms, the effect on the estimated PD is minor. In other words, Tesla already has a sizeable amount of debt, is low on cash, and its debt service capacity is severely restricted, all resulting in very high financial risk.
Tesla's credit score is highly sensitive to adverse changes in business risk factors. For example, deterioration of market conditions in the automobile industry and increased country risk can significantly affect Tesla's creditworthiness. By additionally adjusting country risk and industry risk for one category (country risk from 'aaa' to 'aa' and industry risk from 'moderately high risk' to 'high risk'), we can gauge the effect of such adverse changes in the business risk environment. Although absolute contribution of these two factors is low, their high sensitivity results in a substantial increase of the estimated PD, as depicted in Figure 2.
To get a final comprehensive assessment, we scale the stressed PD via a Credit Cycle Adjustment (CCA) that looks at the ratio between the previous year and the long-run average default rate historically experienced in S&P Global Ratings' rated universe. In that manner, PDFN long-term or Through-the-Cycle (TTC) PD is further adjusted upwards to reflect the actual Point-In-Time (PIT) PD of the business cycle.
Figure 2: Credit risk profile of Tesla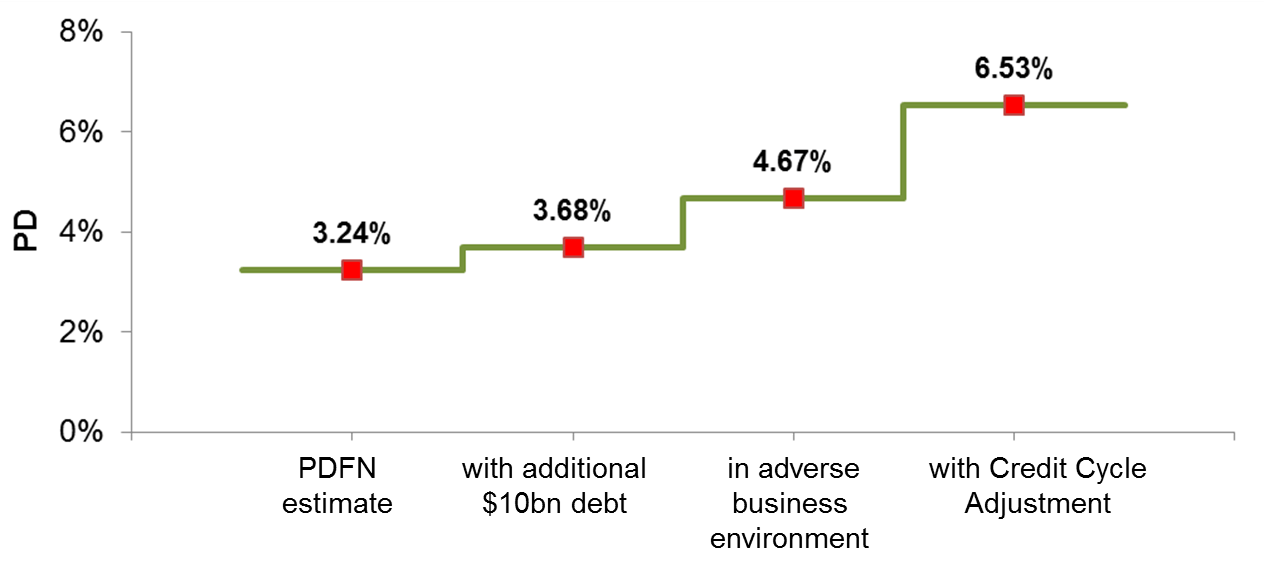 Source: S&P Global Market Intelligence (as of August 8, 2018). For illustrative purposes only.
Bottom Line
PD Model Fundamentals enables a comprehensive overview of a company's creditworthiness. The combination of both financial risk and business risk factors supports an in-depth review of a company's credit risk profile to identify and distinguish the main sources of risk. The model inputs can be easily adjusted to perform sensitivity analysis for selected financial ratios or to conduct a comprehensive stress-test exercise using a fully-adjusted set of financials. Applying an additional Credit Cycle Adjustment overlay helps clients adjust long-term risk assessments provided by statistical models for the current PIT within the business cycle to serve their research purpose or to comply with new accounting requirements, such as IFRS 9 and CECL.
As for Tesla, its batteries are running low, and a strong and continuous supply of fresh financing will be vital on the road ahead to provide sufficient room and time to materialize its projects and turn a profit. Currently, financial risk is already high and a supportive business environment allows Tesla to carry on without slowing down. However, high sensitivity to changes in business risk factors means adverse changes could stop Tesla dead in its tracks. This bears an important lesson should Tesla's board choose to take Tesla private and strain its financials further, disregarding the risks of adverse changes in the business environment.
S&P Global Market Intelligence leverages leading experience in developing PD models to achieve a high level of accuracy and a robust out-of-sample model performance. The integration of PDFN into the S&P Capital IQ platform allows users to access a global pre-scored database with more than 45,000 public companies and almost 700,000 private companies, obtain PD values for single or multiple companies, and perform a scenario analysis.
Learn more about S&P Global Market Intelligence's Credit Analytics models.
1S&P Global Ratings does not contribute to or participate in the creation of credit scores generated by S&P Global Market Intelligence. Lowercase nomenclature is used to differentiate S&P Global Market Intelligence PD credit model scores from the credit ratings issued by S&P Global Ratings.
Peeking Into The Future Without Staring At A Crystal Ball: Brexit Scenarios And Their Impact On Energy Firms' Credit Risk
Learn More
50 Years Of Altman Z-score, And PD Model Fundamentals – Case Study General Motors
Learn More