The Exchange, a wholly owned subsidiary of Hong Kong Exchanges and Clearing Limited (HKEX), recently published a consultation paper seeking market feedback on proposals to enhance climate-related disclosures under the ESG framework.1
The Exchange proposes to mandate all issuers to make climate-related disclosures in their ESG reports and will introduce new climate-related disclosures aligned with the ISSB's climate standard. The ISSB's climate standard builds on the principles of the TCFD and sets out detailed climate disclosures. The proposals mark a significant milestone in achieving the commitment to mandate TCFD-aligned disclosures by 2025 as announced by the Hong Kong Green and Sustainable Finance Cross-Agency Steering Group. Acknowledging the readiness of the issuers and their concerns, the Exchange proposes interim provisions for certain disclosures (e.g., financial effects of climate-related risks and opportunities, Scope 3 emissions and certain cross-industry metrics) for the first two reporting years following the effective date of 1 January 2024.
As such, for a financial institution this also largely relates to assessing the impact of climate on credit and underwriting risk and reducing financed emissions to achieve its climate goals. One of the key challenges in this process is the use of forward-looking scenario analysis to assess climate-related risks and opportunities. This is difficult given the lack of robust methodologies for determining credit risks, multiple temperature pathways by climate science community, the unknown role of technological change and the opportunities it creates for financing.
At S&P Global Market Intelligence, we have developed a variety of analytics and datasets to help our clients address these issues. Our flagship offering, Climate Credit Analytics, developed in collaboration with Oliver Wyman,2 utilizes a bottom-up approach with scenarios aligned to the Network for Greening the Financial System (NGFS) that enables comprehensive and consistent sector-specific modelling, including an evaluation of key high carbon-emitting sectors. This can be done at a counterparty or a portfolio level.
As shown in Figure 1 below, the tool leverages S&P Global Market Intelligence's proprietary datasets and capabilities, including financial and industry-specific data, environmental and physical asset risk data, company-specific transition plans, sophisticated quantitative credit scoring methodologies and best-in-class company-level environmental data from S&P Global Trucost. The output includes projected financials of counterparties for the forecasted period and credit scores,3 as well as probabilities of default.
Figure 1: Climate Credit Analytics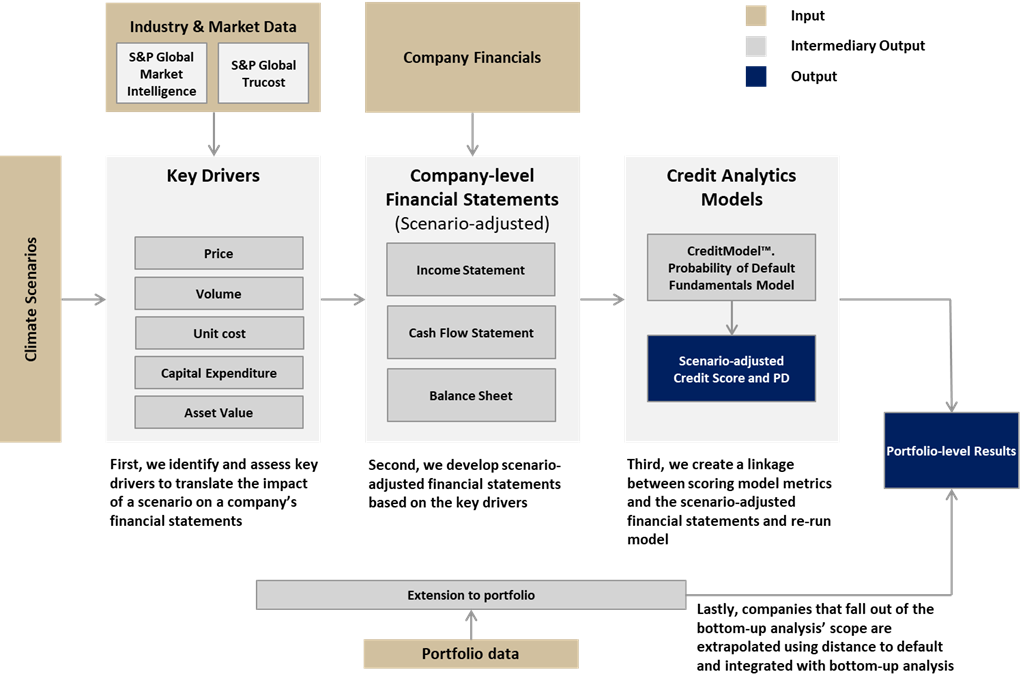 Source: S&P Global Market intelligence, Oliver Wyman. For illustrative purposes only.
The tool reflects the latest climate scenarios and methodologies, enabling one to remain on track with changing market dynamics and regulations. These are designed to meet the needs of financial institutions on a complex subject matter, such as quantifying the financial impact of climate risk and providing the necessary insights to make financing decisions with conviction.
To learn more about Climate Credit Analytics, please visit https://www.spglobal.com/marketintelligence/en/solutions/climate-credit-analytics.