Feb. 07 2019 — Cable and broadcast are losing their dominance in the viewing world. As more eyeballs migrate to online and mobile viewing, major media companies are struggling to adopt a common measurement system. Their goal is to track and consolidate the leaked viewers who have been switching first from analog, with a full ad load, to DVR, which lets them skip ads, and now to digital with limited or no advertising.
Click here for advertising market projections in Excel format.
The business models of the online services differ, with the majority of viewers still watching ads, albeit in much smaller pods. Others have voted with their wallets, paying a premium to view content on Hulu and other platforms without any advertising at all. Hulu with ads is only $5.99, while the subscription without ads is twice the price at $11.99. Clearly, viewers are willing to pay a premium for the privilege of not having to watch ads.
Although the broadcast networks have been somewhat flat for some time, the cable network industry has only recently had to cope with the reality that its heyday is over. After decades of showing strong single- or double-digit growth, cable networks have seen growth slow over the past five years to a range of just 3% to negative 1%.
A number of issues have been impacting cable networks, most notably cord cutting and cord shaving, with companies that are big in the children's market suffering disproportionately. Viacom Inc. was the first to show significant weakness: Gross ad revenue at its behemoth Nickelodeon peaked at nearly $1.3 billion in 2010 and 2011, then dropped to $1.10 billion in 2012. Nickelodeon's average 24-hour rating slipped from 1.44 in 2011 to 1.13 in 2012.
The company recovered slightly to a 1.2 rating in 2013 but has struggled significantly since then, with its overall rating at just 0.74 in 2017.
Parent company Viacom posted zero to negative ad revenue growth from the second quarter of 2014 all the way through the third quarter of 2018, an unprecedented negative run.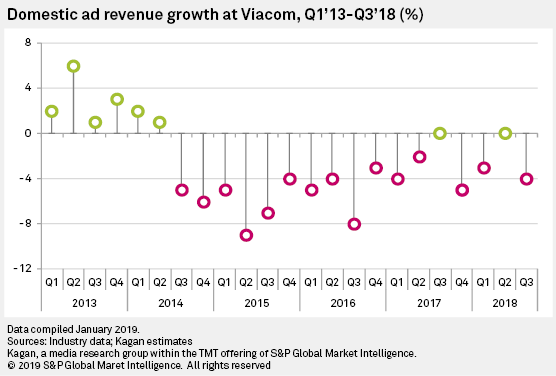 By contrast, the other cable network owners posted mixed results, but none have been as consistently negative as Viacom. The timing of big sporting events, especially the Olympics, contributes to much of the volatility at the various networks.
Broadcast and cable combined, including both local and national spots, increased ad revenue market share from 24% in 1988 to 32% in 2018. This was a strong showing given that cable alone rose from a less than 2% share in 1988 to almost 15% in 2018.
Overall, the ad market has continued to grow, mostly due to the popularity of digital spots. However, growth in the U.S. advertising market has been unable to maintain its historical trend of growing in lockstep with the gross domestic product, equating to approximately 2% of GDP.
Its share of GDP was generally in that range until the Great Recession, which pushed that metric from 1.8% in 2007 to 1.6% in 2008 and to 1.4% in 2009. In 2017, we estimate this fell as low as 1.2% with no sign that it can recover to the 2.0% range.
Although the growth of digital has been positive for the ad industry, there have been many less encouraging stories, particularly related to print, which shrank from 67.4% of the market in 1988 to just 41.1% in 2018.
Even after this dramatic shift over several decades left print with a much smaller base, all forms of print continue to struggle. Although the numbers below for the print sector do not include their digital operations, few companies have been able to offset the decline in traditional media with online initiatives.
Much of their revenue has been devoured by the usual internet giants such as Alphabet Inc.'s Google LLC and Facebook Inc. Even companies with disruptive business models targeting the younger generation, such as VICE Media LLC, have struggled.
We do not expect this to change much in our five-year outlook, although digital is certainly entering a mature phase. In 2023, we expect satellite radio to be growing the fastest, albeit from a much smaller base, and digital — although still in the No. 2 spot — is expected to grow at only 4.1% per year, down significantly from the 10.9% growth rate we expect for 2019.
Print is expected to continue to struggle, with Yellow Pages hit the hardest, declining at more than 16% per year. We do not expect most of these paper directories to survive over the long term, with the exception of those with very narrow niche audiences, such as small directories delivered to hotels in resort towns.
Digital has had remarkable progress, with a CAGR of 16.8% from $22.65 billion in 2009 to $91.89 billion in 2018. In sharp contrast, direct mail, the largest ad category in 2009, shrank from $44.50 billion in 2009 to $37.50 billion in 2018. The CAGR of decline has been modest at negative 1.9%.
Direct mail is now in third place with market share of 14.7% in 2018 versus 22.3% in 2009, behind digital at 35.9% and cable TV at 14.8%. The biggest slides occurred in Yellow Pages, which have fallen at a CAGR of negative 19.7% from a 5.5% share in 2009 to less than 1% in 2018; and daily newspapers, which contracted at a negative 11.8% CAGR from 12.4% in 2009 to 4.0% in 2018.
For a lengthy analysis which also includes an analysis of performance of the local ad market versus national, refer to the Economics of Advertising, or Click here.
Economics of Advertising is a regular feature from Kagan, a group within S&P Global Market Intelligence's TMT offering, providing exclusive research and commentary.
This article was published by S&P Global Market Intelligence and not by S&P Global Ratings, which is a separately managed division of S&P Global.