Jul. 18 2018 — Driven by subscriber gains from AT&T Inc.'s DIRECTV NOW and DISH Network Corp.'s Sling TV and assisted by a batch of new arrivals in 2017 that includes Hulu LLC's Hulu with Live TV and Alphabet Inc.'s YouTube TV, Kagan estimates virtual multichannel services will reach nearly $2.82 billion in overall revenue in 2018, rising to more than $7.77 billion by 2022.
The large gains we project reflect the relative fledgling status of a market that is positioned to take advantage of widespread internet access by presenting new, alternative choices to traditional multichannel operators.
While the growth of virtual services is expected to dampen the projected decline in customers with some form of live linear channel package, we project the shift to have significant revenue implications for the market due to markedly lower average revenue per user rates associated with the new services.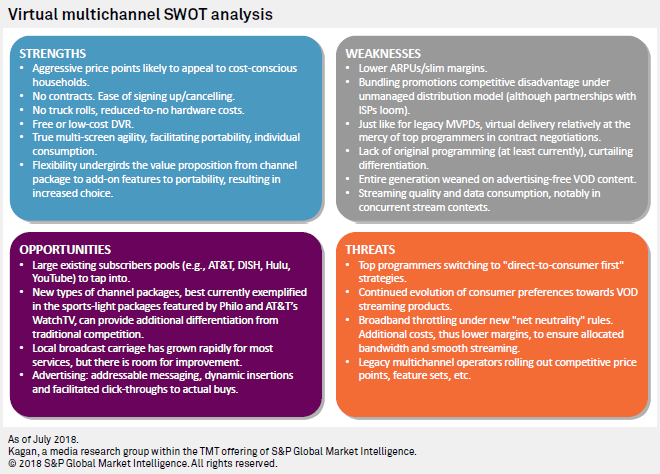 Future developments could impair the segment over the five-year outlook. For instance, legacy distributors could revisit skinny bundles at competitive price points and leverage their existing customer relationships to undercut virtual providers.
Of note, traditional multichannel operators also providing wireline broadband have additional leverage with broadband bundles. For this category of ISPs, broadband could also be leveraged through the creation of prioritization lanes given the FCC's net neutrality reversal.
Recent M&A activity also clouds the future, led by the pursuit of key 21st Century Fox Inc. assets by Walt Disney Co. and Comcast Corp.
Disney has been quite transparent about the rationale behind the move. The media juggernaut plans to launch direct-to-consumer services leveraging its vast content libraries, including some of the world's most valuable franchises such as Marvel and Star Wars.
Although Comcast is playing its strategy cards closer to the vest, its pursuit of Sky PLC and 21st Century Fox, combined with the company's foray into wireless telecommunications, intimate wide-scale video-streaming plans.
FOX Could Reap Substantial Rewards For 2026 World Cup
Learn More
WatchTV's $15 Price Tag Outpaces Programming Costs Per Subscriber
Learn More