Introduction
Dividend indices are one of the most widely recognized factor-based strategies. According to Morningstar, as of Sept. 30, 2022, there were 411 dividend-focused exchange-traded products (ETPs) worldwide, with over AUD 522 billion in AUM. Dividend ETPs had inflows of over AUD 97 billion in the first three quarters of 2022. With over AUD 3.5 billion in AUM—or 40% of the Australian factor ETP market—the dividend factor is one of the most popular in Australia.
In this paper, we will examine the Australian dividend market in depth and analyze the historical performance of the Australian high dividend yield strategy.
Australia Dividend Market
As one of the highest-yielding equity markets in the world, Australia has attracted extensive attention from market participants. As of Dec. 31, 2022, the trailing 12-month dividend yield of the S&P/ASX 300 was 4.5%, the highest among major developed markets (see Exhibit 1). ETF assets tracking dividend strategies in Australia have grown from AUD 571 million in 2012 to AUD 3,887 million as of Dec. 31, 2021, with an CAGR of 21% (see Exhibit 2). In 2022, the dividend AUM fell about 8% to AUD 3,585 million.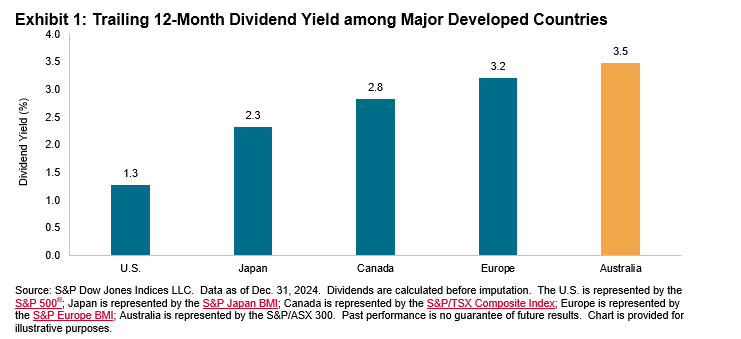 Through the analysis of historical data, we have observed three major characteristics in the Australian dividend market:
A resilient dividend pool with a stable growth rate;
The financials and the materials sectors contributed the majority of dividends; and
A high level of dividend yield and payout ratio.
---