S&P DJI ESG SCORES (FOR MEASURING COMPOSITE ESG SCORE PERFORMANCE OF FUNDS)
S&P DJI ESG Scores robustly measure corporate sustainability performance with a focus on the most financially material issues within industries. Data is collected through the renowned SAM Corporate Sustainability Assessment (CSA) to engage companies directly for unparalleled access to private information. By going beyond simply collecting public disclosure, the CSA can bring to light emerging topics of growing interest to investors, often long before disclosure is widespread, for a cutting-edge view of corporate sustainability practices. Furthermore, this direct engagement allows us to assess how well companies actually perform on sustainability metrics, rather than simply rewarding corporate transparency and completeness, as is common with datasets that rely solely upon publicly reported information. All responses must be substantiated with internal documentation and real-life examples, audited by a third party where relevant in order to verify the accuracy of the information provided.
The CSA assesses 7,300 companies (representing approximately 95% of global market capitalization) through 61 industry assessments that cover the most relevant ESG issues. Once a company's assessment is complete, SAM calculates scores using a predefined scoring framework driven by the financial materiality of topics within specific industries. The concept of materiality here is defined by both risk exposure and the relevance of financial outcomes—underpinned by more than two decades of investment performance data rather than an arbitrary or theoretical approach to identifying material issues. Built upon a solid foundation of 600-1,000 data points per company, up to 120 question-level scores are then calculated for companies' responses to each CSA question. These scores are aggregated to as many as 27 industry-specific criteria, and the environmental (E score), social (S score), and governance (G score) dimensions before ultimately rolling up into the headline ESG score through a granular and bottom-up approach.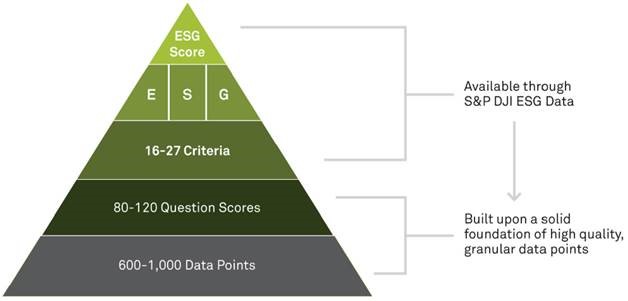 The CSA is an annual and resource-intensive endeavor that typically takes companies several hundred hours to complete. Once led by CSR professionals in a marketing function, today the CSA often pulls resources from across the organization for a firm-wide view of how sustainability topics influence the business operations and budgeting decisions from the c-suite. In addition to annual assessments, the methodology also incorporates the Media and Stakeholder Analysis (MSA), using daily reporting of real-time information to account for company controversies on an ongoing basis. By combining comprehensive data sources, sound methodology, and a sharp focus on material issues in this way, the CSA is recognized as the "highest quality" and most "useful" ESG assessment by global sustainability professionals and investors.
---