Introduction
According to numerous studies,1 having a gender-diverse board is a key indicator of good corporate governance.2 The gender diversity of a board of an investee company is also one of the mandatory sustainability indicators3 that financial market participants are required to assess and report on under the EU's Sustainable Finance Disclosure Regulation (SFDR).4 Using the S&P Global SFDR dataset,5 we examine this metric in the context of the S&P ESG Indices.
First, we observe how the proportion of women on boards varies across countries (see Exhibit 1). On average, French firms have the most gender-balanced boards. This is unsurprising, given that the French government enforces a minimum of 40% women on boards,6 a requirement that may follow across the EU.7 Meanwhile, all Qatari firms have an entirely male board.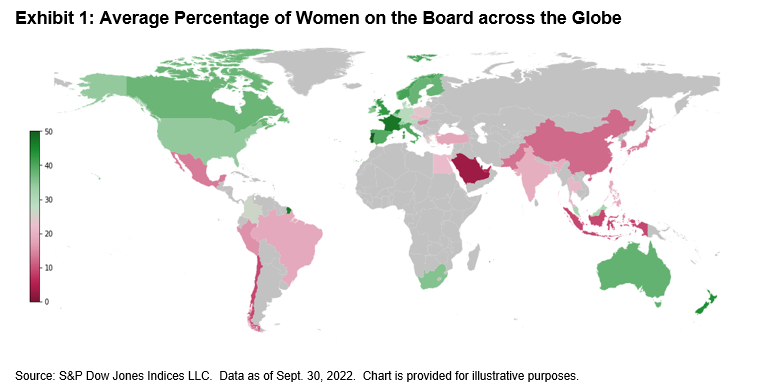 In terms of sectors, firms operating in Energy, Consumer Staples, Information Technology and Health Care have a greater-than-average number of women on their boards, while Materials has the lowest average (see Exhibit 2).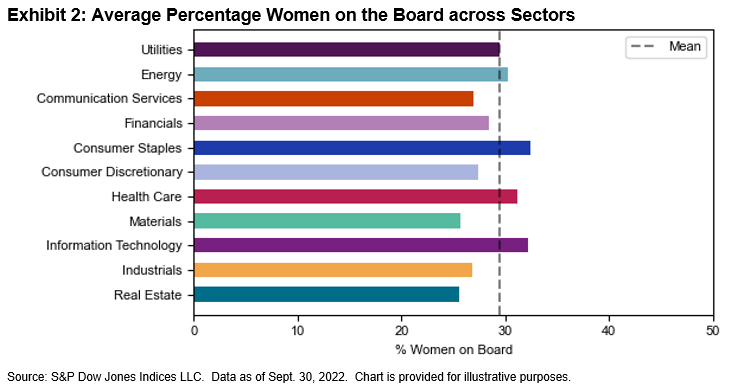 ---