Introduction
In the paper Analyzing High Dividend Yield Strategy in Korea, we studied the Korean dividend market and concluded that a portfolio formed by Korean high-dividend yield stocks has historically outperformed the broad market portfolio. In this paper, we will introduce how practitioners can track opportunities from high dividend strategies in the Korean market through an indexing approach.
The Importance of Dividends
Dividend can be critical in equity investments for three reasons: 1) dividends are a significant source of total returns in the equity market; 2) dividend strategies can serve as an alternative for income-generating investors; and, 3) dividends as a factor have historically generated excess total returns in empirical research.
Dividend Contribution to Total Returns
In the U.S., dividends and dividend reinvestment accounted for over one-third of S&P 500® total return since 1936. Exhibit 1 shows the breakdown of market total returns into price return and return from dividends and dividend reinvestment. Globally, over 25% of total returns in the past 10 years came from dividends and dividend reinvestment. In Korea, return from dividends and dividend reinvestment contributed to nearly one-half of the total returns of the Korean equity market in the past decade.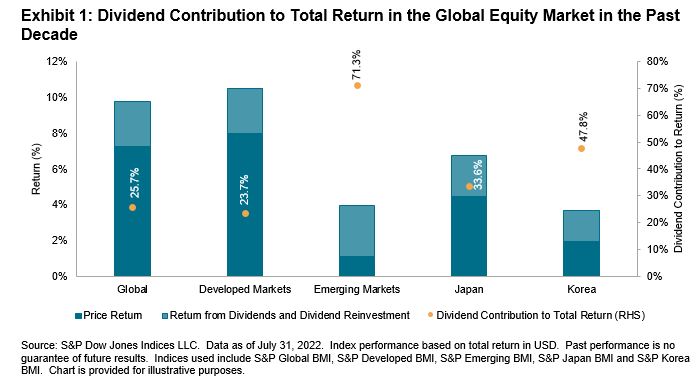 ---