➤ Tablo targets longtime over-the-air households while also appealing to those who have recently cut the cord.
➤ The rising cost of streaming services is driving consumers to seek out cheaper entertainment options.
➤ Scripps would consider licensing the technology to other station groups in the future as it aims to expand the industry's OTA audience.
The US pay TV industry is rapidly shrinking, with cable operators reporting record declines in video subscribers. While this has forced distributors and cable network owners to spar over new strategies, it is also creating an opportunity for broadcasters like The E.W. Scripps Co. to capitalize on the growing number of households that are getting their TV content over the air or through streaming services. Scripps recently rolled out the fourth generation of its Tablo device, which gives consumers access to local TV stations and some of Scripps' own networks. Tablo also offers digital video recording capability.
S&P Global Market Intelligence recently caught up with Bo Schuerman, Scripps vice president of enterprise strategy, to discuss the new product rollout and the company's aim to bolster over-the-air viewing.
An edited transcript of the conversation follows.
S&P Global Market Intelligence: Last year, E.W. Scripps bought Nuyvvo, a Canadian tech company that makes DVRs under the Tablo brand. What was the thinking there?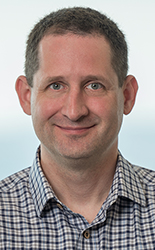 Bo Schuerman, E.W. Scripps'
vice president of enterprise
strategy
Source: The E.W. Scripps Co.
Bo Schuerman: Eighteen months ago, our CEO Adam Symson kicked off our Free TV Project to drive more awareness of over-the-air (OTA) TV. This is an offshoot of that. Tablo provides a path for consumers to place an antenna that operates wirelessly throughout the home. You can go anywhere to any screen in the home without wires. Tablo will help accelerate OTA adoption.
The Consumer Technology Association estimates that nearly one-third of US households, or 36 million, own an antenna. That total may hit 40 million in 2027.
We expect to see continued growth. This is great timing here. Gone are the days when subscription video-on-demand services were free or cost a couple of bucks per month. There is a lot of "plus" fatigue out there. We're not trying to say people don't want/need Netflix Inc. But this is a nice complement. The NFL streams on Peacock, Paramount+ and Prime Video, but the games are also on the broadcast networks CBS (US) and FOX (US). Tablo really gives consumers who have cut cable access to the great stuff that is available over the air.
Tablo will appeal to…
There are two markets here. One, the folks who are already OTA users. Tablo is a product that enhances their experience. Second, we're also looking to the group that has cut cable and doesn't have access to content right now. Forty percent of what is watched on cable is from the major broadcast networks. We want to unlock this opportunity for those now living in a cord-free environment.
And this is for a one-time fee? No monthly subscriptions needed?
We've dropped the price dramatically for the device to $99. The combination [with the antenna] sells for $129.99, but there will be discounts [to $109] throughout the year.
How are early sales?
The response has been great. Best Buy is pleased with how many units it is selling across the country. Thousands have also sold online in a short time. But most satisfying has been the comments of customers, both new and those who've owned previous versions of Tablo. There have been dozens of reviews with largely positive comments about how valuable this is for viewers who have cut the cord. There have also been some valuable critiques that we are reading closely, and in some cases, they have allowed us to fix bugs quickly. We think the holiday season will be a great opportunity for people to get Tablo as a gift or so-called stocking stuffer.
This is the fourth generation of Tablo. Will earlier versions get updated?
That's going to happen later. The plan is to make sure everything is working well. They will receive a software update.
Let's talk advertising. Are the free ad-supported streaming TV (FAST) channels like the cable model? Is Scripps getting a couple of minutes of advertising to sell per hour on these networks?
We have different arrangements with the FAST channel publishers, through which we control a portion of the ad revenue.
From a promotional perspective, ads will run on Scripps properties, as well as third-party outlets?
We are running ads across a variety of media now, including social search and retailers, as well as linear via direct response. In addition, we're leveraging influencers to help spread the word about the product benefits. There has been different creative for those who are already OTA users and those who might need some more education. Spots are running on our linear and digital properties.
Are you interested in licensing the technology to other station groups? Don't know if the big guys like Nexstar Media Group Inc. or Sinclair Inc. would be interested, or would want to do something on their own? But maybe some of the smaller groups?
We're certainly open to those discussions and more adoption of OTA for the broader market. Right now, our focus is getting the product right and out there. We have a huge roadmap for additional features.
Can SVOD services be integrated into the product?
Netflix, Max, YouTube, Prime Video won't sit inside the product, but alongside it. They will be right there on the home page, so users can easily move from one to the other. We want Tablo to fit into an environment that people are comfortable with. We want to offer easy access.
We're curating content by time of day; the channels located in your area; recommendations; the recordings. We're looking to showcase upcoming premieres, as well as sports and news, with Scripps News and Bloomberg. There is a lot of content here.
Tablo has an old-fashioned TV grid?
Yes, you can scroll down through the list by number and then to the Internet-based channels.
We talk again next year: Tablo will have how many FAST channels?
There are many more coming in the months ahead. But we want to be selective. Our goal is not to out-Pluto Pluto TV or to out-Roku Roku. This is really about modernizing the OTA experience with a product whose user interface functionality is on par or better than consumers' experiences with streamers' platforms and showcases a lot of content.
This article was published by S&P Global Market Intelligence and not by S&P Global Ratings, which is a separately managed division of S&P Global.
Gain access to our full news & research coverage and the industry-specific data that informs our insights.
Click here