The UK's leading commercial broadcaster ITV PLC faces challenges as aims to establish itself in the streaming market without undermining its legacy broadcast business.
The company launched its ITVX streaming platform in December 2022 to help offset declines in broader linear TV viewing. However, with its streaming subscriptions growing slowly, ITV must change its public perception as a linear TV company. A hybrid business model that supports both linear and digital platforms may be its best option as the company navigates changing consumer demands.
➤ ITV's challenge is to develop a hybrid operation that keeps the best of its linear reputation as it seeks to establish itself in the streaming market.
➤ The company needs to find a windowing strategy for its content that ensures strong viewing and commercial returns across its linear and digital platforms.
➤ Viewing of broadcast video-on-demand content is growing, which is encouraging for the company's streaming platform ITVX.
➤ An increasing amount of ITV's advertising revenue is coming from digital sources, including some digital-only advertisers.

Revenues
ITV revenues have been growing steadily in recent years, notwithstanding the dip caused by the pandemic in 2020. Almost half of the company's total revenue is derived from advertising, at 44% in 2022, though that is down from 50.8% in 2015. Revenue from non-advertising sources has increased over that time, to 41.3% in 2022 compared to 37% in 2015.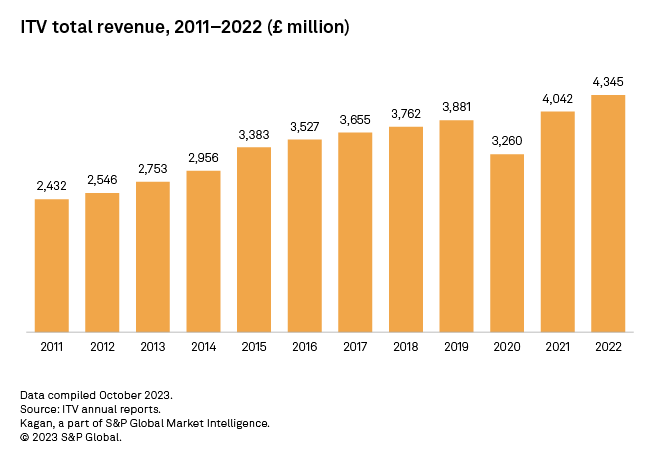 While most of ITV's advertising revenue comes from its linear channels, the percentage of ad revenue earned from the company's digital operations increased significantly between 2017 and 2022 as marketers sought out alternative audiences not traditionally reached via ITV's main free-to-air channel ITV1.
Digital advertising
ITV's focus on commercializing its digital inventory is apparent in the 63.6% increase in the amount of revenue derived from this source in 2022 compared to 2017.
"Total digital revenue is an important measure of the acceleration of our digital strategy as we supercharge streaming," the company said in a March filing on its 2022 earnings results. The company reported 380 digital-only advertisers in 2022 and over 22,000 data-targeted options for advertisers to use. ITV is hoping that its targeted advertising services used on ITVX will be able to reach new audiences, including those that abandoned linear TV for streaming.
Streaming subscribers
ITV's total streaming subscriptions reached 3.2 million for Britbox International during the third quarter of 2023. The company launched its ITVX service in December 2022, which offers exclusive content before it is available on its free-to-air linear platforms, as well as library content. The company discontinued its previous streaming service, ITV Hub, alongside the launch of ITVX.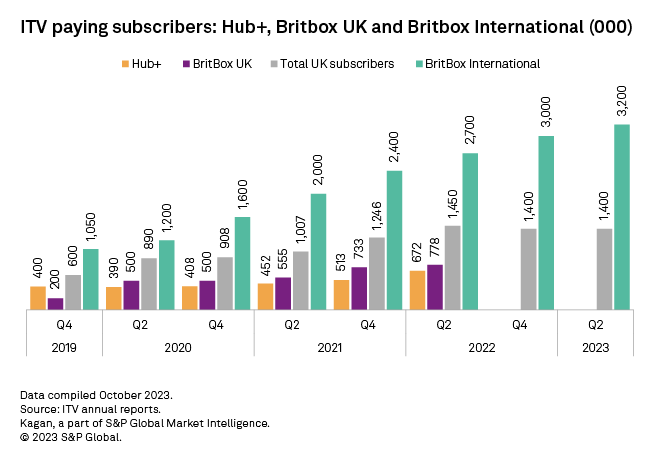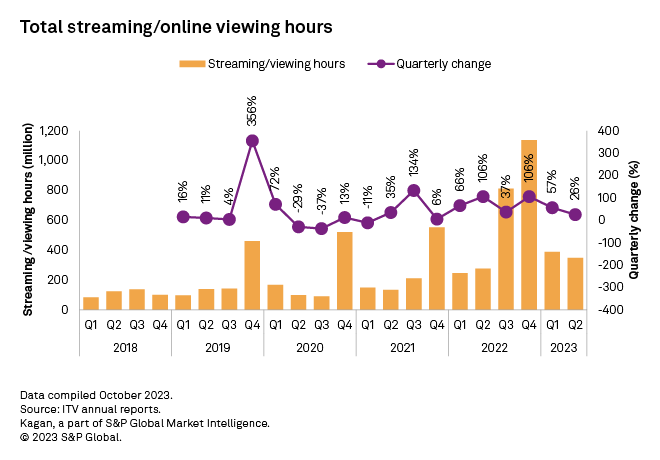 Streaming strategy
ITVX has commissioned new content across genres including drama, factual, comedy, and natural history, featuring talent such as David Tennant, Stephen Fry, Damian Lewis, and Helena Bonham-Carter. The company also increased the promotion of the streaming service and its exclusive programming. Among the content driving high viewing levels for ITVX is "Love Island", a reality dating show that attracts hard-to-reach younger viewers.
ITVX is also integrated into the Sky Q platform, which should significantly boost viewing given Sky UK Ltd.'s strength in the market.
ITV's strategy is to have hit premieres on its linear and streaming platforms as it aims to create more buzz and higher audience figures for its programming. The exclusive content would play first on ITVX and then be shown on ITV's linear channels six- to nine-months later. ITV has traditionally produced some of the highest viewing figures for its drama programming, including over 9 million viewers for "The Thief, His Wife and His Canoe" in December 2022, which become one of the top five ITV dramas of the year. Some of the most high-profile dramas that premiered on ITVX, including "Litvinenko" and "A Spy Among Friends," ranked among the best-performing programs across the UK's broadcast market, according to reports from Barb, the industry's main measurement provider in the UK.
The closure of ITV's main children's channel CITV in September 2022 could also help ITVX. The shuttered channel's content is moving to the streaming service, and demand for the content could result in parents providing a boost to ITVX's subscription levels. Since January 2022, CITV had an average reach of 2.3 million.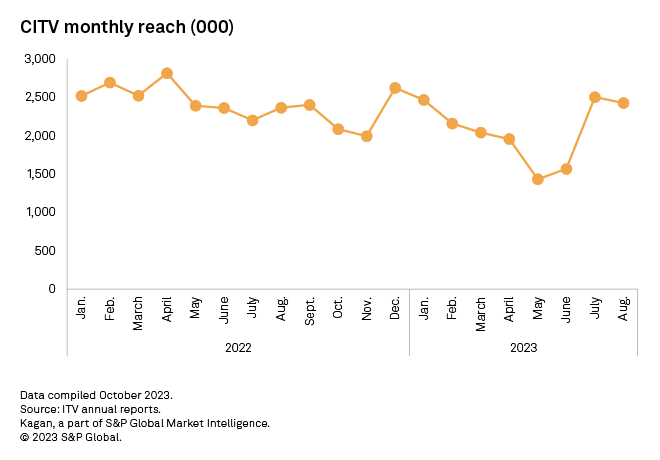 Commercial advertising delivery
ITVX programming takes commercial advertising in the same way as the parent company's linear channels, except for those on ITVX's ad-free service tier, which is priced at £5.99 per month or £59.99 per year.
Each program on the ad-supported service runs about 1.5 minutes of sponsorship, advertisements, and promotion before the main content starts. Commercial breaks also occur within each program, with the amount varying based on the program's duration and genre. For example, a one-hour drama will typically include take three commercial breaks of four minutes each. These ad loads are similar to those on ITV's linear channels.
Future strategy
Viewing of traditional TV channels continues to decline as audiences fragment across the increasing number of content mediums, including digital platforms like YouTube LLC or TikTok Inc.
UK regulator Ofcom said in its "Media Nations" report that time spent on overall viewing of any video content by individuals across all devices declined 15.2% between 2021 and 2022, to 4 hours and 28 minutes. The decrease may be related in part to the normalization of viewing after a spike in 2021 during pandemic lockdowns, the report noted. Broadcasters maintained their 60% share of total viewing in 2022, however, due in part to the growth in the use of their video-on-demand services. Time spent on broadcast VOD hit 16 minutes in 2022 compared to 15 minutes in 2021.
ITV's commercial offerings now comprise new opportunities including addressable advertising on its digital channels (ITV2, ITV3, ITV4 and ITVBe). The company also recently launched its "Media for Equity Investment Fund," which provides on-screen advertising inventory to brands in exchange for minority stakes in early-stage digital and direct-to-customer businesses.
ITV's traditional business model with its reliance on commercial revenue from linear channels may continue for some time, but it is under threat as linear TV viewing declines. However, for key live programming like sports, events, or cultural events that are exclusive to broadcast channels such as ITV and the BBC, linear channels will still be able to deliver the mass audiences that advertisers want.
ITV's challenge amid the growth of streaming is to manage its reputation as a traditional broadcaster while it establishes itself in the streaming market. This will include managing declines in linear viewing and subsequent revenue by fostering growth from platforms like ITVX. The company must keep both its linear and streaming platforms working in harmony.
This article was published by S&P Global Market Intelligence and not by S&P Global Ratings, which is a separately managed division of S&P Global.
Gain access to our full news & research coverage and the industry-specific data that informs our insights.
Click here