The annual Wimbledon Tennis Championship from the All England Lawn Tennis Club (AELTC) generates revenue from media rights deals with TV operators and networks around the world, as well as from tickets, sponsorships, concessions and merchandise sales. It is estimated that global media rights for the Wimbledon Championship account for more than half of AELTC's total revenue, with the UK and US contributing most of its media rights fees, which were upward of £175 million in 2022.
The 2023 tournament is scheduled for July 3–16, slightly later than typical due to this year's packed summer sports calendar.

➤ The AELTC has adopted a less aggressive commercial strategy for Wimbledon than organizers of other Grand Slam events, favoring committed long-term partners for its media distribution.
➤ Record revenue and prize money are expected for 2023 as the event regains its momentum after Wimbledon 2020's cancellation.

The AELTC's holding company reported total revenue of £350.1 million in 2022, up about £200 million from a decade earlier. Revenue for the entity showed consistent growth during this time, with the exception of 2020, when the Wimbledon Championship was canceled due to the COVID-19 pandemic. A £174 million insurance payment cushioned the financial disruption to the AELTC that year.
Wimbledon 2023 is set to be the most lucrative tournament to date, offering a record £44.7 million prize, up 11.2% from 2022 and 17.1% from the pre-pandemic 2019 championship.
Despite growing commercial revenue, the event aims to retain its unique character by resisting overt branding within its grounds. The AELTC works with 16 commercial partners across the food and drink, sports equipment, IT and communications, and financial services sectors — far fewer than other Grand Slam events — and it does not have a headline sponsor.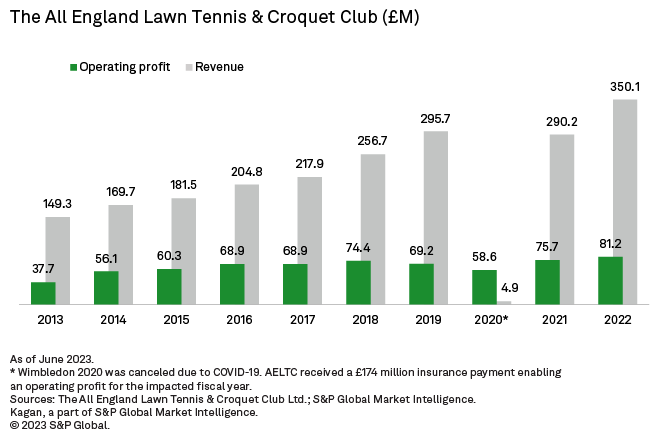 Media rights
The AELTC has a long-term relationship with Endeavor Group Holdings Inc.'s IMG, which manages its commercial representation for both international TV rights sales and sponsorship. IMG also works with the AELTC's in-house host broadcaster, Wimbledon Broadcast Service (WBS), to provide a world feed for international territories and to produce the Wimbledon Radio Channel and the Wimbledon Uncovered digital networks.
The event is broadcast in the US on Walt Disney Co.'s ABC and ESPN networks, including streaming service ESPN+ as well as Sinclair Inc.'s Tennis Channel. AELTC originally forged its rights deal with Disney in 2012 in a contract valued at about $480 million over 12 years, ending with the 2023 tournament. The parties signed an extension in 2021, agreeing to broadcast the tournament for another 12 years on the same networks. Beginning in 2024, the extended deal values the rights at $52.5 million per year, more than the previous deal but still less than the estimated $75 million per year that the networks pay for rights to the US Open.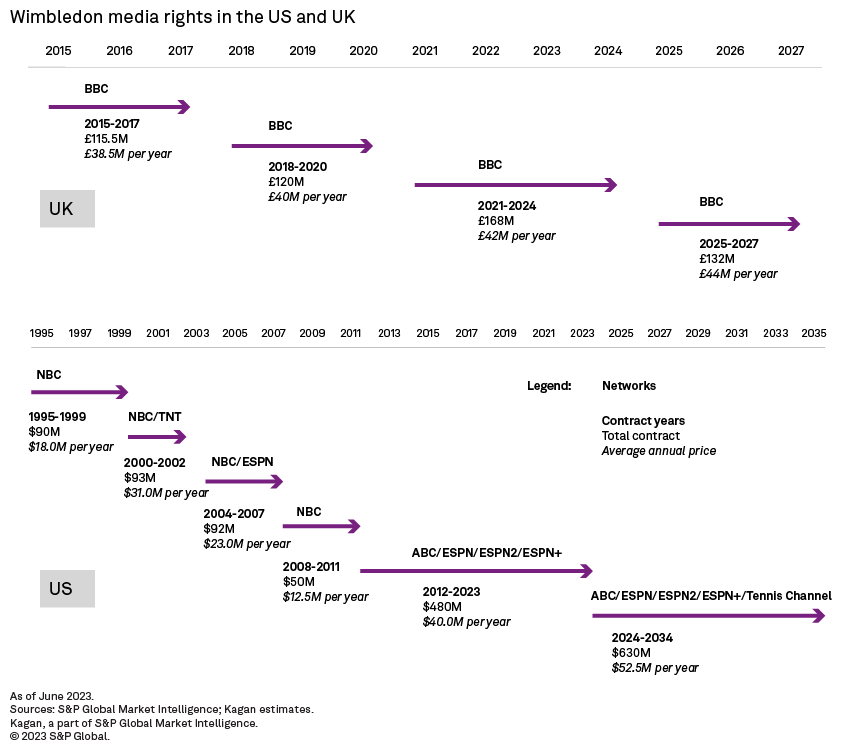 In its UK home market, Wimbledon is synonymous with the BBC. The 1996 Broadcasting Act lists the tournament as an event of "national interest" with a "Group A" classification, meaning full live coverage must be offered by services that are free to view and received by 95% of the UK population. This legislation stops bids from pay TV but would not exclude commercial broadcasters such as ITV or Channel 4. The BBC's long-term relationship with the event and its superior reach across TV, radio and digital services make it unlikely ever to be displaced. Nevertheless, other tennis grand slams have gone to pay TV and been picked up by entities such as Sky Ltd., Amazon.com Inc. and Eurosport (UK).
The Wimbledon tournament is shown in countries throughout the world via different broadcast partners across linear network and streaming services. Sky Group Limited holds the rights in all its markets outside of the UK. Warner Bros. Discovery Inc.-owned Eurosport is the main distributor in the rest of Europe, with the exception of France and the Middle East and North Africa region. beIN Media Group LLC holds the rights in those areas.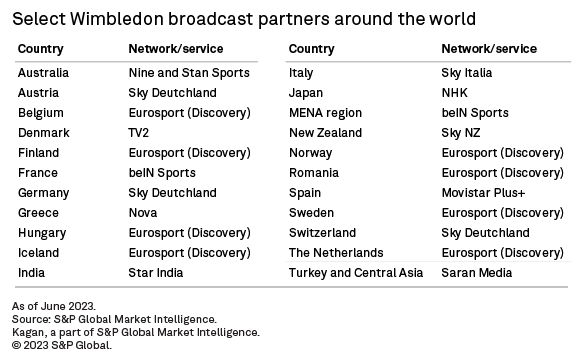 Viewership
Viewership for the Wimbledon Championship final rounds on the ABC broadcast network in the US has been relatively stable since 2017, according to data from Comscore. The Ladies' Championship has averaged a slightly bigger linear TV crowd on ABC than the Gentlemen's Championship, with 1.35 million TVs versus 1.32 million TVs, respectively.
A US player has not won the men's title event since 2000, ending decades of dominance by star US players from John McEnroe and Jimmy Connors in the 1970s and 1980s to Pete Sampras and Andre Agassi in the 1990s. In the women's event, Lindsay Davenport and sisters Venus and Serena Williams collectively won 13 of 18 titles between 1999 and 2016, but there have been no further US successes in Wimbledon singles events since then.
Although tennis fans have a broad appreciation of its competitors and follow the sport in a less tribal way than soccer, basketball or American football fans, local talent does have an impact on local audiences. In recent years, leading tennis players are predominantly European-based. Serbia's Novak Djokovic has won four Gentlemen's Championships (2018–2022), while the ladies' field has had a wider variety of competitors take the prize. An emergence of new, competitive US personalities would likely increase media interest in the sport in the US.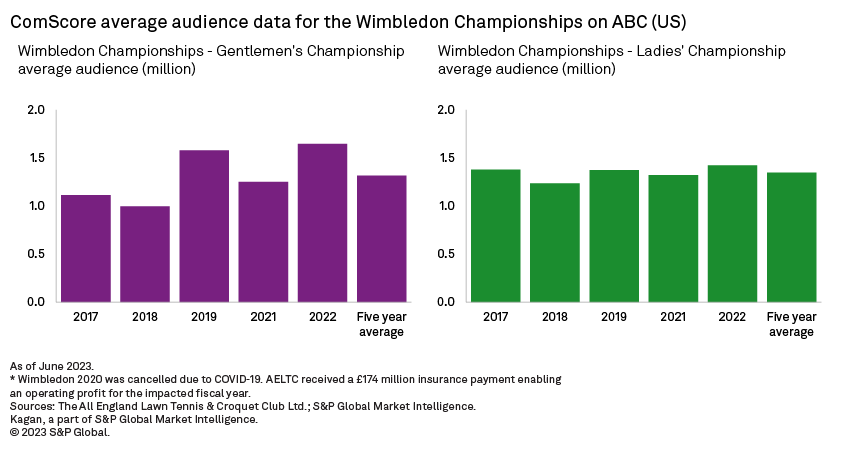 Wimbledon ratings in its home market on the BBC show growing consumption on the broadcaster's streaming services. The 2022 tournament was streamed 53.8 million times on BBC iPlayer and online, beating the previous high of 30.5 million in 2021. The 2022 men's final on traditional TV peaked at 7.5 million, while the women's final reached 3.1 million, both on BBC One.
In recent years, two factors have had a major influence on local audiences: past successes for home players such as Andy Murray and Jo Konta and the state of the summer sports calendar. Audience uplift was most evident with Andy Murray's successful campaigns in 2013 and 2016, which generated peak audiences of 17.3 million and 13.3 million, respectively.
In terms of calendar conflicts, Wimbledon 2018 clashed with the Euro 2018 soccer championships, and in 2019, the final clashed with England's participation in the ICC Cricket World Cup final and the Formula One British Grand Prix. Such occurrences may have motivated AELTC to schedule Wimbledon 2023 one week later than usual. This avoids potential conflicts with Ashes Test Cricket or the British Grand Prix, and it still puts Wimbledon ahead of The Golf Open Championship and Women's FIFA World Cup this summer.
Kagan's Consumer Insights survey data conducted in the US and nine representative markets in Europe and Asia-Pacific show widespread interest in watching televised tennis, led by France, Italy and Poland, where about one-third of households reported watching the sport. Tennis was among the top three sports most commonly viewed in European markets and among the top five in the US and Asia-Pacific markets.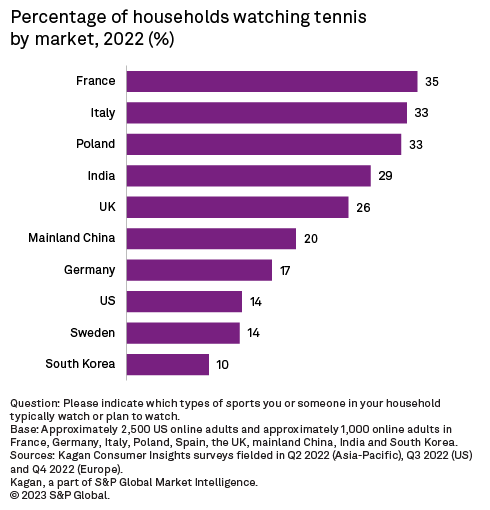 Tennis viewers skewed toward older generations in most markets, with about half to two-thirds of viewers coming from Gen X, Boomer and Senior viewers. India was the only market where a majority of tennis viewers were under the age of 43. Germany sported the highest percentage of Gen Z tennis viewers at 17%.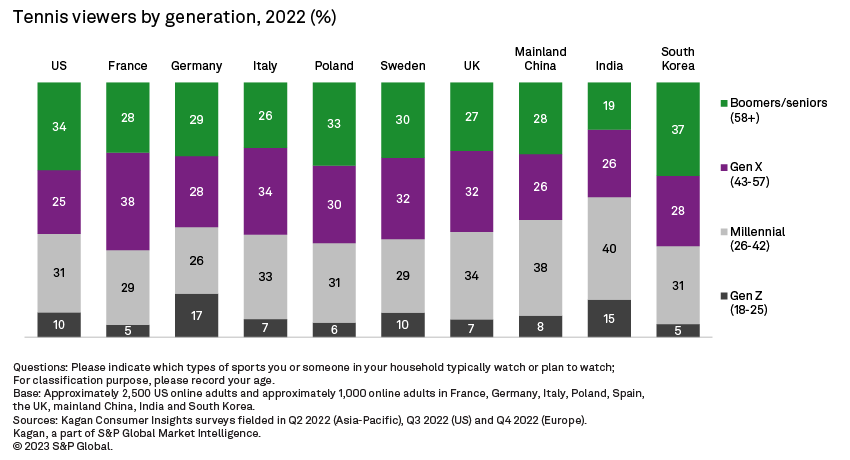 This article was published by S&P Global Market Intelligence and not by S&P Global Ratings, which is a separately managed division of S&P Global.