The average all-in sustaining cost, or AISC, for primary gold mines rose by 2.5% in 2018 on the back of a 4.3% rise in total minesite costs — the third consecutive year of cost increases. The growth in costs was mainly driven by increases in fuel, electricity and other costs. In 2019, we expect AISC to drop by 8% year over year, helped by weakening local currency against the U.S. dollar, declining diesel costs, reduced sustaining capex spending and rising byproduct credits.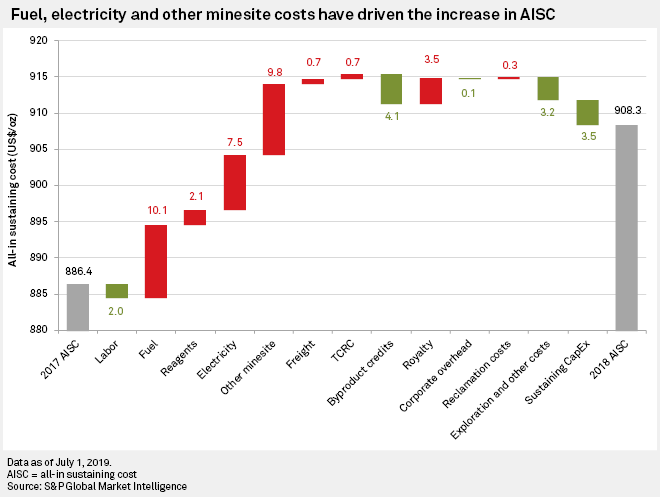 Total minesite costs grew by 4.2% year over year in 2018, contributing an increase of US$27.60 per ounce to AISC. Fuel costs, a major component of mining costs in open pit mines and mines that rely on on-site diesel power generation, rose by 21.8%. This increase was attributable to the continued strengthening of diesel prices, feeding through from a recovery in oil prices. The Brent benchmark increased 31% year over year to an average of US$70.90 per barrel, continuing a recovery after four years of consecutive decline in oil prices from 2013 to 2016. The biggest increases in local wholesale diesel prices in major gold-producing countries were seen in Mexico and Russia, with growth of 26.3% and 19.8%, respectively, in U.S. dollar terms. Electricity costs grew by 10.4% due to higher electricity prices in major gold-producing countries. Electricity prices jumped by 5.3% in South Africa as the country's main supplier of electricity, Eskom, struggled to meet demand. Similarly, Australia suffered through power blackouts during the year due to aging coal plants.
Structural changes more important than exchange rates in 2018
Despite weakness in annual average currency exchange rates, which should lead to declining costs on a U.S. dollar basis, other minesite costs, namely consumable equipment at the mine site, increased by 3.8% year over year. Annual average exchange rates in 2018 weakened the most in Russia and Australia, whose currencies declined by 6.8% and 2.5%, respectively, against the U.S. dollar. Of the major gold-producing currencies, only the Chinese renminbi and the South African rand strengthened against the U.S. dollar, by 2.3% and 1.0%, respectively, while the Canadian dollar remained flat. Other minesite costs in the U.S. and Canada rose by an average of 13.1% year over year, nearly 10 percentage points above the 3.8% global average increase, as a result of lower grades and throughput and changing ore characteristics. Head grades declined in the U.S. and Canada from 1.42 g/t in 2017 to 1.37 g/t in 2018, and throughput decreased by 1%. Both declines were seen in some of the highest-producing assets; Newmont Goldcorp Corp.'s Nevada Operations experienced lower mined ore grades at Long Canyon and Twin Creeks and a decrease in leach tonnes placed at Carlin and Phoenix. Cortez had lower grades and harder ores compared with previous years; nearing the end of its life, the open pit has transitioned to higher levels of refractory ore.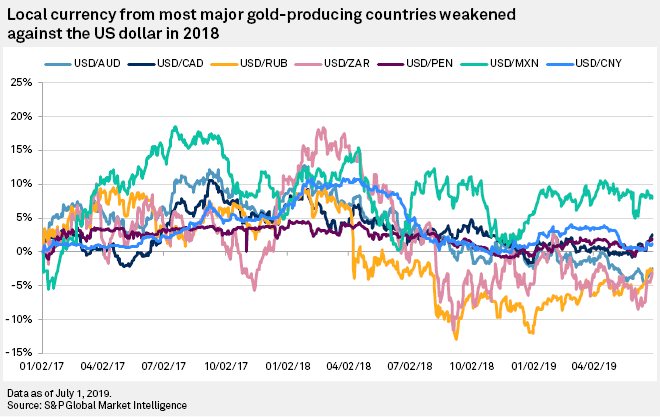 Freight, royalties, treatment and refining costs increased AISC by a total of US$4.90/oz in 2018. Royalties rose by 6.9% year over year due to a marginally higher gold price and rising silver production. Royalties and production taxes are typically calculated as a percentage of revenue or profit; this translates to higher royalty costs when production and prices increase. Gold production remained flat, and the average gold price rose by 1% year over year in 2018. Silver production jumped by 14%, which was partly counteracted by the average silver price declining by 8%. Royalty costs increased the most in Brazil as the country passed a law that hiked gold royalties to 1.5% of gross revenue from 1%.
By product credits were up 6.4% year over year in 2018, partly offsetting the rise in minesite costs. The increase was attributable to 14% and 9% rises in silver and copper production, respectively, from primary gold mines, coupled with a 6% increase in copper prices.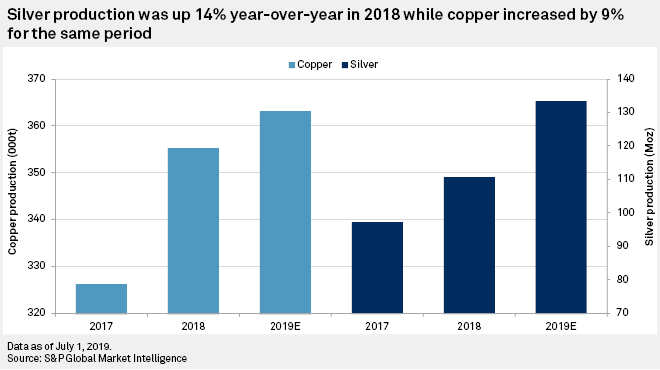 Sustaining capex, exploration costs exerted downward pressure
Sustaining capex, exploration and other sustaining costs reduced AISC by US$6.70/oz year over year in 2018. Sustaining capex declined by 2.0%, in line with lower capital spending among the major gold-producing companies, including AngloGold Ashanti Ltd. with a 31% decrease to US$571 million and Barrick Gold Corp. with a 12% decrease to US$975 million. Barrick's sustaining capex declined due to completion of several initiatives that began in previous years, including underground dewatering, cooling and ventilation projects at Goldstrike, digitization initiatives, and optimization of development sequencing at Turquoise Ridge. AngloGold's spending decline was driven by its focus on capital management and cost discipline as part of the company's operational excellence initiatives program.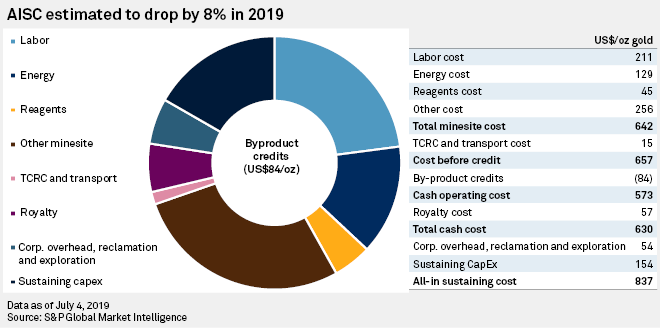 In 2019, we see AISC falling by 8% year over year on the back of weakening local currency, lower diesel prices, declining sustaining capex and rising byproduct credits. Year-to-date average exchange rates in all major gold-producing countries have weakened, except for the Mexican peso, which has remained flat compared with full year 2018. Notable decreases have been seen year-to-date in South Africa and Australia, with local currencies in these countries lower by 7.0% and 5.3%, respectively, compared with their 2018 averages. Brent oil's 2019 year-to-date average is also down by 7% compared with full year 2018, which will lead to lower fuel costs. Byproduct credits are forecast to grow by 10% year over year in 2019, with 20% and 2% growth in silver and copper production, respectively, despite subdued price forecasts for both metals for the year. Additionally, major gold-producing companies have issued guidance for lower sustaining capex in 2019 compared with 2018. Gold Fields Ltd. plans to spend 6% less, Newcrest Mining Ltd. 16% less and AngloGold Ashanti between 2% and 9% less.