Jan. 16 2018 — Speculation that blockchain payment firm Ripple's underlying payment token XRP will become more widely adopted has helped fuel a 1,353% increase in its value over just the past month, but investors may be getting ahead of themselves. So far, use of the token has been limited to small tests and has many hurdles to clear ahead of wider adoption.
While Ripple has developed promising technologies for cross-border payments, the rise of XRP raises questions about the token's actual value proposition. XRP lacks the decentralized nature that makes assets like bitcoin appealing and has limited current use.


Most banks are not using tokens
Ripple provides cross-border payment services for financial institutions such as banks and payment providers. Underpinning the Ripple network are two primary products: xCurrent, a real-time settlement system for banks, and soon-to-be-released xRapid, which facilitates cross-border payments and remittances using the XRP token.
The primary platform used by Ripple members today is xCurrent, which provides real-time messaging for verification and settlement of funds. Prior to sending a payment, banks can verify account information, exchange rates, customer details, and fees, ensuring transaction validity. Once a payment is initiated, Ripple uses the Interledger protocol to exchange information between its blockchain and existing ledgers or payment networks used by banks.
Settlements can happen in real time, and banks do not need to drastically alter their existing infrastructure or use a digital token in order to use xCurrent. While this is a notable upgrade compared to current settlement systems and can help reduce costs related to some intermediaries, the XRP token is not involved, and banks still use correspondent banks or other third parties to convert funds between domestic and foreign currencies.
Ripple's new plan for XRP includes xRapid, which leverages the token to speed up transfer times and removes the need to hold reserve funds in various currencies. Banks or payment providers can integrate this back-end service into existing platforms. This should enable them to more easily facilitate remittances, which make up a $573.55 billion market, according to data from the World Bank. Remittances are historically expensive to send, often involving small amounts sent to developing countries.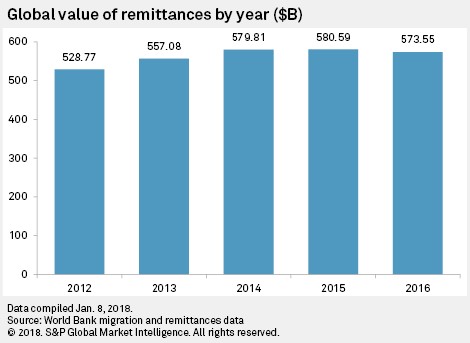 While Ripple has more than 100 members, including large financial institutions, XRP is not actively used to facilitate transactions today. Starting with the use of xRapid in the remittance market as a test case for smaller value transactions, there are longer-term plans to integrate XRP into products such as xCurrent, though the timeline for this remains unclear.


Cost savings could drive XRP adoption
The implementation of a real-time verification and settlement system like xCurrent already provides financial institutions with significant potential cost savings. Ripple claims its system provides savings on payment processing of up to 60% for institutions, though that number varies dramatically based on factors like payment size, frequency, and denomination.
The addition of the XRP token into a bank's real-time settlement network could provide further benefits, but in more select cases. Exchange markets for large currencies such as the U.S. dollar or euro are highly liquid, and banks, for the most part, have existing payment facilities using these currencies.
The true value of a digital token in transacting between local liquidity providers will emerge in cases where currency pairs are less widely traded or where a bank is unlikely to hold balances in a specific currency. This becomes especially important for remittance transactions.
The xRapid system transfers funds to a liquidity provider, usually an exchange, to purchase XRP tokens. These then go to a foreign liquidity provider where the XRP is redeemed for local currency and transferred to the recipient. Through this process, Ripple can circumvent the tangle of correspondent banking relationships that normally slow down the process while adding expenses. Ultimately these lower costs will benefit both the payment providers and the end users.
Using two exchanges to facilitate a hypothetical $200 transaction from the U.S. to rupees in India shows costs as little as one cent, compared to $11.42 using the global average fee for legacy remittance systems. The less common the currency pair, the more savings a user should see using XRP. These transactions also just take a few seconds and allow users to track the progress throughout.
Liquidity a hurdle to adoption
One of the largest challenges in creating a larger use case for XRP tokens is liquidity. According to research from McKinsey & Co., consumers and businesses accounted for nearly $138 trillion in cross-border payment flows during 2015. This equates to about $378 billion per day. During the three-month period ended January 7, 2018, including a particularly active December, the average daily volume for XRP across exchanges was only $1.13 billion.
In order to remedy the liquidity issue, Ripple has aggressively sought new partners. It grew XRP listings to more than 50 total cryptocurrency exchanges worldwide in 2017. The company offers direct purchases of XRP to institutional customers that could serve as market makers and more efficient liquidity providers in the future. Ripple has also dedicated a portion of its website to instructing retail investors on where they can purchase XRP, helping to further boost potential liquidity.
While the number of exchanges matters in facilitating transactions, geographic diversification is more important. In order to provide a full XRP-backed transaction system, Ripple will need active markets for a variety of currencies, which is especially difficult for less traded currency pairs.


A steep climb for value to materialize
Investors should be aware of these obstacles and know that XRP adoption won't come right away and that any adoption of a platform that does not include the token will not benefit the token holders, who lack ownership rights to company assets or earnings.
Beyond the liquidity issues, Ripple must continue to show banks the value of switching to its network. Long-established competitors such as SWIFT, which is member-owned, are also working on their own blockchain solutions, which could make switching less appealing. Ripple must also give banks a reason to use a non-fiat currency and potentially volatile token like XRP in daily transactions, which means banks would need to see significant savings or expanded revenue opportunities.
Right now XRP seems to represent the perfect blend of cryptocurrency hype and optimism. If the token is adopted as a new rail in the payments system, token holders could certainly benefit, but it is a long road ahead.