SUMMARY
Do investment results come from skill or luck? Genuine skill is likely to persist, while luck is random and fleeting. Thus, one measure of active management skill is the consistency of a fund's performance relative to its peers.
The Persistence Scorecard attempts to distinguish luck from skill by measuring the consistency of active managers' success. This report shows that, regardless of asset class or style focus, active management outperformance is typically short-lived, with few fund managers consistently outperforming their cohorts.
For example, of the domestic equity funds that finished in the top half in terms of cumulative returns for the period from June 2010 to June 2015, 38.6% replicated that accomplishment during the period from June 2015 to June 2020. In fact, it was more likely for a top-half fund to close its doors or change its style (41.5% combined) than repeat its performance in the top half (see Report 6).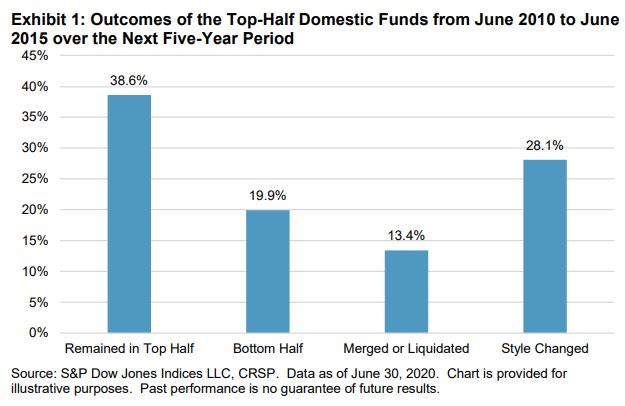 At first glance, there were some signs of performance persistence when narrowing the measurement intervals to consider annual consistency. Of the top-quartile domestic equity funds in June 2018, 35.5% managed to stay in the top quartile annually through June 2020 (see Report 1).
However, this persistence was inconsistent and decayed over time. Rewinding the clock two years, just 1.6% of domestic equity funds in the top quartile as of June 2016 maintained that status annually through June 2020. Widening the filter to funds in the top half, 15.8% of domestic equity funds maintained that status in each of the next four years (see Report 2).
Some statistically minded readers might note that these numbers are better than what would be expected if fund performance was randomly distributed. For example, the odds that a fund could remain in the top quartile for four consecutive years might be calculated as (25%)4 = 0.39%, and the 1.6% referenced above is substantially better than that. While the persistence report may not prove that fund performance is completely random, from a practical or decision-making perspective, it reinforces the notion that choosing between active funds on the basis of previous outperformance is a misguided strategy. After all, there remains a 98.4% chance that a top-quartile fund will not stay in the top quartile for the next four years.
There were few patterns to be found among equity funds, as the non-repeatable distribution of fund performance over various time frames covered large-, mid-, small-, and multi-cap focused funds. One salient illustration of the lack of persistence was that none of the 71 top-quartile mid-cap funds from June 2016 remained in the top quartile annually through June 2020 (see Report 2).
---