The SPIVA Australia Scorecard measures the performance of Australian actively managed funds against their respective benchmarks over various time horizons, covering large-, mid- and small-cap equity funds, real estate funds and bond funds, providing statistics on outperformance rates, survivorship rates and fund performance dispersion.
Since the first publication of the S&P Indices Versus Active Funds (SPIVA) U.S. Scorecard in 2002, S&P Dow Jones Indices has been the de facto scorekeeper of the ongoing active versus passive debate.
Mid-Year 2022 Highlights
In the first half of 2022, outperformance was close to a coin flip for Australian Equity General funds, with 50% underperforming the S&P/ASX 200. Over the same period, 40% of Australian Equity A-REIT funds underperformed their respective benchmarks, while a majority of funds lagged in the fixed income and small-cap equity categories. An increasing majority of active funds underperformed in every reported category over longer-term horizons (see Exhibit 1 and Report 1).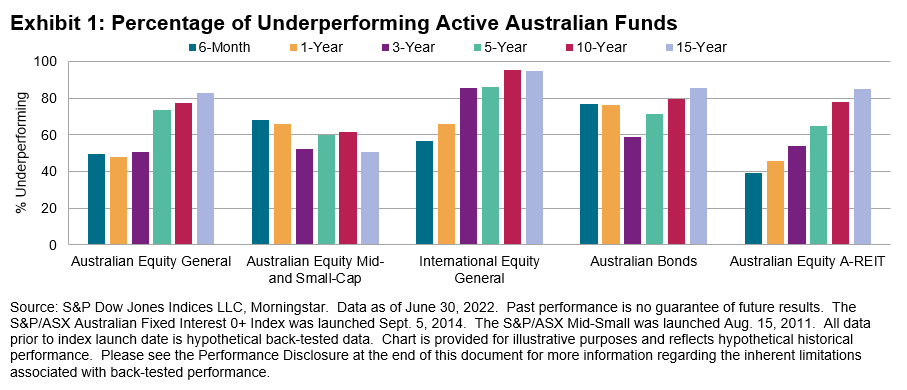 Australian Equity General Funds: The S&P/ASX 200 dropped 9.9% in the first six months of the year, while Australian Equity General funds shed 10.0% and 11.0% on equal and asset-weighted bases, respectively. Of funds in this category, 49.8% underperformed the benchmark over the first half of the year, with underperformance rates rising to 73.6%, 77.2% and 82.9% over the 5-, 10- and 15-year horizons, respectively.
Australian Equity Mid- and Small-Cap Funds: The S&P/ASX Mid-Small gave up 20.3% in the six months ending June 30, 2022, and just 31.8% of Australian Equity Mid- and Small-Cap funds beat the index, while more than 81% underperformed on a risk-adjusted basis. Funds in this category lost 24.2% and 26.0% on equal- and asset-weighted bases, respectively, for the same period. The longer-term record within the small- and mid-cap category was relatively stronger, with just 51.0% underperforming over 15 years.
International Equity General Funds: International equity funds returned -17.2% and
-16.6% on equal and asset-weighted bases in the six-month period ending on June 30, 2022, with 56.9% of funds failing to keep up with the S&P Developed Ex-Australia LargeMidCap. Over the 5- and 10-year periods, more than 85% and 95% of funds underperformed, respectively.
---