The Chinese government appears to be committed to continuing structural reforms and supporting economic growth. Initiatives with these goals in mind are generally viewed as positive and may put China on a more sustainable growth trajectory in the long run. However, current reforms may be accompanied by volatility in the country's economy and capital markets. In such an environment, a focus on growing and sustainable dividends can offer a relevant approach to investing in China's equity markets. This could provide the opportunity to get a slice of the region's structural growth and its potential outperformance throughout the cycle.
This paper gives an overview of the current status of dividend payouts by Chinese companies, the unique features of dividend policies by state‐owned enterprises (SOEs) and family‐run businesses, and the dividend‐related policies and regulations issued by the Chinese authorities. It then reviews the S&P China A Share Dividend Opportunities Index, which is designed to offer a transparent, rules‐based, and investable strategy for market participants looking for exposure to China's growth via dividends.
DIVIDEND PAYOUTS BY CHINESE COMPANIES
How China Has Evolved
In recent years, with the release and implementation of a series of dividend‐encouraging policies issued by Chinese authorities, the amount of dividends issued by companies listed in China's equity markets has gradually increased. Furthermore, the total amount of dividends and the proportion of companies that issue dividends are increasing as well.
Exhibit 1 illustrates these improvements from 2011 to 2016. According to the 2016 financial reports and interim reports, there were 1,570 companies in the S&P China A BMI that declared dividends, representing 68% of the S&P China A BMI universe, much higher than the 54% reported in 2009. The size of the total dividend pool for companies in the S&P China A BMI was USD 94 billion in 2016, nearly four times the size of the dividend pool in 2009. The dividend payout ratio was 33.7% in 2016, 7.4% higher than in 2009.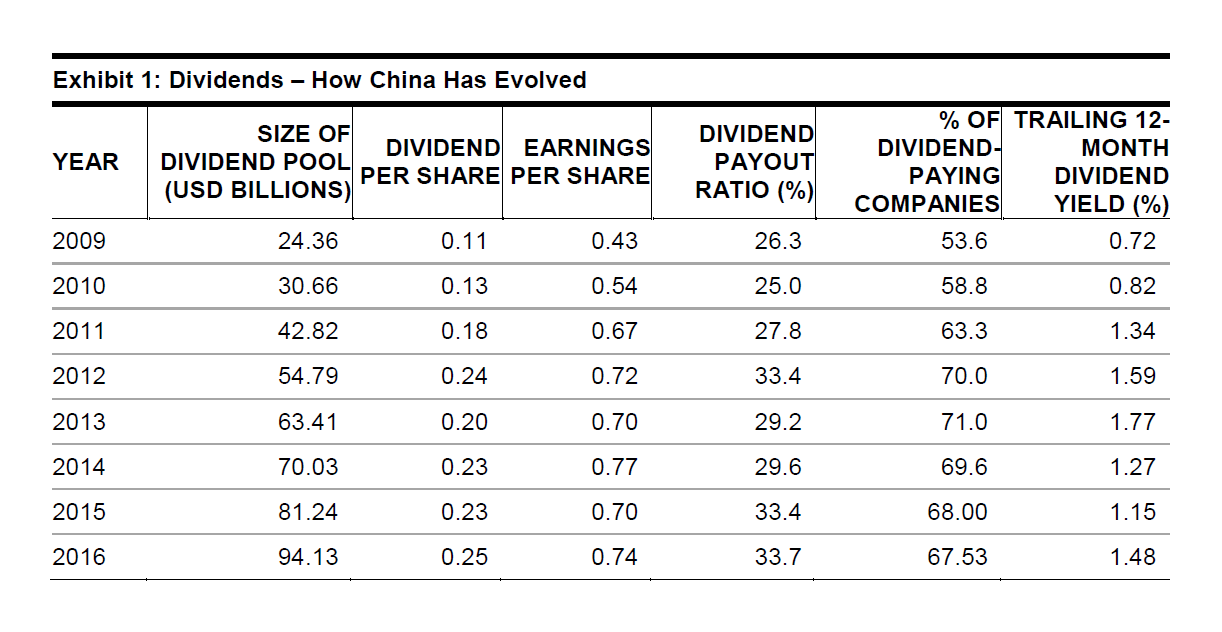 Source: S&P Dow Jones Indices LLC, FactSet. Data for S&P China A BMI constituents from Dec. 31, 2009 to Dec. 31, 2016. Dividend per share and earnings per share are reported in RMB. Past performance is no guarantee of future results. Table is provided for illustrative purposes.