Publicly traded property stocks, including real estate investment trusts (REITs), allow market participants to obtain exposure to real estate, an illiquid asset class, without sacrificing the liquidity benefits of listed equities. They also typically offer relatively high dividend yields, may serve as an inflation hedge and could help to diversify a portfolio comprised of several asset classes. These characteristics have contributed to the appeal of REITs among both conventional and Shariah investors. Shariah-compliant real estate indices are designed to provide Islamic investors with a wider range of tools to evaluate the performance of Shariah-compliant real estate equity funds and to support ETFs and other index-based financial products.
What Is a Shariah-Compliant REIT?
The S&P Shariah and Dow Jones Islamic Market Indices evaluate REITs using the same, globally consistent methodology utilized to screen all equity securities. As shown in Exhibit 1, companies must meet both business activity and financial ratio screens in order to be included in the Islamic index.
While real estate investing tends to align with Shariah principles from a business activity standpoint, some real estate companies have exposure to non-permissible income sources such as gambling, alcohol and banking via their tenants' underlying businesses. Many REITs also tend to have relatively large debt holdings and therefore, often fail the leverage ratio requirement.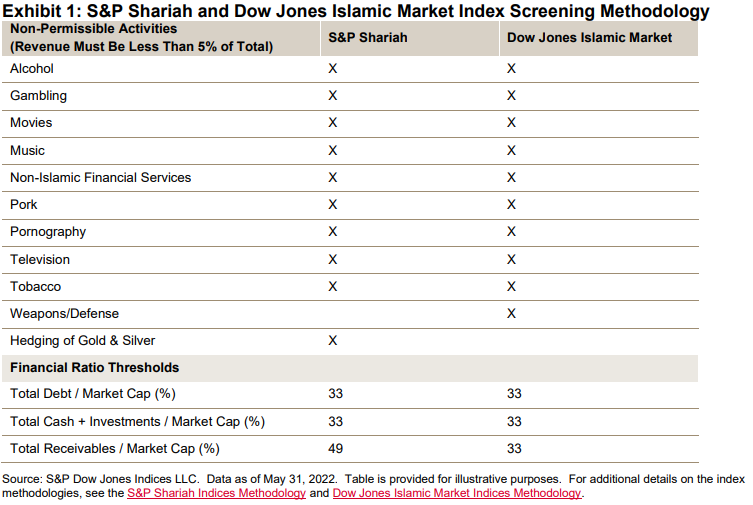 It is important to note that several countries, such as Malaysia, have specific Islamic REIT designations often referred to as i-REITs. These entities are considered Shariah-compliant by S&P Shariah and Dow Jones Islamic Market Index methodologies regardless of whether they meet the specific thresholds described in the methodology, given that they are overseen by Shariah boards that certify their operations as fully Islamic in nature.
---