March 3, 2023, marks 20 years since the S&P/NZX 50 Index was launched. The milestone is a timely reminder to reflect on the considerable evolution of New Zealand's capital market, which is echoed in the index's composition today.
Before we do that, let's briefly review what has changed in New Zealand during this period. The population has grown by nearly 30%—from under four million to over five million. The minimum wage has more than doubled from NZD 8 to over NZD 20 per hour. In politics, the Kiwis have seen five Prime Ministers and seven elections. In sports, New Zealand athletes have won 25 gold medals in 10 summer and winter Olympic games. The All Blacks have had 10 captains, while the Ranfurly Shield has changed hands 28 times.
The Headline Index Has Reflected New Zealand's Capital Market Growth
Twenty years ago, the S&P/NZX 50 Index (previously the NZSE 50) replaced the NZSE 40 as New Zealand's headline stock market index. The index is widely used by market participants and plays a pivotal role in guiding investors on liquidity, quality and performance of the market.
Since March 3, 2003, the index has increased by nearly NZD 90 billion in total market capitalization, while the largest company, as well as the average and median market capitalization have all grown approximately four to five times in size. This has resulted in a total return of well over 500%, or an annualized return of almost 10% per year. The S&P/NZX 50 Portfolio Index, which caps the largest constituent at 5%, has performed even better over the two decades.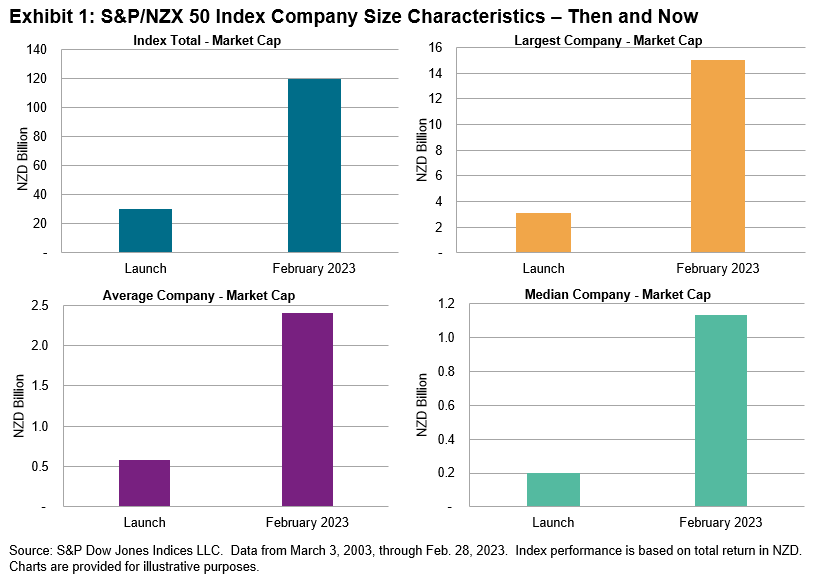 New Zealanders may be accustomed to beating Australia in rugby, but is often second in terms of capital market dominance. While stock market performance has been closely matched in local currency terms, the S&P/NZX 50 Index has outperformed the S&P/ASX 200 (before fees and taxes in New Zealand dollar terms) since inception and has exhibited better risk-adjusted performance, offering lower volatility despite having only a quarter of the constituents. The same has been true when compared with U.S. equities—with the S&P/NZX 50 Index offering better return at lower risk than the S&P 500® (before taxes in New Zealand dollar terms; see Exhibit 2).
---