S&P Dow Jones Indices has been the de facto scorekeeper of the ongoing active versus passive debate since the first publication of the S&P Indices Versus Active (SPIVA) U.S. Scorecard in 2002.
The SPIVA South Africa Scorecard measures the performance of actively managed South African equity, global equity and fixed income funds denominated in South African rand (ZAR) against their respective benchmark indices over various time horizons.
Summary
Uncertainty plagued global markets in 2022, creating conditions that allowed some active managers to thrive and others to struggle. Among active South African funds, 61% underperformed the large-cap benchmark, while 48% underperformed the broad market. Underperformance rates were lower in the Short-Term Bond (10%) and Diversified/Aggregate Bond (24%) categories, while 69% of managers underperformed in the Global Equity category (see Exhibit 1 and Report 1). Underperformance rates generally increased with measurement horizons, with a cross-category average of 67% of active funds underperforming over the past 10 years.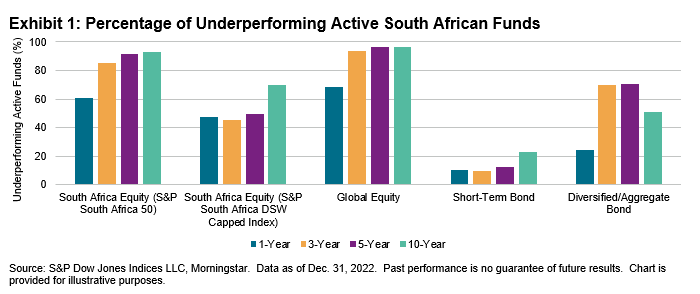 ---