Since the first publication of the S&P Indices Versus Active Funds (SPIVA) U.S. Scorecard in 2002, S&P Dow Jones Indices has been the de facto scorekeeper of the ongoing active versus passive debate. First published in 2014, the semiannual SPIVA Europe Scorecard reports on the performance of actively managed European equity funds as compared to the performance of category-appropriate S&P DJI benchmark indices, providing statistics on outperformance rates, survivorship rates and fund performance dispersion.
Mid-Year 2022 Highlights
A majority of actively managed funds underperformed their respective benchmark in nearly every fund category included in our Europe scorecard. Among the major regional markets, Germany Equity funds had the best (i.e., lowest) underperformance rate in H1, at 55%, followed closely by underperformance rates of 57% and 58%, respectively, in U.K. Small-Cap Equity funds and Eurozone Equity funds. The U.K. large-/mid-cap category saw the highest underperformance rate, with 96% underperforming the S&P United Kingdom LargeMidCap. Pan-European equity funds lay in the middle, 84% undperformiing in H1 2022. The relatively small Poland Equity category was the sole segment where a majority of active funds outperformed in H1 2022.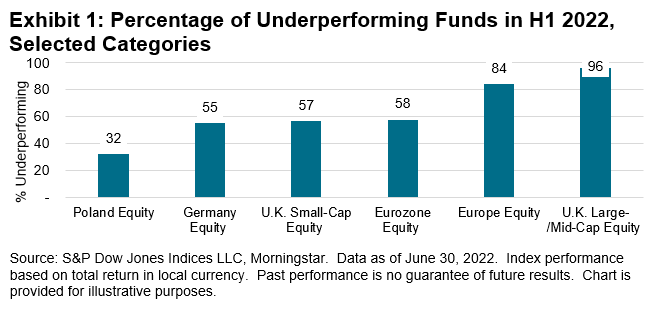 82% of British pound sterling-denominated, and 84% euro-denominated actively managed pan-European equity funds underperformed the S&P Europe 350® in H1 2022, respectively, while only 58% of Eurozone funds underperformed the S&P Eurozone BMI.
Euro-denominated Global Equity funds maintained a relatively high underperformance rate over longer time horizons. Over the 10-year period ending June 2022, 98% of funds underperformed the S&P Global 1200.
British pound sterling-denominated U.S. Equity funds displayed a slight edge over their euro-denominated brethren; underperformance rates for the former were consistently below those of the latter across all time horizons.
---