Summary
Can investment results be attributed to skill or luck? Genuine skill is more likely to persist, while luck is random and fleeting. Thus, one measure of skill is the consistency of a fund's relative performance. The Persistence Scorecard measures that consistency and shows that, regardless of asset class or style focus, active management outperformance is typically relatively short-lived.
Almost no Australian funds remained in the top performance quartile within their category over five consecutive years, and none did so in four out of five reported fund categories (see Report 2).
Lowering the bar from the top quartile to the top half did not result in a significant improvement in persistence. As Exhibit 1 illustrates, the decline in persistence across categories was consistently worse than would be expected under a random distribution.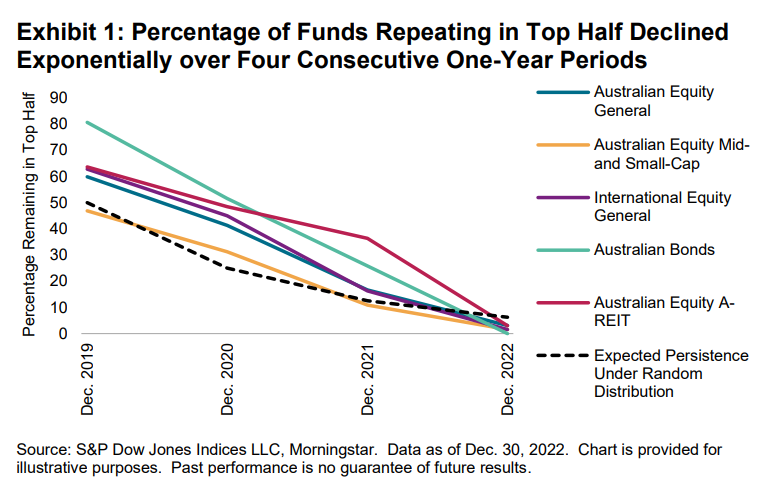 Report Highlights
A minuscule percentage of actively managed equity, A-REIT and fixed income funds succeeded in maintaining consistent outperformance relative to their peers over the three- and five-year periods ending in December 2022. Persistence of alpha was rare as well: 149 Australian Equity General funds (out of a total of 346) outperformed the S&P/ASX 200 as of December 2020, and only 28 of those 149 winners—less than one-fifth—managed to continue outperforming annually through December 2022 (see Report 1b).
Of the actively managed International Equity General and A-REIT funds whose 12-month performance placed them in in the top quartile of their respective category as of December 2020, not a single fund maintained its top-quartile performance over the next two 12-month intervals. Extending the analysis to five consecutive years made no difference (see Report 1a and Report 2).
There was less conclusive evidence for or against persistence when measured over non-overlapping three-year intervals, in which the cross-category average chance of a top-quartile fund remaining in the top quartile was 25%. Extending the horizon to two consecutive five-year periods improved the average slightly to 33% (see Reports 3 and 5).
Poor performance continues to be an indicator of future fund closures. Across the five categories reported by our scorecard, an unweighted average of 44% of actively managed funds whose performance placed them in the bottom quartile of performance in the five years ending in December 2017 were subsequently merged or liquidated over the next five years (see Report 5).
---