OVERVIEW
In early 2020, S&P Dow Jones Indices and the Association of Mexican Insurance Companies (AMIS) conducted our second annual survey of insurance investment officers in Mexico to gather their perspectives on investments and the state of the local insurance industry. The survey closed at the end of February 2020, just before COVID-19 had begun to rapidly spread throughout North America.
Because of this, we felt it necessary to administer the survey again, this time in the second half of 2020, to better gauge investors' sentiments as they adjust to their "new normal." The objective of this survey was to better understand Mexican insurers' perspectives on the investment landscape, how companies invest and allocate their excess capital, and how their outlook and allocations may have changed in light of COVID-19.
This report summarizes insurers' views on the following topics:
• Investment concerns and risks;
• Economic and credit rating expectations for the remainder of 2020;
• Investments and asset allocation, with a focus on excess capital; and
• Investment trends, including ESG and passive investing.
INVESTMENT CONCERNS AND RISKS
One of the most significant shifts the H2 2020 survey results highlighted was in insurers' investment concerns. Respondents indicated their level of worry—very worried, somewhat worried, not worried, and no opinion—about a number of investment-related risk factors. The number of risk factors they classified as very or somewhat worrying increased from 59% in H1 2020 to 72% in H2 2020.
While insurers were more concerned overall about a range of risks, the nature of which risks were most concerning also shifted. Exhibit 1 shows the frequency with which respondents described a risk as very worrying; risk factors like the credit cycle, a global recession, and market volatility, which were previously of lesser concern, now appeared to be more top of mind.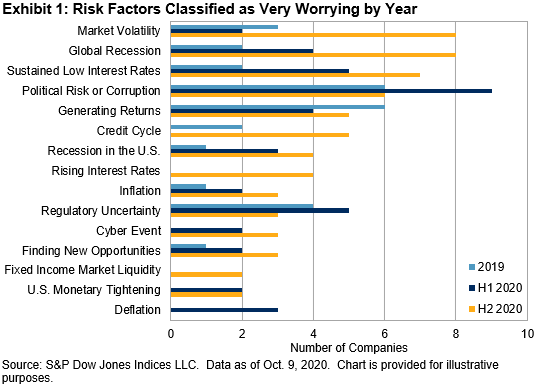 At the beginning of 2020, insurers were most concerned about political risk or corruption, generating returns, and the sustained low interest rate environment—only 16% of respondents cited low interest rates as their chief concern. The most recent data, however, tells a different story; 41% of respondents cited the sustained low interest rate environment as their greatest concern, followed by the threat of a global recession and inflation (see Exhibit 2). Additionally, insurers' three greatest concerns from 2019—political risk or corruption, regulatory uncertainty, and generating returns—were not among respondents' chief concerns in H2 2020.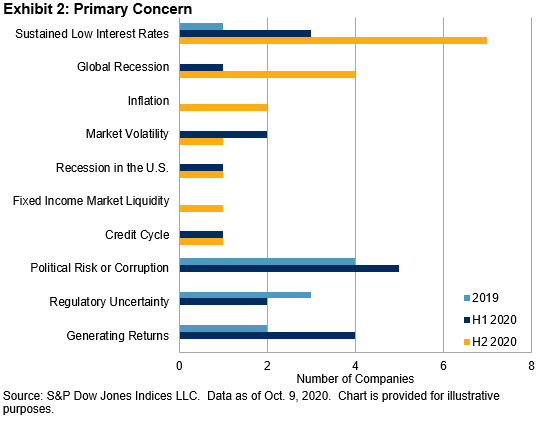 Insurers' shifting concerns illustrate the impact COVID-19 has had; this impact also appears in respondents' outlook on credit ratings, asset allocation, and expected returns.
---