June 2022 Performance
Persistent high inflation and monetary tightening have underscored a challenging global economic path ahead. The prospects of maintaining economic growth and waiting for inflation to subside without further hawkish action from central banks have come into question. Markets have responded with larger movements than have been seen in recent years. Major equity indexes have fallen into bear market territory, down over 20% from recent highs, while bonds have seemingly lost some of their diversification benefit in a stockbond mix.
In Singapore, the economy is expected to grow by 3.8% in 2022, down from the forecast of 4.0%, according to a recent survey by the Monetary Authority of Singapore. Meanwhile, the Straits Times Index sank 4.0% in June and was down 10% from its 52-week high. Not far behind in negative performance was the iBoxx Singapore Dollar (SGD) Overall Index, which fell 1.63% this month and has dropped 6.87% YTD.

All rating subindices fell into red, with the worst performance coming from sectors rated A and above. While losses were observed across the maturity buckets, the sharpest declines were seen in the mid-to-long end of the curve.
The sovereign and non-sovereign subindices suffered losses over 1% this month. The top performers were short-dated corporate bonds from Consumer Goods, Financial Services and Real Estate sectors. In contrast, the worst performers were long-dated bonds issued by the
Singapore government or one of Singapore's statutory boards.
The overall index ended the month with a yield of 3.23% and a duration of 6.57 years.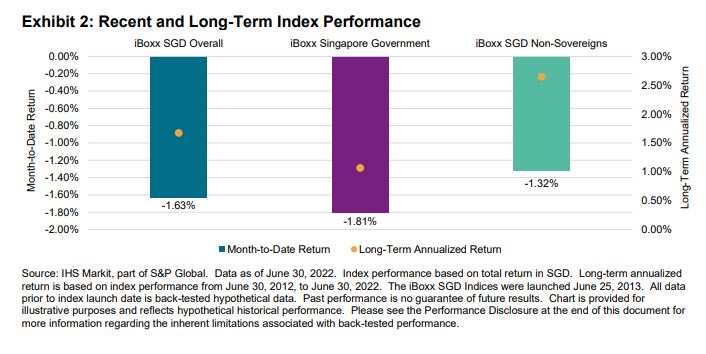 ---