June 2022 Commentary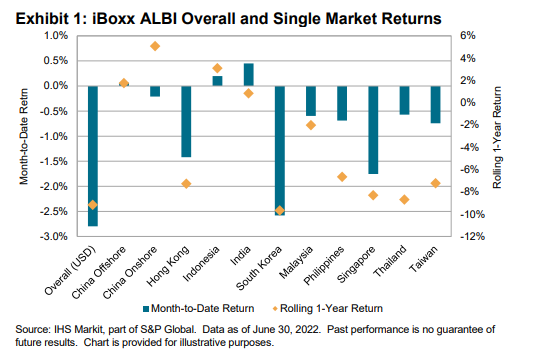 Not since 1994 have we seen a rate hike of 75 bps by the FOMC as announced on June 15, 2022—its third hike this year. Many saw this rate hike as an affirmative and decisive move by the Fed to combat the highest inflation the U.S. economy has seen in decades. Through June, the 10-2 Year U.S treasury yield spread narrowed from 0.32% to 0.06%, signaling continued flattening of the yield curve, which might indicate poor sentiments in the near-term economy outlook.
The S&P 500® recovered slightly from losses in the first half of June but still ended the month with a 8.39% decline. U.S. Treasuries—proxied by the iBoxx USD Treasuries—were relatively flat, while U.S. TIPS—represented by the iBoxx TIPS Inflation-Linked Index—were up 0.97%.
In Asian fixed income, the iBoxx Asian Local Bond Index (ALBI) (unhedged in USD) lost 2.80%, with losses in 8 of the 11 sub-markets. South Korea (-2.58%), Singapore (-1.75%) and Hong Kong (-1.42%) were the bottom three performers, while only India (up 0.45%), Indonesia (up 0.20%) and China Offshore (up 0.06%) recorded gains in local currency terms in June.
Most parts of the yield curve across the individual markets saw red this month, with the largest losses concentrated in the long end. The South Korea 10+ Year (-5.01%), Singapore 10+ Year (-3.76%) and Hong Kong 10+ Year (-3.26%) were the hardest hit. India, on the other hand, was
the only market that saw gains across maturity bands.
Yields (in semiannual terms) rose in every market in June. As a result, the average index yield rose 22 bps to 4.22%. The largest uptick came from Hong Kong (up 40 bps), which, as of June 30, 2022, offered an average yield of 3.82%, its highest month-end yield since the inception of
the index. India remained the highest-yielding bond market in the index, offering 7.51%, while China Onshore (3.00%) replaced Singapore (3.18%) as the lowest-yielding market.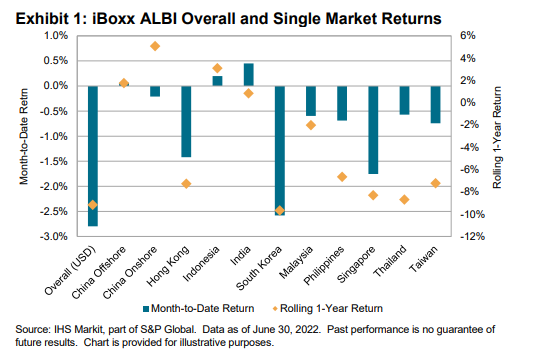 ---