Customer Logins
Obtain the data you need to make the most informed decisions by accessing our extensive portfolio of information, analytics, and expertise. Sign in to the product or service center of your choice.
Customer Logins
War risks on the Korean peninsula
North Korea will celebrate the anniversary of its ruling party's foundation on 10 October; in the past, North Korea has used notable dates in its calendar or international events to demonstrate its development of nuclear weapons and ballistic missiles. On 9 October, Russian media quoted an official returning from Pyongyang as stating that North Korea was preparing for another long-range missile test, and on 22 September, North Korean Foreign Minister Ri Yong-ho told reporters in New York that the country may conduct a test of a nuclear weapon in the Pacific. According to Japan's Ministry of Defence, a second North Korean missile fired over Japan on 15 September flew 3,700 km, putting the US territory of Guam well within range. The United Nations Security Council (UNSC) on 11 September unanimously passed new sanctions in response to two intercontinental ballistic missiles (ICBMs) launched in July.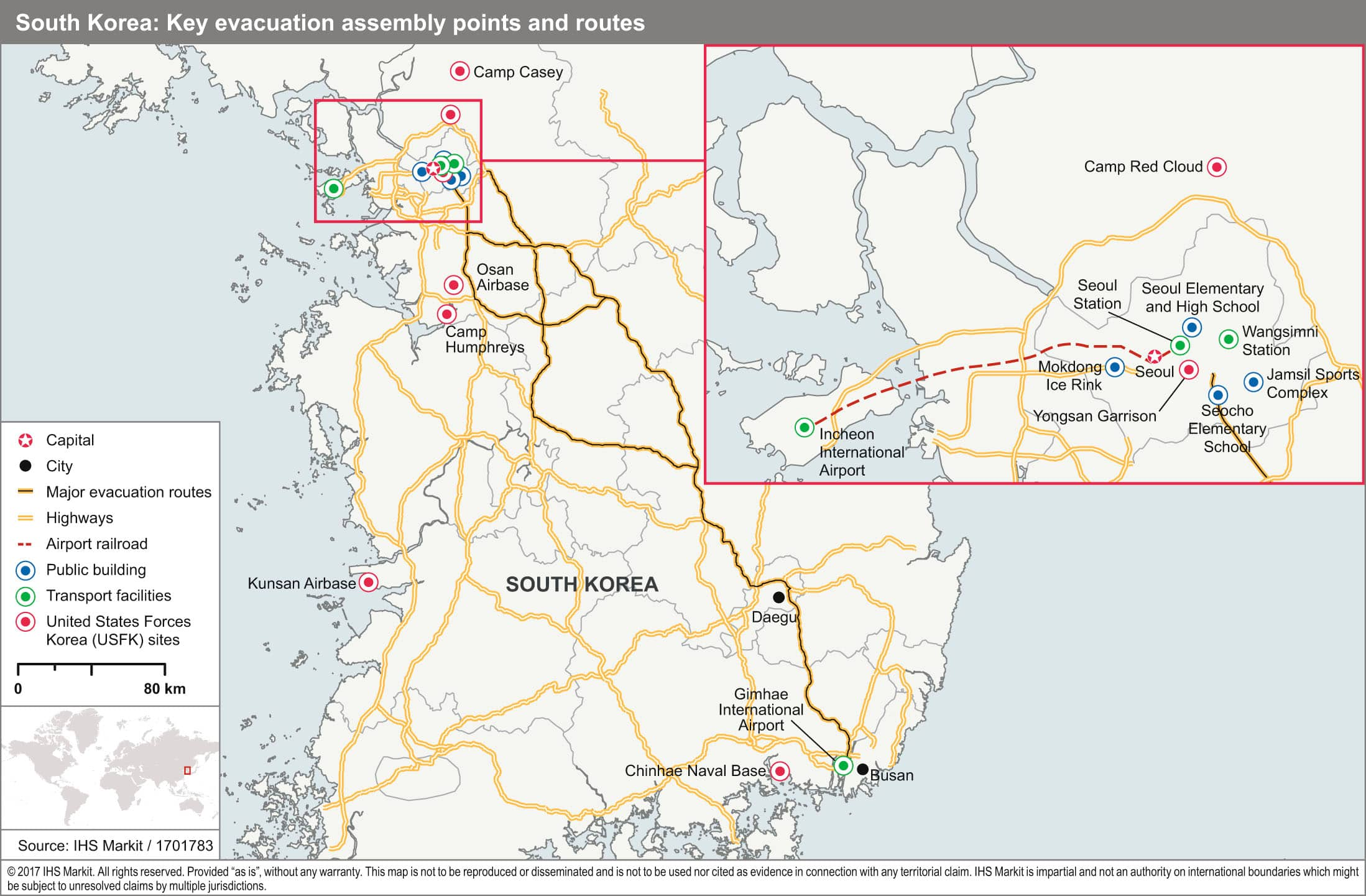 The intensification of incidents and increase in perceived unpredictability on both sides raise the risk of unintended escalation. North Korea probably calculates that it cannot afford to appear to be giving any ground in response to US pressure; its fears were probably compounded by China's unwillingness to obstruct the passing of the latest UNSC sanctions or provoke a more assertive US administration. Although North Korea is unlikely to deliberately cross US red-lines, IHS Markit assesses that it is currently more willing to approach them. The potential for North Korea or the United States to miscalculate the other's threshold for military action is high, especially in this kind of brinkmanship.
North Korea is probably seeking to improve its position in any future negotiations focused on de-escalation. Multiple statements and images released by North Korea over the past months highlight the leadership's commitment to developing nuclear-capable intercontinental ballistic missiles (ICBMs), despite the adverse international reaction and the risk to its relations with China. North Korea will probably maintain the accelerated pace of missile launches and tests in the coming months, with the hope of focusing any future negotiations, including informal ones aimed at de-escalating the current crisis, on the frequency of such actions, rather than the components of its nuclear or missile programmes.
There is little chance of the United States backing down; nevertheless, it will probably prioritise exerting pressure on China through unilateral sanctions and threatening military action to extract concessions from North Korea. Statements by a range of high-level US officials making public reference to the consideration of military options indicate a departure from past administrations' policy of restraint, underscoring its failure to change facts on the ground, and that the threshold for pre-emptive US military action against North Korea has lowered.
China will probably press for diplomatic talks, arguing for the suspension of North Korean nuclear device and missile tests in exchange for the suspension of US-South Korean military exercises. The frequency of intermediate and intercontinental missile launches and the timing of the nuclear test – while China was hosting the BRICS Conference – increase the likelihood that China will increasingly diligently implement UN sanctions. However, China is unlikely to go so far as to fully implement new sanctions that, in its judgment, would risk substantially undermining the economic well-being or social stability not just of North Korea, but also of the Chinese population near the North Korean border, which relies heavily on such trade.
Japan and South Korea are currently more likely to call for US deterrent military deployments to the region and seek to improve their domestic offensive and defensive capabilities in the one-year outlook. South Korean media reported that as of 3 September, the Ministry of Defence was in discussion with the United States on the forward basing of the "most powerful US tactical weapons", probably including "stealth" bombers. In Japan, Prime Minister Shinzō Abe's administration continues to pursue a "normalisation" of the Self-Defense Forces (SDF), which will give it a status and range of capabilities equivalent to other countries' armed forces.
Indicators of changing risk environment
Increased risk
China taking action to reduce trade with North Korea – for example, Chinese customs turning away cargo trucks at the border along the Yalu/Tumen River and/or North Korean cargo vessels being interdicted at Chinese ports as in March 2016 and April 2017.
"Back-channel" talks between the United States and North Korea are suspended.
The United States and its allies, Japan and South Korea, carry out demonstrations of their ballistic missile defence capabilities, PAC-3, Aegis, and Terminal High Altitude Area Defense (THAAD).
The United States carries out a non-routine increase in military deployments to the region, particularly nuclear-capable aircraft and submarines, and the undertaking of unscheduled high-profile exercises.
The United States changing its travel advice for South Korea or organising the evacuation of non-military personnel from South Korea.
The United States or South Korea changing their defence readiness condition (DEFCON) level; conversely, North Korea announcing or indicating a mobilisation of its military.
North Korea fires a Hwasong-14 ICBM on a flatter trajectory into the Pacific to demonstrate credible capability; the most probable timing for a missile launch or weapons demonstration is around the 10 October ruling party's foundation day.
North Korea uses satellite launches to test the viability of its re-entry vehicles for ICBMs.
North Korea issues no-fly, no-sail zone warning to international maritime authorities prior to a further missile launch.
North Korea, or any other party, changes the posture of its armed forces.
Further indications that China has increased its military deployments to its border region.
Reduced risk
In the week following the 10 October anniversary celebrations, North Korea does not carry out any weapons tests or demonstrations.
South Korea sends special envoys to the United States and North Korea to facilitate dialogue, as mentioned by the ruling party chairperson, Choo Mi-ae, on 4 September.
"Back-channel" talks between the United States and North Korea through the "New York channel" at the United Nations continue.
"Back-channel" negotiations lead to the release of one or more of the remaining three US citizens detained in North Korea or result in formal bilateral talks between the United States and North Korea.
Increased diplomatic engagement by China reduces confrontational US-North Korean rhetoric.
North Korea announces the temporary suspension of missile launches/tests.
The United States and South Korea announce the reduction in scale, or ratio of command-post to air/ground/maritime manoeuvres, of the next routine US-South Korea joint military exercises, scheduled for Spring 2018.
Alison Evans, Senior Analyst Country Risk – Asia-Pacific at IHS Markit
Posted 10 October 2017
{"items" : [ {"name":"share","enabled":true,"desc":"<strong>Share</strong>","mobdesc":"Share","options":[ {"name":"facebook","url":"https://www.facebook.com/sharer.php?u=http%3a%2f%2fwww.spglobal.com%2fmarketintelligence%2fen%2fmi%2fresearch-analysis%2fwar-risks-on-the-korean-peninsula.html","enabled":true},{"name":"twitter","url":"https://twitter.com/intent/tweet?url=http%3a%2f%2fwww.spglobal.com%2fmarketintelligence%2fen%2fmi%2fresearch-analysis%2fwar-risks-on-the-korean-peninsula.html&text=War+risks+on+the+Korean+peninsula","enabled":true},{"name":"linkedin","url":"https://www.linkedin.com/sharing/share-offsite/?url=http%3a%2f%2fwww.spglobal.com%2fmarketintelligence%2fen%2fmi%2fresearch-analysis%2fwar-risks-on-the-korean-peninsula.html","enabled":true},{"name":"email","url":"?subject=War risks on the Korean peninsula&body=http%3a%2f%2fwww.spglobal.com%2fmarketintelligence%2fen%2fmi%2fresearch-analysis%2fwar-risks-on-the-korean-peninsula.html","enabled":true},{"name":"whatsapp","url":"https://api.whatsapp.com/send?text=War+risks+on+the+Korean+peninsula http%3a%2f%2fwww.spglobal.com%2fmarketintelligence%2fen%2fmi%2fresearch-analysis%2fwar-risks-on-the-korean-peninsula.html","enabled":true}]}, {"name":"rtt","enabled":true,"mobdesc":"Top"} ]}