Customer Logins
Obtain the data you need to make the most informed decisions by accessing our extensive portfolio of information, analytics, and expertise. Sign in to the product or service center of your choice.
Customer Logins
Geopolitics in a post-pandemic world: A fragmented world

In June, we first wrote about Geopolitics in a post-pandemic world - Scenarios for 2025. In that piece, we looked at two possible scenarios of how the world might look in 2025 as a result of changes brought about or accelerated by the COVID-19 pandemic. The first was a rebalanced global order with renewed commitment to multilateralism, while the second was a fragmented world where the three key players in our scenarios - the US, China and European Union (EU) - turn inwards to focus on domestic challenges amid a worldwide retreat from globalization.
Although scenarios can never forecast the future perfectly, at present, the 'fragmented world' scenario seems more likely, with multiple implications for regulation, supply chains, security and other factors. Here we take a look at how we have moved along this scenario pathway, and indicators to watch in relation to our three key players: the US, China and EU.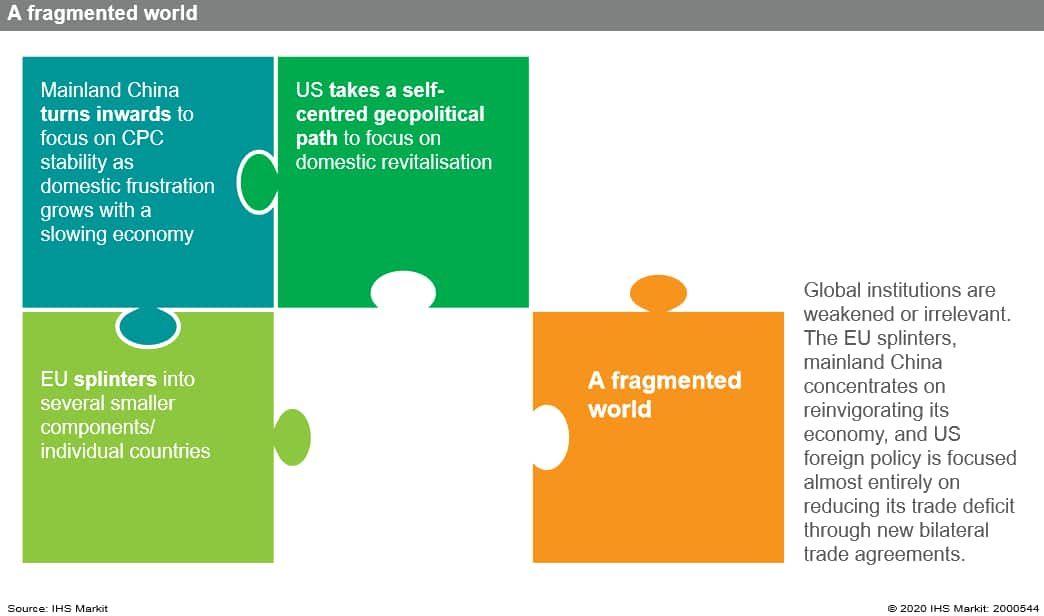 Regardless of the US election outcome, US disengagement is likely to persist
Current context: The trend of US disengagement from international affairs is not new to the Trump presidency; it has been evident since at least 2008 when then-President Obama sought to scale down US military commitments overseas, particularly in the Middle East. While a Biden presidency would likely see a return to some Obama-style initiatives, such as engagement with Iran, the Power Africa initiative and the Paris Climate Agreement, in this scenario we would not envision that the overall trend of US disengagement would reverse significantly, especially given the array of internal issues facing whoever wins the presidential election in November 2020. COVID-19 has revealed deep fractures between state and federal governments over how to manage the pandemic, while ongoing protests over racial inequality look set to keep the US preoccupied with domestic issues for the time being.
Fragmented world scenario: In this scenario, the US public increasingly questions the efficacy and integrity of established institutions, as politicians seek to divert blame towards China and multilateral bodies. The US moves towards isolationism, both within the administration and in Congress, who begin passing "buy first" legislation and subsidies for domestic reshoring. The administration expands restrictions on foreign investment in key sectors of the US economy, such as medicine, rare earths, and technology. US withdrawal from the World Trade Organisation (WTO) or disregard of its rules prohibiting discriminatory tariffs on grounds of goods' national origin, is a high likelihood in this scenario.
A critical indicator to watch: The US withdraws funding from the World Bank or other regional development banks to force other countries to choose between the US and China when it comes to foreign aid and development loans, as well as high-tech investment.
China is coming under increasing domestic and external pressure
Current context: China's relationship with the US is worsening at an accelerating pace. The US has introduced new sanctions on Chinese companies and officials over Xinjiang and Hong Kong (SAR) and is considering removing trade privileges from Hong Kong. It has also blocked Huawei's 5G ambitions, and recently applied sanctions on major Chinese state-owned enterprises operating in the South China Sea. Reflecting this change in bilateral ties, in late July, US Secretary of State Pompeo relayed that the US's official attitude to China had changed from "pro-engagement" to "distrust and verify" (recalling former president Ronald Reagan's attitude to the Soviet Union). The Chinese government is likely to be alarmed by the number of countries - India, Australia, Japan, many in ASEAN and the EU - that have rallied to renew opposition to Chinese presence in their economies, critical infrastructure, and claimed territory. Compounding all this is the simultaneous collapse in global demand caused by COVID-19, and its enormous impact on China's export economy. Already, there has been a noticeable rise in the willingness of the Chinese public to question the direction the country is taking.
Fragmented world scenario: The above indicators point towards our 'fragmented world' scenario where the Communist Party of China (CPC) comes under internal pressure for modest reforms to the existing system, forcing a turn inwards to concentrate on maintaining domestic control. In this scenario, without reduced export revenues, the Chinese state's falling fiscal resources must be concentrated on domestic security, and Belt and Road Initiative (BRI) investment - already suppressed - is further scaled back around the world. China instead focuses its resources on the relationships that are already established and are most strategic - for instance Pakistan, with its energy corridor to the Gulf.
A critical indicator to watch: The plenum meeting of the CPC in October is almost certain to discuss major themes of the government's 14th Five Year Plan (2021-2025). Among these is expected to be the idea of 'dual circulation', an economic strategy that, while still loosely defined, would emphasise the idea of self-reliance. Adoption of this strategy by the world's second largest economy would significantly affect global trade and investment patterns and the geopolitical considerations with which they are intertwined.
Slow EU decision-making is a risk factor for European fragmentation
Current context: The key risk for Europe is the fragmentation of the EU, which in our 'fragmented world' scenario sees either de facto or de jure withdrawal of more member states over the next five years and the emergence of smaller regional blocs. The EU in July 2020 completed a relatively successful negotiation over its financial rescue package. Yet longer term there are deep fault lines around shared responsibilities, while the EU is divided over relations with China and remains far from a common position on migration and refugees.
Fragmented world scenario: In the 'fragmented world' scenario, there are delays in resolving these issues. External economic factors drive migration from Africa and the Middle East, exacerbated by Turkey fulfilling its threat to reopen its borders to migrants and refugees seeking to access the EU, in the context of its dispute with the EU over hydrocarbons access in the Eastern Mediterranean. This creates opportunities for populist parties to come to the fore, pushing for strong local content rules and restrictions on foreign investment and immigration. In this scenario, terrorism remains a significant risk from far right and Islamist militants.
A critical indicator to watch: The EU is due to agree its multiannual financial framework by end 2020, including decisions over aid disbursement to member states. The speed at which this happens will set the tone for the next five years. If talks drag on into 2021, anti-EU sentiment among both the public and European political parties is likely to gain momentum, while governments will remain reluctant to spend on major infrastructure works that could improve employment levels and re-engage citizens with the European project.
Helping clients get ahead of the future
Our 'Rebalanced global order' and 'Fragmented world' scenarios and their potential impacts are fleshed out in detail in our ' Geopolitics in a post-pandemic world - Scenarios for 2025' report. While the report only focuses on these two scenario possibilities, the full scenario catalogue contains many more scenarios of varying probability and impact.
There are many ways of selecting and developing scenarios to help think through and inform planning for an uncertain future. If you have a scenario challenge, we would be excited to discuss it with you and develop an approach that provides you with the most practically useful outcome.  Contact us to learn more or request the full report.
RELATED INDUSTRIES & TOPICS
{"items" : [ {"name":"share","enabled":true,"desc":"<strong>Share</strong>","mobdesc":"Share","options":[ {"name":"facebook","url":"https://www.facebook.com/sharer.php?u=http%3a%2f%2fwww.spglobal.com%2fmarketintelligence%2fen%2fmi%2fresearch-analysis%2fgeopolitics-in-a-postpandemic-world-a-fragmented-world.html","enabled":true},{"name":"twitter","url":"https://twitter.com/intent/tweet?url=http%3a%2f%2fwww.spglobal.com%2fmarketintelligence%2fen%2fmi%2fresearch-analysis%2fgeopolitics-in-a-postpandemic-world-a-fragmented-world.html&text=Geopolitics+in+a+post-pandemic+world%3a+A+fragmented+world+%7c+S%26P+Global+","enabled":true},{"name":"linkedin","url":"https://www.linkedin.com/sharing/share-offsite/?url=http%3a%2f%2fwww.spglobal.com%2fmarketintelligence%2fen%2fmi%2fresearch-analysis%2fgeopolitics-in-a-postpandemic-world-a-fragmented-world.html","enabled":true},{"name":"email","url":"?subject=Geopolitics in a post-pandemic world: A fragmented world | S&P Global &body=http%3a%2f%2fwww.spglobal.com%2fmarketintelligence%2fen%2fmi%2fresearch-analysis%2fgeopolitics-in-a-postpandemic-world-a-fragmented-world.html","enabled":true},{"name":"whatsapp","url":"https://api.whatsapp.com/send?text=Geopolitics+in+a+post-pandemic+world%3a+A+fragmented+world+%7c+S%26P+Global+ http%3a%2f%2fwww.spglobal.com%2fmarketintelligence%2fen%2fmi%2fresearch-analysis%2fgeopolitics-in-a-postpandemic-world-a-fragmented-world.html","enabled":true}]}, {"name":"rtt","enabled":true,"mobdesc":"Top"} ]}