Customer Logins
Obtain the data you need to make the most informed decisions by accessing our extensive portfolio of information, analytics, and expertise. Sign in to the product or service center of your choice.
Customer Logins
ASEAN manufacturing rebounds in October, RCEP ratification boosts longer-term economic outlook

The ASEAN region has shown a strong rebound in manufacturing output during October, according to the latest IHS Markit ASEAN Manufacturing PMI survey data. With the Regional Comprehensive Economic Partnership (RCEP) trade agreement having been ratified by the required number of countries, its imminent implementation on 1st January 2022 will provide a further boost to the ASEAN economies that have already ratified the trade deal.
With COVID-19 Delta waves receding in many ASEAN nations, economic activity is showing a strong rebound as industrial production strengthens and easing lockdown restrictions allow a gradual recovery in consumer spending. COVID-19 vaccination rates have risen rapidly in a number of ASEAN economies during the second half of 2021, helping to improve their resilience to COVID-19 transmission. Despite this turnaround, there are still considerable risks around how rapidly the pandemic will be brought under control in different ASEAN countries.
ASEAN economies rebound as COVID-19 waves recede
Impressive progress with COVID-19 vaccination rollout programs in many ASEAN nations since mid-2021 have contributed to significant progress in curbing the severe COVID-19 Delta waves that hit the Southeast Asian region since May 2021. Singapore has reached one of the highest vaccination rates in the world, with over 80% of the total population having received two vaccination doses. Malaysia has also made remarkable progress in recent months, with almost 80% of the population having received first dose vaccinations, with Cambodia and Brunei also having reached similar levels of first dose vaccinations. Among Thailand and Vietnam, both of which had very low vaccination rates in the first half of 2021, have also now provided first dose vaccinations to over 50% of their populations. This is creating the foundations for a more sustained economic recovery for the ASEAN region in 2022.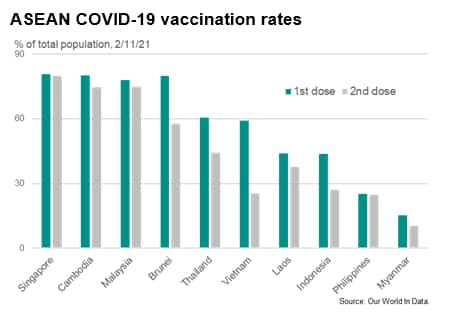 As a result of the severe negative impact of the COVID-19 pandemic and widespread lockdowns and travel bans, many ASEAN economies were in deep recession during 2020. The impact of global lockdowns in key markets such as the US and EU also resulted in a sharp slump in exports for many ASEAN nations during the first half of 2020. Among the worst hit economies were the Philippines, Thailand, Malaysia, Cambodia and Singapore, as protracted lockdowns hit industrial production, construction and consumption expenditure. Travel bans across the ASEAN region also hit the international tourism and travel sectors severely.
Domestic economic activity showed significant recovery in many ASEAN nations during the second half of 2020 and early 2021, as lockdowns were progressively eased and new export orders strengthened. However, with the onset of new COVID-19 Delta waves in many Southeast Asian nations since April 2021, economic momentum again weakened in many ASEAN nations since June.
The ASEAN manufacturing sector recorded contractionary conditions for the months of June, July and August 2021, as the COVID Delta waves escalated in many nations. However, as COVID waves have eased in some countries during September and October, economic activity has rebounded. The latest IHS Markit ASEAN Manufacturing PMI rose from 50.0 in September to 53.6 in October, signalling the first improvement in ASEAN manufacturing conditions since May, and one that was the quickest since data collection began in July 2012.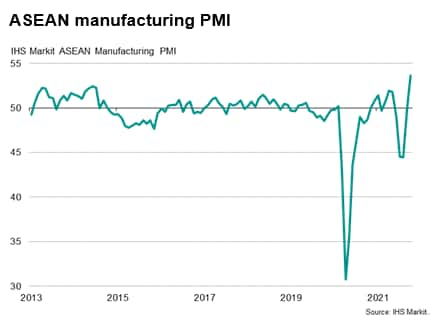 The improvement in the ASEAN October PMI data means manufacturing output in the region is now growing at a faster rate than recorded by IHS Markit's PMI surveys in other major economies, including the US, Eurozone, Japan and China.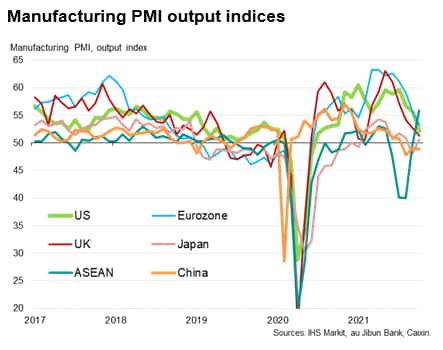 In the service sector, the impact of the COVID Delta waves continued to hit consumption expenditure across most ASEAN nations during the third quarter. International travel restrictions have also remained a major impediment to the recovery of international tourism and business travel in the ASEAN region. Furthermore, domestic tourism has also been heavily disrupted, creating a further severe negative shock for the ASEAN tourism industry.
However, with COVID-19 waves receding and vaccination rates reaching high levels, some nations, including Singapore and Thailand, have announced some easing of borders for vaccinated international travellers. Thailand has reopened its borders for vaccinated international tourists from 63 nations without quarantine starting from 1st November. Singapore has also established green lanes for quarantine-free travel by vaccinated travellers from a limited number of countries.
The path of recovery is therefore likely to be uneven across different industry sectors, with industries like electronics manufacturing, household consumer products, financial services and information technology likely to be leading the recovery, while the tourism and air transportation sectors are expected to have a more gradual recovery path.
Improved operation conditions were recorded in all but one of the seven constituent ASEAN nations of the ASEAN Manufacturing PMI Index during October.
Indonesia showed the highest PMI reading amongst the ASEAN nations in October. The rapid decline of the recent COVID-19 wave has allowed the easing of COVID-19 restrictions. This enabled the Indonesian manufacturing sector to grow at a survey-record pace in October, according to the latest IHS Markit PMI data. The IHS Markit Indonesia Manufacturing PMI posted 57.2 in October, up from 52.2 in September.
In Malaysia, the headline IHS Markit Malaysia Manufacturing Purchasing Managers' Index registered 52.2 in October, returning to expansion as COVID-19 restrictions were eased. Both production and new order volumes returned to expansion territory in October.
In Vietnam, the IHS Markit Manufacturing PMI soared in October, rebounding back above the 50.0 no-change mark at 52.1 in October following a reading of 40.2 in September. Economic activity had been heavily disrupted during August and September due to the escalating COVID-19 wave, with temporary business closures, transportation difficulties and staff shortages all contributed to severe contractionary conditions in manufacturing output. By October, the declining COVID-19 wave allowed a loosening of COVID-19 restrictions. This led many firms to restart production in October, while others expanded output in response to higher new orders.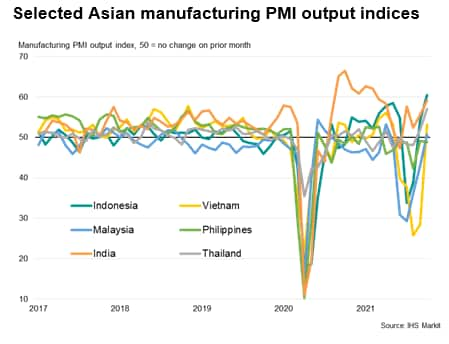 The rebound in industrial production across many ASEAN nations is expected to help ease supply chain disruptions caused by the recent COVID-19 waves in Southeast Asia. Major manufacturing hubs such as Malaysia and Vietnam suffered considerable disruptions to manufacturing output during the third quarter of 2021, impacting on supply chains in many industries, including auto and electronics manufacturing.
However, even as industrial production rebounds, the process of normalizing production levels and catching up with backlogs of new orders is likely to be gradual. In Malaysia, companies continued to report widespread issues with component shortages, shipping delays and a lack of containers in October. Vietnamese firms also reported continuing supply chain disruptions, with the sourcing and distribution of products remained challenging for many firms during October.
Furthermore, many Vietnamese firms were still awaiting the return of migrant workers from other provinces within Vietnam, after they had returned to their hometowns during the latest COVID-19 wave. Consequently labour shortages were still significant in October.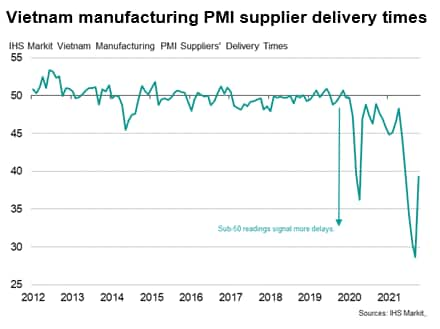 RCEP Trade Agreement will boost regional trade flows
RCEP is a positive regional trade liberalisation initiative that will help to boost trade and investment flows among the 15 nations that have agreed to the trade deal. The 15 Asia-Pacific economies that make up the RCEP membership together account for around 29% of world GDP. The RCEP members comprise the 10 ASEAN members, plus China, Japan, South Korea, Australia, and New Zealand. RCEP negotiations commenced in November 2012 and the 15 RCEP members concluded negotiations on the text of the agreement on 4 November 2019. The RCEP agreement was signed by ministers at the 37th ASEAN Summit in Hanoi on 15 November 2020.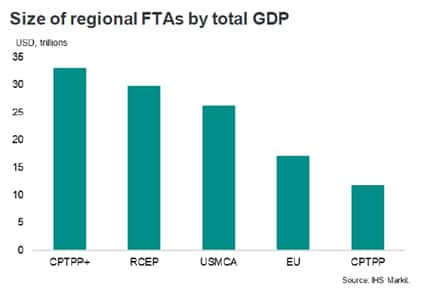 RCEP will be the world's biggest free trade agreement (FTA) measured in terms of GDP, larger than the current membership of the Comprehensive and Progressive Agreement for Trans-Pacific Partnership (CPTPP), the European Union, the recent US-Mexico-Canada Free Trade Agreement or Mercosur. However, if the UK and China are successful in their applications to join the CPTPP, then the expanded CPTPP would become larger than the RCEP as measured by GDP of the member economies.
Although tariff liberalization has already progressed significantly among the 15 RCEP members over the past decade through a wide network of FTAs, RCEP will further reduce tariff barriers. The scope of RCEP includes reducing tariffs on trade in goods, as well as creating higher-quality rules for trade in services, including market access provisions for service sector suppliers from other RCEP countries. The RCEP agreement will also reduce non-tariff barriers to trade among member nations, such as customs and quarantine procedures as well as technical standards.
RCEP significantly extends the scope of trade and investment liberalization through chapters that create a common rules of origin framework as well as strengthening intellectual property protection, trade in services and reducing barriers to investment.
The implementation of RCEP will allow the benefits of the trade agreement to commence for those nations that have already ratified the agreement. Amongst the ASEAN nations, those that have ratified RCEP to date include Singapore, Thailand, Vietnam, Cambodia, Brunei and Laos. The other RCEP members that have ratified the RCEP agreement are Australia, China, Japan and New Zealand.
ASEAN economic outlook
Receding COVID-19 Delta waves and gradual easing of pandemic restrictions in recent weeks has helped to support a gradual recovery in business conditions in many ASEAN nations during September and October.
However, many ASEAN nations still face considerable challenges, with some nations still having relatively low second dose vaccination rates, problems with accessing vaccine supplies and also the very large size of the population in many nations, notably in Indonesia, Philippines and Vietnam.
Despite the improving economic conditions, the speed at which different ASEAN nations emerge from the pandemic is likely to vary considerably, depending on many factors including the size of population, access to large supplies of COVID-19 vaccines and ability to deploy large-scale immunization programs. The effectiveness of different types of COVID-19 vaccines is also an important issue that could affect the timing of recovery from the pandemic. There are also other critical unknown factors, including the duration of effectiveness of vaccinations for the various key vaccines that are being deployed.
The central case economic scenario for 2022 continues to be positive, with the world economy gradually emerging from the pandemic, led by the US, EU, China and the UK. While the ASEAN region's economic rebound in 2021 has been significantly dampened by new waves of COVID Delta, the outlook is for gradually improving economic conditions in 2022. GDP growth momentum is expected to improve in 2022, as vaccination programs reach a much higher share of the total population of the more populous Southeast Asian nations, allowing a gradual return to more normal domestic economic conditions. Positive GDP growth is expected in 2022 across all the ASEAN nations.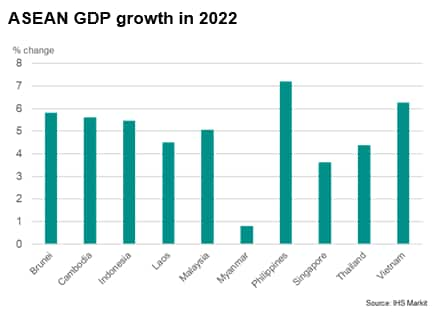 Despite the economic rebound expected in 2022, most ASEAN countries will face the medium-term challenge of fiscal consolidation. This reflects the very high levels of government expenditure during 2020-21 on fiscal stimulus measures related to the pandemic, which has resulted in a significant increase in government debt as a share of GDP across the ASEAN region. Moreover, the pandemic has had a significant toll on many businesses, in sectors such as retail, restaurants, tourism and hotels. Consequently, the process of economic recovery across industry sectors is expected to be uneven, reflecting the legacy effects of almost two years of severe economic disruption due to the COVID-19 pandemic.
Over the long-term, despite the severe recession caused by the COVID-19 pandemic, the ASEAN region is expected to continue to be one of the fastest growing regions of the world economy. Total ASEAN GDP is forecast to more than double over the next decade, increasing from USD 3 trillion in 2020 to USD 6.8 trillion by 2030. Over the next decade, the ASEAN region will be one of the three main growth engines of the APAC region,
Following considerable disruption to Asia-Pacific trade flows during 2018-2021 due to the US-China trade war and the impact of the pandemic, the implementation of RCEP will help to further reduce barriers to regional trade flows within the Asia-Pacific region over the medium to long-term. The RCEP also creates a trade liberalisation framework that can be built on and strengthened through further rounds of trade negotiations, including through the potential accession of other nations to the RCEP agreement.
In the overall Asia-Pacific trade policy landscape, the RCEP agreement is a major further step by APAC governments to liberalize regional trade flows, following the implementation of both the Japan-EU Economic Partnership Agreement (EPA) and the CPTPP deals in 2019.
Rajiv Biswas, Asia Pacific Chief Economist, IHS Markit
Rajiv.biswas@ihsmarkit.com

© 2021, IHS Markit Inc. All rights reserved. Reproduction in whole or in part without permission is prohibited.
Purchasing Managers' Index™ (PMI™) data are compiled by IHS Markit for more than 40 economies worldwide. The monthly data are derived from surveys of senior executives at private sector companies, and are available only via subscription. The PMI dataset features a headline number, which indicates the overall health of an economy, and sub-indices, which provide insights into other key economic drivers such as GDP, inflation, exports, capacity utilization, employment and inventories. The PMI data are used by financial and corporate professionals to better understand where economies and markets are headed, and to uncover opportunities.
---
This article was published by S&P Global Market Intelligence and not by S&P Global Ratings, which is a separately managed division of S&P Global.
RELATED INDUSTRIES & TOPICS
{"items" : [ {"name":"share","enabled":true,"desc":"<strong>Share</strong>","mobdesc":"Share","options":[ {"name":"facebook","url":"https://www.facebook.com/sharer.php?u=http%3a%2f%2fwww.spglobal.com%2fmarketintelligence%2fen%2fmi%2fresearch-analysis%2fasean-manufacturing-rebounds-in-october-rcep-ratification-boosts-longerterm-economic-outlook-nov21.html","enabled":true},{"name":"twitter","url":"https://twitter.com/intent/tweet?url=http%3a%2f%2fwww.spglobal.com%2fmarketintelligence%2fen%2fmi%2fresearch-analysis%2fasean-manufacturing-rebounds-in-october-rcep-ratification-boosts-longerterm-economic-outlook-nov21.html&text=ASEAN+manufacturing+rebounds+in+October%2c+RCEP+ratification+boosts+longer-term+economic+outlook+%7c+S%26P+Global+","enabled":true},{"name":"linkedin","url":"https://www.linkedin.com/sharing/share-offsite/?url=http%3a%2f%2fwww.spglobal.com%2fmarketintelligence%2fen%2fmi%2fresearch-analysis%2fasean-manufacturing-rebounds-in-october-rcep-ratification-boosts-longerterm-economic-outlook-nov21.html","enabled":true},{"name":"email","url":"?subject=ASEAN manufacturing rebounds in October, RCEP ratification boosts longer-term economic outlook | S&P Global &body=http%3a%2f%2fwww.spglobal.com%2fmarketintelligence%2fen%2fmi%2fresearch-analysis%2fasean-manufacturing-rebounds-in-october-rcep-ratification-boosts-longerterm-economic-outlook-nov21.html","enabled":true},{"name":"whatsapp","url":"https://api.whatsapp.com/send?text=ASEAN+manufacturing+rebounds+in+October%2c+RCEP+ratification+boosts+longer-term+economic+outlook+%7c+S%26P+Global+ http%3a%2f%2fwww.spglobal.com%2fmarketintelligence%2fen%2fmi%2fresearch-analysis%2fasean-manufacturing-rebounds-in-october-rcep-ratification-boosts-longerterm-economic-outlook-nov21.html","enabled":true}]}, {"name":"rtt","enabled":true,"mobdesc":"Top"} ]}