Flooding Isn't the Only Water-Related Climate Risk Facing New York City
Authors: Jennifer Laidlaw & Rick Lord

October 1, 2021
Highlights
Deadly flash floods in New York City underscore the need to increase climate change adaptation and mitigation.
A new Sustainable1 analysis finds that water stress will be the biggest risk to the New York City region by 2050, while floods and sea level rises will also have an impact, particularly in localized areas.
Other major U.S. cities such as Los Angeles and San Diego will continue to face pressure from wildfires and drought.
---
New York City is heading into Climate Week Sept. 20, hard on the heels of flash flooding that claimed more than 40 lives.
The back-to-back climate disasters — the remnants of Hurricane Ida hammered the city less than two weeks after Hurricane Henri, and the resulting flash floods left New York subways and streets submerged — underscore the potential impact of climate change, and the destruction it can cause if large, urban centers fail to invest in adaptation infrastructure and if governments don't take action to reduce emissions.
New York City will not be immune to floods in the future, particularly in the parts of its five boroughs closest to water. Manhattan is surrounded by the East and Hudson Rivers as well as the Harlem River, a strait dividing Manhattan from the Bronx. But while flooding and sea level rises will continue to be a threat, a new S&P Global Sustainable1 analysis reveals that by 2050, the biggest physical risk from climate change facing the city overall will be a lack of water, potentially leading to shortages for the city's more than 8 million inhabitants.
That may seem hard to believe given the amount of rain that has landed on the city in the last few weeks, but scientists predict that extreme weather patterns will become something of a norm.
"People call this whiplash, flipping from one side to the other very quickly so it's overall a more extreme climate we are going into," Andreas Prein, project scientist at the National Center for Atmospheric Research in Boulder, Colorado, said in an interview.
Prein is currently working on a project with the U.S. Geological Survey, a government agency, on the threat of drought in the Delaware River, which provides drinking water to New York. The river suffered a severe drought in the 1960s, and Prein said there were fears another drought could occur because of extreme weather conditions in an area that has a larger population than 50 years ago.
"Drought is still a big concern in the eastern U.S.," he noted.
An August 2021 report from the U.N.'s Intergovernmental Panel on Climate Change (IPCC) found that hot extreme weather had increased in northeastern North America since the 1950s. Heavy precipitation has risen in eastern North America, the IPCC found. If the average global temperature increase was to hit 2 degrees C relative to pre-industrial levels, heavy rains and flooding would become "more intense and frequent" in many parts of North America, while a small number of regions would also be affected by increases in droughts.
Water stress biggest climate issue facing most populous U.S. counties
According to S&P Global Trucost data, water stress is the biggest climate-related risk facing the most-highly populated U.S. counties under a moderate scenario for projected temperature increases by 2050. This is especially true in counties in Arizona and California already suffering from drought. Out of the 10 counties in the analysis, Maricopa in Arizona and Riverside in California are the most exposed to climate risks, both with scores of 82. Maricopa is home to cities like Phoenix and Scottsdale, and Riverside includes the city of Palm Springs. These were followed by San Diego and Los Angeles Counties in California. On a scale of 1 to 100, where 100 is the maximum physical risk, San Diego and Los Angeles stand at 80 and 79 respectively.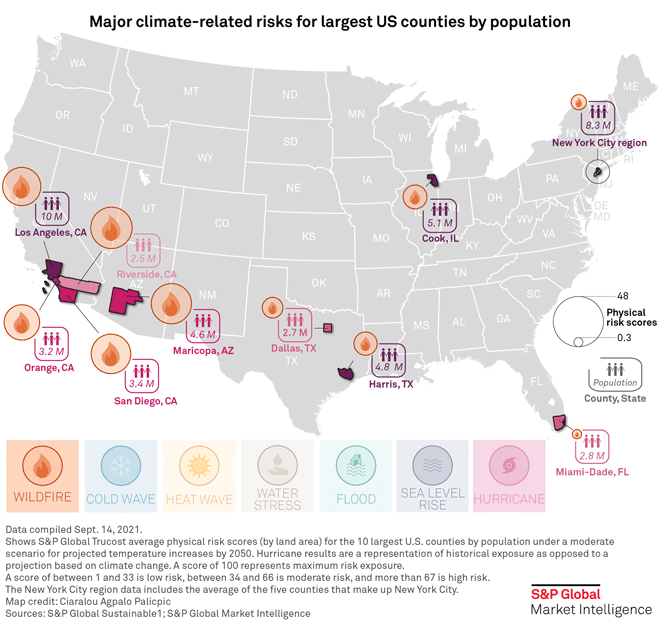 Trucost's data comes from publicly available information, licensed datasets and its own models. A score of between 1 and 33 is low risk, between 34 and 66 is moderate risk, and more than 67 is high risk. Water stress reflects the balance between renewable water supply and total water withdrawals (municipal, industrial and agricultural use) within a given area. Water stress can increase due to either a reduction in supply, increasing withdrawals, or a combination of both.
In terms of water stress, the New York City region, which encompasses five counties — Kings (Brooklyn), Queens, New York (Manhattan), Bronx and Richmond (Staten Island) — faces a high risk, according to S&P Global Trucost data. Water stress in the city is already very high today and neither supply nor demand is expected to change significantly to 2040.
S&P Global Trucost data shows that floods will also be a risk for New York City, but the analysis measures average risk within a county and is unlikely to fully capture potential floods and sea level rises because these risks tend to affect only small areas close to water and may only represent a small proportion of the total area. However, this does not mean that the risk does not exist or is not important.
"For me, what is surprising is how fast [these storms] are changing," Prein said. "The observed changes are exceeding what we would assume from our modelling. There is something going on that really makes those storms way more intense and the flooding way more dangerous." Climate change is affecting storms and worsening their intensity, he said.
In New York City, he said, "Central Park had a one-in-500-year event rainfall. These are very intense events that you would normally only expect once in 500 years or 1,000 years, or even rarer. Very rare events are happening more frequently now."
The rising cost of extreme weather events
Over the past two decades, climate change has intensified extreme weather events. For example, in 2020, the U.S. experienced 22 extreme weather and climate-exacerbated disasters that each had losses in excess of $1 billion, according to figures the National Oceanic and Atmospheric Administration released at the beginning of 2021. Those events collectively caused at least $95 billion in damages, killed at least 262 people and injured scores more, according to NOAA's National Centers for Environmental Information.
The costs of extreme weather events such as Hurricane Ida are pushing up insurance claims. Damage from the hurricane in Louisiana is predicted to cost insurers between $20 billion to $25 billion and the flooding along the East Coast could add another $5 billion to $10 billion in industrywide insurance claims. Small towns in flood-hit zones are being wiped off the map as buildings become uninsurable and it becomes too costly to rebuild them.
Of the 10 counties in the analysis, Miami-Dade in Florida is the most exposed to hurricane risk, followed by Harris County in Texas, which includes Houston. Trucost's hurricane results are a representation of historical exposure as opposed to a projection based on climate change. With extreme weather events expected to become more severe in future, it is important to capture this hurricane risk even though we are not yet able to project for future scenarios.
It's also important to note that the analysis does not completely show the risk of coastal floods and sea level rise in places like Miami-Dade, because the county is relatively large and only some areas are affected by flooding and higher sea level. Our data shows the average risk of different weather events for each county in the analysis.
Coastal cities across the eastern seaboard have seen half a foot of sea levels rises in the last 30 years, while the Gulf Coast, particularly Louisiana and Texas, experienced upwards of three quarters of a foot rise in the same time period, NOAA Oceanographer William Sweet said in an interview.
As a result, high-tide flooding, often known as "sunny day flooding," is twice as common now as it was 20 years ago, he said. High-tide flooding fills roads and homes with water in coastal areas and is happening more often due to higher sea levels. As a result, it no longer takes a hurricane or heavy rains to cause flooding.
"Sea level rise is closing the gap between our infrastructure and high-tide flooding, and so events that are normal, [such as] changes in prevailing winds at a high tide, are now causing what used to be called an extreme event," he said. "[That is] affecting people's property, business, routes, people's commute, people's patience; the whole idea of what is extreme now is changing due to sea level rise."
Massive investments needed to tackle challenges faced by droughts and floods
Many large U.S. cities such as New York, Philadelphia and Chicago are located next to rivers or oceans. Their proximity to water and access to key trading routes made them what they are today — urban powerhouses at the heart of the nation's economy. While that legacy has served them well, it will not protect them from future climate risks.
In August 2021, the U.S. Senate passed a bipartisan $1 trillion infrastructure bill, and $12 billion is earmarked for flood mitigation in coastal areas and for improvements in mapping and data to provide better protection for communities and businesses from future floods. In a fact sheet on the infrastructure bill, the White House said flood damage cost approximately $17 billion annually in the last decade and is expected to rise "significantly due climate-related extreme weather and rising sea levels."
A further $8 billion has been set aside to reduce the risks of wildfires, including funding for community wildfire defense grants, controlled fires, forest restoration and firefighting.
"We're seeing the impacts of extreme weather events and we're seeing how frail our infrastructure is that we essentially designed last century," Will Sarni, founder and CEO of water consultancy Water Foundry, said in an interview.
"It's underfunded in addition to being an antique built for another time. If the Romans saw our water infrastructure it would not look that alien to them."
Zero in on net zero with unparalleled data and insight from S&P Global Sustainable1.
GET STARTED >
We're here to help you accelerate your journey to carbon neutrality. Get connected with an ESG specialist who can advise you on your next steps.
Talk To An Expert